Aretha Franklin's Civil Rights Quotes Are About So Much More Than Just "Respect"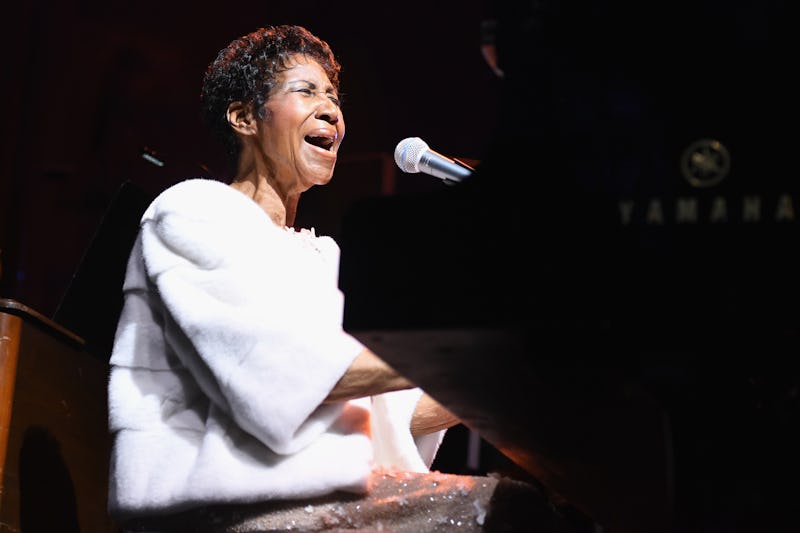 Dimitrios Kambouris/Getty Images Entertainment/Getty Images
The world has lost one of the most iconic musicians and trailblazers of our time. ABC News reported that the undeniable 'Queen of Soul' Aretha Franklin died at age 76 from pancreatic cancer on Thursday morning, according to a statement from Franklin's family released to The Associated Press by her longtime publicist Gwendolyn Quinn. The statement added, "In one of the darkest moments of our lives, we are not able to find the appropriate words to express the pain in our heart. We have lost the matriarch and rock of our family." Fans all over the world likely feel the same, which is why people are turning to Aretha Franklin's quotes on civil rights, feminism, and being a role model for so many are comforting during such a sad time.
Aretha Franklin's professional career spanned over 60 years and changed the landscape of music with classic hits like "Respect," "Chain Of Fools," and "(You Make Me Feel Like) A Natural Woman" among many others. Her multi-octave and gospel-infused vocals, along with her undeniable stage presence, garnered her 18 Grammys, according to their website. Franklin also made history in 1987 as the first woman inductee into the Rock & Roll Hall of Fame. She's been included on countless greatest artists and singers lists of all time and used her platform to aid the civil rights fight in the '60s and '70s.
Her frank honesty and magnetic personality have led to several powerful quotes over the course of her career. Here's a few thoughts from the Queen of Soul about feminism and fighting for civil rights:
Freedom For The People
"I'm going to see her free if there is any justice in our courts, not because I believe in communism, but because she's a black woman and she wants freedom for black people. I have the money; I got it from black people — they've made me financially able to have it — and I want to use it in ways that will help our people."
In 1970, political activist Angela Davis was arrested and charged with murder after an unsuccessful attempt to free an imprisoned Black revolutionary. The guns used in the break were alleged to be hers, but Franklin stood by Davis to post her bail. My AJC reported about this historical moment and included her classic response to her decision.
She Always Kept It Real
"I sing to the realists; people who accept it like it is…I express problems — there are tears when it's sad and smiles when it's happy. It seems simple to me, but to some, I guess, feeling takes courage."
Aretha Franklin made sure her music felt real and authentic at all times, even though she had to explain who her songs were for during the 1990 Grammy Legends Show.
The Definition Of A Queen
"Being the Queen is not all about singing, and being a diva is not all about singing. It has much to do with your service to people. And your social contributions to your community and your civic contributions as well."
"Queen" and "diva" are often thrown around when talking about women celebrities, but Aretha broke down what those words really mean to Washington Post in 2008.
Respect All Women
"Come on, respect me when I'm cookin'
Come on, respect me when I'm cleanin'
Come on, respect me when I'm workin''
Aretha's timeless signature hit "Respect" was essentially about a woman demanding respect from her lover. It also became a calling card for the civil rights movement and women's movement during the time – both of which matter to her because she is a black woman. "Respect" included lyrics that called for respect for women in all capacities – cooking, cleaning, or working hard outside the home (which was a rarer occurrence in 1967). She was super feminist and fighting for others rights at all time.
Standing For The Disrespected Ones
"I think women and children and older people are the three least-respected groups in our society."
True words spoken by the Queen! Civil rights is typically thought of in terms of the MLK-led movement from the '60s, but it is actually a fight for all people to be seen, heard, protected, and (of course) respected in society. Aretha named these three important groups during a 2016 Elle interview.
A Rose Is Still A Rose
"Let your life be in the sunshine
Not the darkness of your sorrow
You may see you're lost today
But new love will come tomorrow"
Aretha was best known for her early hits, but she captured a new generation of fans with "A Rose Is Still A Rose." The powerful 1998 song was a story about a young woman who became caught up with someone who crushed her spirit. Heartbreak and bad relationships hurt, but "A Rose Is Still A Rose" is a reminder that a woman's worth is not defined by anyone else and there is sunshine on the other side of pain.
Just Be You
"Be your own artist, and always be confident in what you're doing. If you're not going to be confident, you might as well not be doing it."
It's understandable why Aretha was often asked to give advice to younger generations of artists. Her longevity and performance at several historical moments like Martin Luther King, Jr.'s funeral and Barack Obama's inauguration make her a solid source of music wisdom. But, her advice can apply to anything a person pursues. Confidence and individuality is always key to keeping it real and doing it right.
Aretha's life and legacy redefined what it meant to be successful, sexy, smart, and a full-fledged diva. She was an intersectional feminist by nature, a civil rights advocate, an unapologetic Black woman, and an advocate for anyone who felt disenfranchised. She gave the world powerful anthems, soul-stirring love songs, and words of wisdom to share for generations to come. May her legacy live on forever.