The Origin Story Of Aretha Franklin's Iconic Hit "Respect" Might Surprise You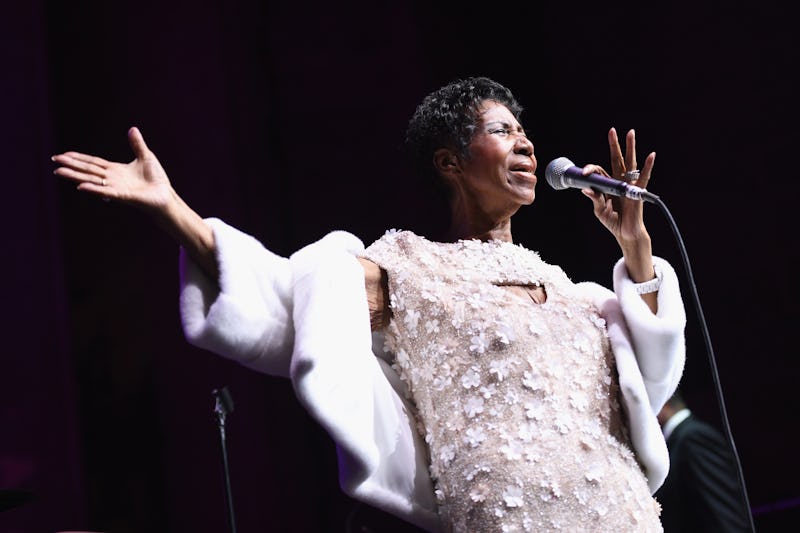 Dimitrios Kambouris/Getty Images Entertainment/Getty Images
Aretha Franklin, tenderly known as The Queen of Soul by anyone on this earth, was one of the greatest voices the world has ever known. Tragically, Franklin passed away in August of 2018 at the age of 76, according to reports form TMZ and the Associated Press. Over her long life, she contributed so much, and was known not only for her voice and her music, but for her unapologetic sense of self. As such, it's no surprise that one of her biggest hits, "Respect," was also how she defined herself. That hit, it turns out, was actually a cover, but Aretha Franklin made "Respect" a feminist anthem, and fans new and old thank her for it every day.
The song was originally written as a ballad by Otis Redding for singer Speedo Sims of The Singing Demons, as reported by writer Steve Chatterton. Redding is best known for his songs "(Sittin' On) The Dock of the Bay" and "Try a Little Tenderness," and for his low, raspy voice that held a ton of emotion when he sang. The singer eventually recorded "Respect" himself, keeping it uptempo and putting it on his album Otis Blue/Otis Redding Sings Soul, in Sept, 1965.
But then two years later, a 25-year-old Aretha Franklin got her hands on the record and made it a hit bigger than anyone could have imagined. Her 1967 version quickly became number 1 on both the R&B and pop charts, and it's easy to see why. It was more than just uptempo; it was catchy, addicting, and her voice made you want to simultaneously cheer her on and belt it yourself (at a fraction of the quality, of course).
Being a song originally sung by a man, and then taken up by a woman, would undoubtedly change the meaning and the lyrics. But the way Franklin crafted it to be her own made it the inspiring and iconic song we all know today. Originally, Redding's version was from the point of view of a worn-out and tired husband. He worked all day to put the food on the table and provide for his woman, and all he wanted was for her to respect him. He gave her all the material world and more, she had all she could want — he even encouraged her to mess around on him — as long as he got his respect when he came home. "Respect is what I need, Respect is what I want," he laments. Well, for Franklin, just changing the gender pronouns to fit her perspective was not going to be enough.
Her version says that all the money in the world wouldn't mean anything if her man didn't show her some respect. Her man isn't really cutting it in that department, but she so dearly wants him to. She even flips Redding's cheating bit back at her partner by saying she has no want at all to go find another man — "I ain't gonna do you wrong while you're gone... cause I don't wanna" — she literally just wants to be shown respect.
In Franklin's "Respect," there's no mention of her lover's money, but definitely a ton of hers. Franklin sings about giving him all her money, and that's one reason for the respect she deserves. And yeah, her man's kisses are "sweeter than honey," but he's got another thing coming because "guess what? So is [her] money." She's a working woman who doesn't have time for a scrub.
For those reasons and many more, Aretha Franklin's version of "Respect" quickly became the feminist anthem that the world had been waiting for. Just one decade before the song's release, the 1950s had seen a trend of domesticity, with women playing the role of caretaker and wife. But the second wave of feminism was just starting, and this new attitude of independence and inherent respect, regardless of what a woman does for you, was taking off. "Respect" truly gave a voice to the movement, and is a marker in American history of how women were re-shaping their roles in society.
Aretha Franklin was just the woman to preach her worth, while also coming up with the most notable version of "Respect." Her heavenly voice, her immense vocal range, and the personality that she brought to that song helped earn her the moniker of "Queen of Soul," and has set her apart of one of the most iconic voices of all time. She will be missed dearly, but her legacy lives on. And what a legacy it is.