Aretha Franklin Made History In A Major Way 30 Years Ago & It's Worth Revisiting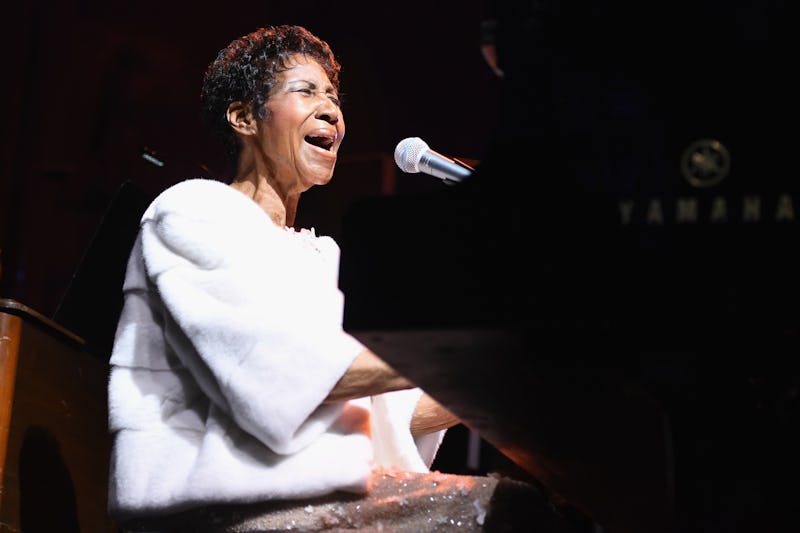 Dimitrios Kambouris/Getty Images Entertainment/Getty Images
Thursday brought sad news for music lovers everywhere. At age 76, Aretha Franklin passed away after battling pancreatic cancer, according to the Associated Press. But even though she's gone, her legend will live on — especially since she's broken major boundaries for female artists. In fact, Franklin was the first woman to be inducted into the Rock & Roll Hall of Fame over 30 years ago. Now is a better time than ever to look back on her accomplishment and what a big deal it was at the time and still is today.
Last year, on the 30th anniversary of her induction, Rolling Stone tweeted a video celebrating her accomplishment. If you're looking for the background of what that day in 1987 and what her career were like then, it gives a pretty complete picture of what was happening.
But one of the most interesting parts of her induction? Despite the fact that this was such a huge milestone for her, Franklin didn't even attend the ceremony; Clive Davis read her acceptance speech for her. And just as you'd expect from Franklin, her words were so insightful, showing that she fully embraced the weight of what a significant achievement this was.
In the speech Franklin wrote, she said:
"To be the first woman inductee into the Rock and Roll Hall of Fame is a historical moment and indeed a milestone in my career ... It is with many thanks and appreciation that I proudly accept and take my place in the Rock and Roll Hall of Fame."
It's hard to believe that it wasn't until 1987 that a woman was inducted into the Hall of Fame, but it's hard to imagine anyone but Franklin more deserving of the honor of being the first. After a career that ultimately spanned more than 60 years and earned her more than a dozen Grammy awards, it's fitting that she would be able to claim that accomplishment as well.
After reportedly entering hospice earlier this month, Franklin spent her final days being "gravely ill" but surrounded by her family and friends. Last February, Franklin announced her impending retirement and her new album. In November, the album, called A Brand New Me featuring the Royal Philharmonic Orchestra, hit stores, complete with all new original music.
At the time, Franklin told Detroit news outlet Local 4 that while she still wanted to perform occasionally and record music, it would be her final year in concert because she wanted to spend time with her grandchildren who were leaving for college soon.
"I feel very, very enriched and satisfied with respect to where my career came from, and where it is now," Franklin told Local 4. "I'll be pretty much satisfied, but I'm not going to go anywhere and just sit down and do nothing. That wouldn't be good either."
It's hard to imagine the music world without Franklin, but her songs and her legendary career will continue to live on for years to come — and so will the path she paved for the female artists that will come after her.