Ariana Grande's Comments On Being A Woman In The Music Industry Are Brutally Honest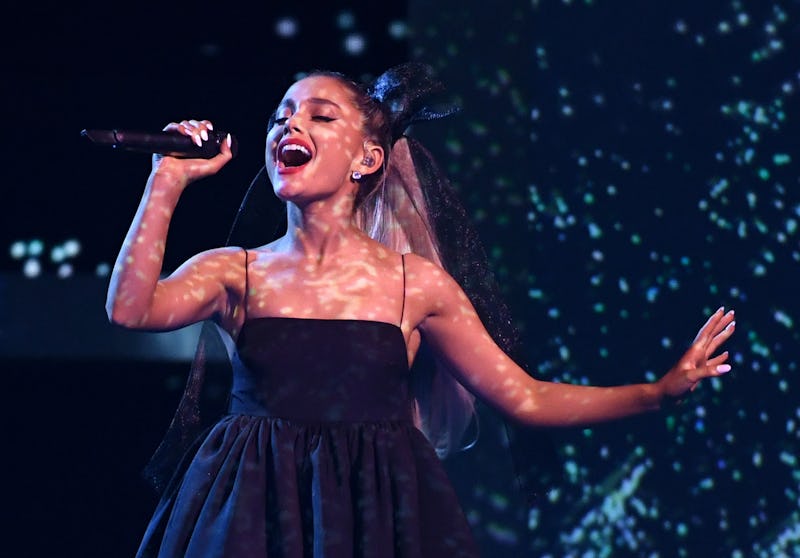 Ethan Miller/Getty Images Entertainment/Getty Images
Ariana Grande has been named Billboard's Woman Of The Year, and really, wasn't she the only choice? The phenomenal success of her single "Thank U, Next" comes after the phenomenal success of her fifth studio album Sweetener, and there's no question she dominated 2018. Sitting down with Billboard, Grande talked about the challenges of being a young woman in the music industry, even one that works as hard and is as successful as she is. Ariana Grande's comments about women in the music industry as so important, and proof that she's the woman of this year and every year.
As Natalie Weiner writes in the Billboard profile, even though Grande has been struck by immeasurable tragedies in the past year, it has given her "the audacity to buck the pop music establishment." In her interview, Grande admitted that she has been stereotyped and underestimated because of assumptions about female stars in pop music. For example, she told the magazine that she has had to deal with male producers who are surprised to learn she's not just another pretty face with a killer voice. She said:
"I've politely walked out of sessions before. It has happened. I'm a small girl. People tend to underestimate that. And then I sit down and comp my own vocals and can produce my own session, and they're like... 'Oh, I didn't know you could do that.' I'm like, 'Believe it or not, there are plenty of tiny women that can do this.'"
Grande added that she wants to destroy the very tired notion that women in music still have to fit into stereotypes. And that pressure comes from the business and the audience. "They're unable to accept the fact that women are a million things, and not just two," she said. "You can be adorable and brilliant. You can be friendly and silly, and yet strong and indestructible. You can be professional and present and also sexual and fun."
She also noted that, while she may be enjoying massive success, she's fully aware that other female artists aren't being as uplifted as their male colleagues. "I would just love to see a chart with as many women on top as men," she said. "It's just so male-dominated. It's so easy for them."
For example, Grande noted, she's envious as a female artist about the freedom with which she sees some male artists release their music. Citing the "certain standards" for women and men releasing music, saying she wished she could drop music the way rappers do, unfettered by those standards:
"We have to do the teaser before the single, then do the single, and wait to do the preorder, and radio has to impact before the video, and we have to do the discount on this day, and all this sh*t. It's just like, 'Bruh, I just want to f*cking talk to my fans and sing and write music and drop it the way these boys do. Why do they get to make records like that and I don't?' So I do and I did and I am, and I will continue to."
She's leading by example, and so far, it's working out great for her, to put it lightly. "Thank U, Next" became her first number one on the Billboard Hot 100, and the music video became the biggest debut in YouTube history, hitting 55.4 million streams in just 24 hours.
But for Grande, it's less about the numbers and more about being true to herself and her music. Despite all the pressures that come along with being a female artist, Grande hasn't stopped working, and she's more sure of herself than ever. "I don't want to do what people tell me to do, I don't want to conform to the pop star agenda. I want to do it on my own terms from now on." Cause her name is Ari, and she's so good with that.