Ariana Grande's New Letter About The Manchester Bombing Will Move You To Tears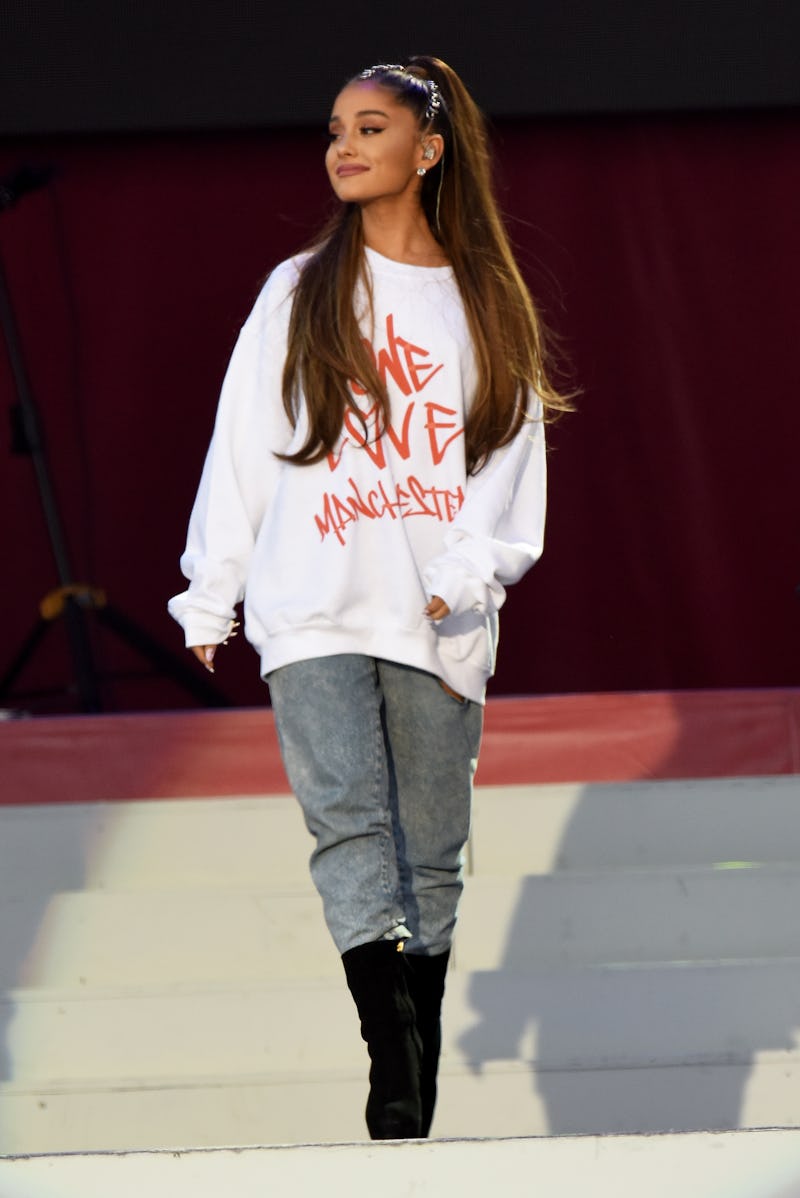 Getty Images/Getty Images Entertainment/Getty Images
Ariana Grande's highly anticipated YouTube docuseries Dangerous Woman Diaries has officially dropped. In the fourth episode of the series, titled "One Love," the singer got very real about a trying time in her life. As Vulture noted, Grande addressed the Manchester bombing in Dangerous Woman Diaries through a letter that will certainly make you a little emotional.
Grande started off her letter by stating that the tragic event, which occurred on May 22, 2017, left her "speechless." She wrote:
"I'm writing to you this February 22, 2018.
It's been eight months since the attack at our show at the Manchester Arena. It's impossible to know where to start or to know what to say about this part. May 22, 2017, will leave me speechless and filled with questions for the rest of my life."
The "Thank U, Next" singer went on to describe how hard it was to see something of such a terrible nature happen during what was supposed to be safe and comfortable. And it will definitely give readers a little bit of insight into just how devastating the situation was for all involved. She said:
"Music is an escape. Music is the safest thing I've ever known. Music — pop music, stan culture — is something that brings people together, introduces them to some of their best friends, and makes them feel like they can be themselves. It is comfort. It is fun. It is expression. It is happiness. It is the last thing that would ever harm someone. It is safe.
When something so opposite and so poisonous takes place in your world that is supposed to be everything but that … it is shocking and heartbreaking in a way that seems impossible to fully recover from."
While she was naturally shaken by this tragedy, there were those who helped her through it — from Manchester natives, to the families affected by the unfortunate event, to, of course, all of the Arianators. So, it was only natural for Grande to thank them all in the moving letter:
"The spirit of the people of Manchester, the families affected by this horrendous tragedy, and my fans around the world have permanently impacted all of us for the rest of our lives. Their love, strength, and unity showed me, my team, my dancers, band, and entire crew not to be defeated. To continue during the scariest and saddest of times. To not let hate win. But instead, love as loudly as possible, and to appreciate every moment.
The people of Manchester were able to change an event that portrayed the worst of humanity into one that portrayed the most beautiful of humanity. 'Like a handprint on my heart' … I think of Manchester constantly and will carry this with me every day for the rest of my life."
Grande was met with so much positivity on Twitter after the release of the Dangerous Woman Diaries miniseries on Nov. 29. Considering that the singer took the time to open her heart in regards to such a personal time in life in the video, it was so wonderful to see so much of that love reciprocated by the Arianators.
As previously mentioned, the Manchester bombing took place in May of 2017. Ever since the tragedy occurred, Grande has been open about the affect that it's had on her. Recently, she opened up about her feelings during a discussion of one of the tracks on her album, Sweetener. She said on Apple's Beats 1, in reference to "Get Well Soon," "It's just f*cked, so I just wanted to do something to make people feel good."
There's a larger message about the song, too, as she said that it isn't only about that particular event. "It's not just about [Manchester], you know? It's also about personal demons and tragedies, as well," she said.
If you know Grande at all, you would know that the singer is focused on love, light, and positivity right now. And not only is she able to spread some of that positivity through some of her popular songs, but she's also doing so with some of the most touching words you'll read all day.