Ariana Grande & Mac Miller Duet At One Love Manchester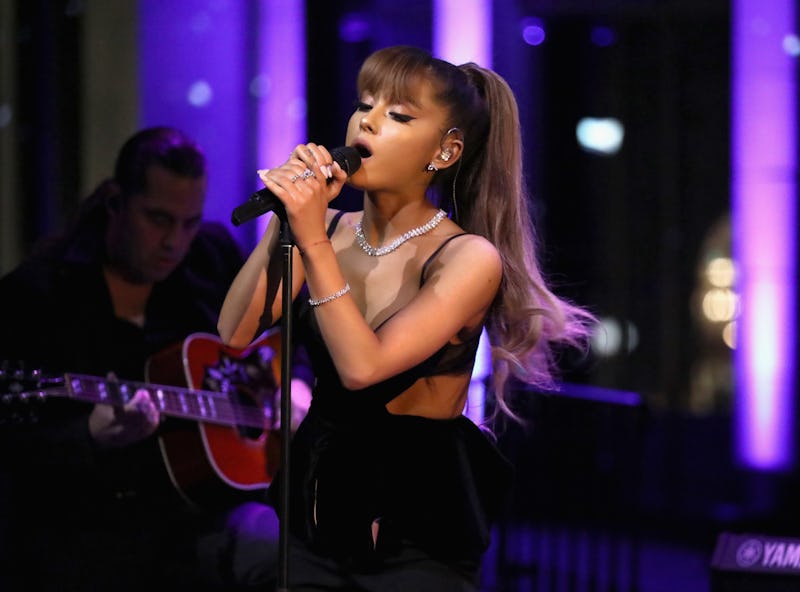 Handout/Getty Images Entertainment/Getty Images
Plenty of performances at Ariana Grande's One Love Manchester Benefit concert on Sunday were moving, the star's moment on stage with her boyfriend was truly emotional. Grande performing "The Way" with Mac Miller at the Manchester benefit will give you all the feels, showing just how supportive their relationship is. Miller and Grande collaborated for the first time in 2013, but they've only been dating for about a year. Their musical chemistry is strong, and they have long held a deep mutual respect for each other's work. This love and support translates into their romantic life, and it's clear that these two are seriously there for each other.
When Grande first returned home to Florida after the tragic events in Manchester last month, Miller was waiting at the airport. It was no surprise when the singer announced the benefit concert that Miller would be included on the list of performers, and the two would appear together.
Fans had to wait to find out which song the couple would sing together, and they ended up choosing a classic. "The Way" is the first song Miller and Grande recorded together, and watching them perform it once again was emotional. Grande also joined Miller as he performed his latest single "Dang!", but their throwback moment was the true highlight of their time on stage together.
If these two weren't major relationship #goals before, this performance will more than convince you. The stars danced together goofily during the song, and eventually embraced. There are some couples who you can just tell are madly in love from the way they look at each other, and when Miller and Grande grin at each other at the end of the song, it's clear how much they care. The audience was definitely moved by their love, and some in the crowd could be spotted wiping tears from their eyes.
This portion of the benefit was particularly moving, as it emphasized the message of love and support. In times of tragedy, it is important to reach out to the people you love and let them lean on you. Watching Miller and Grande have fun together on stage, and seeing the genuine love between them, is definitely a comfort during this difficult time.