The Most Inspiring Moments From One Love Manchester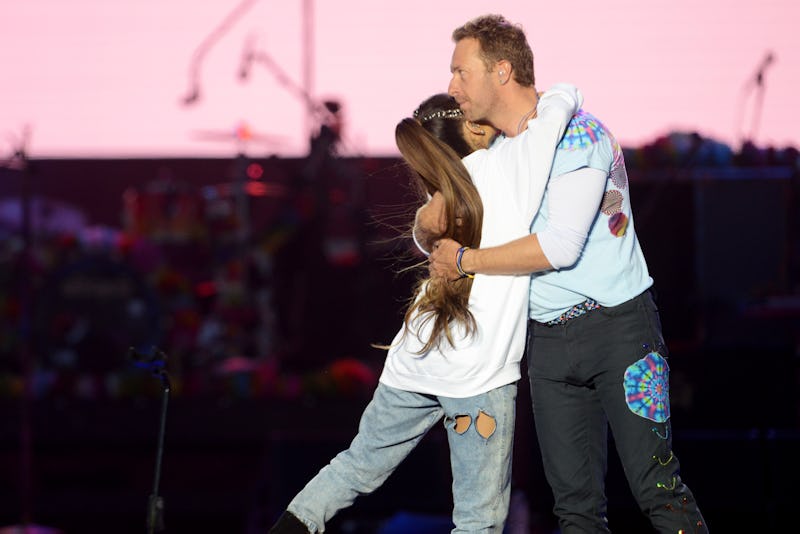 Getty Images/Getty Images Entertainment/Getty Images
Ariana Grande enlisted the help of several big name singers to help kick off One Love Manchester, a star-studded benefit concert to honor the victims and families affected by the terrorist attack that took place at her May 22 show at the Manchester Arena. Just two weeks later, the concert took place at the Emirates Old Trafford Cricket Ground and, as expected, there were so many inspiring moments during One Love Manchester that further promote its meaningful message.
The singer announced her plans for the concert via social media shortly after the attack. Grande wrote,
"I don't want to go the rest of the year without being able to see and hold and uplift my fans, the same way they continue to uplift me. Our response to this violence must be to come closer together, to help each other, to love more, to sing louder and to live more kindly and generously than we did before."
In the wake of yet another violent incident occurring in London on Saturday, Grande's manager, Scooter Braun, announced in a super inspirational statement that the One Love Manchester would carry on as planned. One Love Manchester serves as moving tribute to the victims of both attacks, and it's great to see the people of Manchester come out and show their bravery and resilience.
Marcus Mumford's Moment Of Silence
Mumford and Sons front man, Marcus Mumford, was the first artist to take the stage. Just before he dove into a beautiful, solo performance of "Timshel," he kicked off the show with a moment of silence for the victims and sweetly told the large crowd of concertgoers, "Let's not be afraid."
Take That's Performance of "Rule the World"
British pop group, Take That, took the stage just after Mumford with a set of three songs. To close out their set, the group performed a rendition of their song "Rule the World," which included multiple cuts of the crowd emotionally singing along to the tune.
Robbie Williams Sings "Manchester, We're Strong"
Former Take That member, Robbie Williams, changed the lyrics to his own song, "Strong," as a dedication to the city of Manchester. He performed "Angels" right after, and closed out his set by singing "Manchester, We're Strong" one last time.
Miley Cyrus Joins Pharrell On Stage For "Happy"
After delivering a short speech on resilience and positivity, Pharrell Williams, the feel-good hit maker himself, was later joined on stage by Miley Cyrus, and the two pretty much gave a whole new meaning to Williams' 2013 hit, "Happy."
Niall Horan Performs "Slow Hands"
Former One Direction member, Niall Horan, came out and dedicated his songs "This Town" and "Slow Hands" to Manchester.
Adam's Message To His Friend Olivia, Shared By Scooter Braun
Before introducing Ariana Grande to the stage, the singer's manager, Scooter Braun, delivered a moving speech in which he thanked the audience for not letting fear stop them from attending the show, following Saturday night's attack in London.
During the speech he also shared a message with the crowd from his friend Adam, a survivor of the attack. "Hey Scooter, make sure you tell them, don't go forward in anger. Love spreads," he wrote. After referring to Adam as the hero of the night, Braun then left the stage and left behind this sweet gem: "Hatred will never win, fear will never divide us, because on this day, we all stood with Manchester."
Ariana Grande & Victoria Monét's Duet Of "Better Days"
R&B artist Victoria Monét, who has opened for Grande on her Dangerous Woman tour, joined the singer on stage and the two performed a stunning version of their song "Better Days," which they teamed up to write last year in response to the killings of Alton Sterling and Philando Castile.
Ariana Grande & The Black Eyed Peas Perform "Where Is The Love?"
The Black Eyed Peas (sans Fergie) were also present at the show, and they took the stage to perform their hit song that will always be relevant, "Where Is The Love?"
Parrs Wood High School Choir Performs "My Everything"
The Parrs Wood High School Choir was asked to participate in the event after the pop star came across the group's cover of "My Everything." The group took the stage at One Love Manchester on Sunday and beautifully sang the song once more, this time alongside Grande herself.
Miley Cyrus & Ariana Grande Perform "Don't Dream It's Over"
Miley Cyrus and Grande teamed up and showed just how powerful (and adorable) their friendship is when they performed a duet of "Don't Dream It's Over," which they previously covered two years ago during a Happy Hippie Backyard Session. Cyrus kicked off the performance by telling her close friend, "You've always been there for me, I'm happy to be here for you."
Katy Perry's Entire Set
Katy Perry performed a stripped down version of "Part of Me" before hyping up the crowd with a super emotional performance of "Roar," which was more than perfect for the occasion.
Justin Bieber's Message To The City of Manchester
Justin Bieber began his performance by telling the people of Manchester to "fight evil with good." The 23-year-old singer was later holding back tears as he performed acoustic versions of "Love Yourself" and "Cold Water."
This Police Officer Dancing With Kids During Justin Bieber's Set
Yeah, I'm not crying. You are.
More Celebrities Pay Their Respects To The Victims Of The Attack
Just before Coldplay took the stage, a video montage featuring warm messages from celebrities who were unable to attend the event — such as Halsey, Paul McCartney, Rita Ora, Bastille, and Kendall Jenner — appeared on the big screen.
Coldplay Performs "Viva La Vida"
Coldplay pulled out all the stops during their heartwarming set that included performances of "Fix You" and "Viva La Vida," the latter of the two concluded with an epic downpour of confetti.
Ariana Grande Singing "One Last Time" & "Somewhere Over The Rainbow"
Grande proved that there was no better way to end the evening than with "One Last Time," during which the concert's previous performers all held hands in the background. Once they all exited the stage, the pop star fought through tears while singing a beautiful cover of "Somewhere Over the Rainbow."
All in all, it ended up being a remarkable evening, and I couldn't have been more proud to watch Grande perform with such poise considering what she's experienced in the past two weeks.