Ariana Grande & Pete Davidson Singing "Bring Me To Life" Is Every Emo Kid's Dream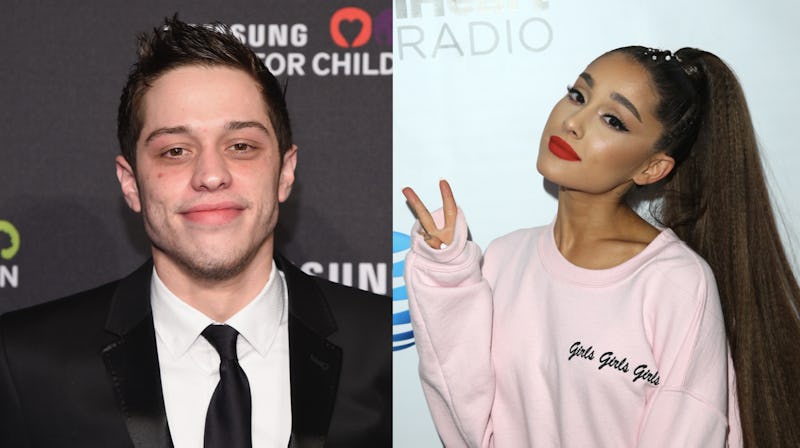 Bryan Bedder/Getty Images Entertainment/Getty Images; Jesse Grant/Getty Images Entertainment/Getty Images
Ariana Grande may be known for her breezy, sugar-sweet pop songs, but on Tuesday night she showed off her emo side. As part of her birthday festivities, she and fiancé Pete Davison did some karaoke, and Grande and Davidson sang Evanescence's "Bring Me To Life" as a duet, according to Entertainment Tonight, and the video will give you so many feels.
In a series of clips, which the singer shared on her Instagram story, Grande took lead Evanescence singer Amy Lee's part while Davidson shouted out Ben Moody's spoken word backing vocals — "Wake me up!" — from the band's 2003 hit. The couple sounds pretty great together, and it seems only a matter of time before fans declare their desire for a Grandson alt-rock record. The pair kept the throwbacks coming, and Grande — who is busy preparing for the release of her new album, Sweetener, which comes out August 17 — also showed off her vocal skills, belting a pitch-perfect rendition of Beyoncé's "Love On Top," while Davidson displayed his impressive talent for rap on "Superman" by Eminem.
Grande was celebrating turning 25 years old on Tuesday night, and she sounded just as great during her karaoke duet with Davidson as she does onstage And the couple's fans took to social media to share their admiration for Grande's flawless vocals as well as their excitement about Grande and Davidson's version of "Bring Me To Life."
@Emily_Frye13 tweeted, "Ok but Ariana Grandekaraoke'ing' to Wake Me Up by Evanescence with Pete Davidson screaming the back up vocals did in fact make my night," and @xxheathheathxx said, "ariana grande and pete davidson doing evanescence karaoke is how we all know that this is true love."
@dakotahzaph also wrote, "ariana grande and pete davidson singing a karaoke duet of bring me to life brought me to life (ha) and made me realize i need that kind of support in my life bc being both parts is exhausting."
Before they decided to relive the glory days of early 2000s emo, Davidson shared two sweet birthday messages for Grande via Instagram. In the first post, beneath a photo of him carrying Grande on his back, the Saturday Night Live star wrote, "happy birthday to the most precious angel on earth! you're my favorite person that ever existed :) i love you sm," along with the cloud, lightning, and heart-eyes emojis.
Later, he uploaded another picture of himself and Grande, which showed the pair embracing as the singer looked up at Davidson, with the caption, "one more for the queen. words can't express what a real f*cking treasure this one is," with a crown emoji.
Grande posted her own affectionate message to Davidson on Monday night just before her birthday, posting a screen shot of her phone's lock screen on her Instagram story, which was a close-up photo of Davidson smiling. She captioned the post, "i have no wish, i have everything i ever wanted, hi."
Since taking their relationship public, the pair have not been shy about sharing their love for one another online, but Davidson made an IRL declaration of his feelings when he confirmed his engagement to Grande during a recent appearance on The Tonight Show Starring Jimmy Fallon, describing their engagement as "lit."
The comedian also mentioned that people have been treating him differently while out and about, telling Fallon, "You ever see that Derek Jeter commercial, where he was, like, retiring and everybody just tips his hat? Some dude came up to me and was like 'Yo, man, you gave me hope.'" Davidson added, "I'm a lucky motherf*cker."
While it remains unclear when the couple plans to tie the knot, based on their duet it seems the pair make a great team, and here's hoping for another Grande and Davidson collab sometime in the future.