Pete Davidson's Multiple Birthday Messages To Ariana Grande Put All Others To Shame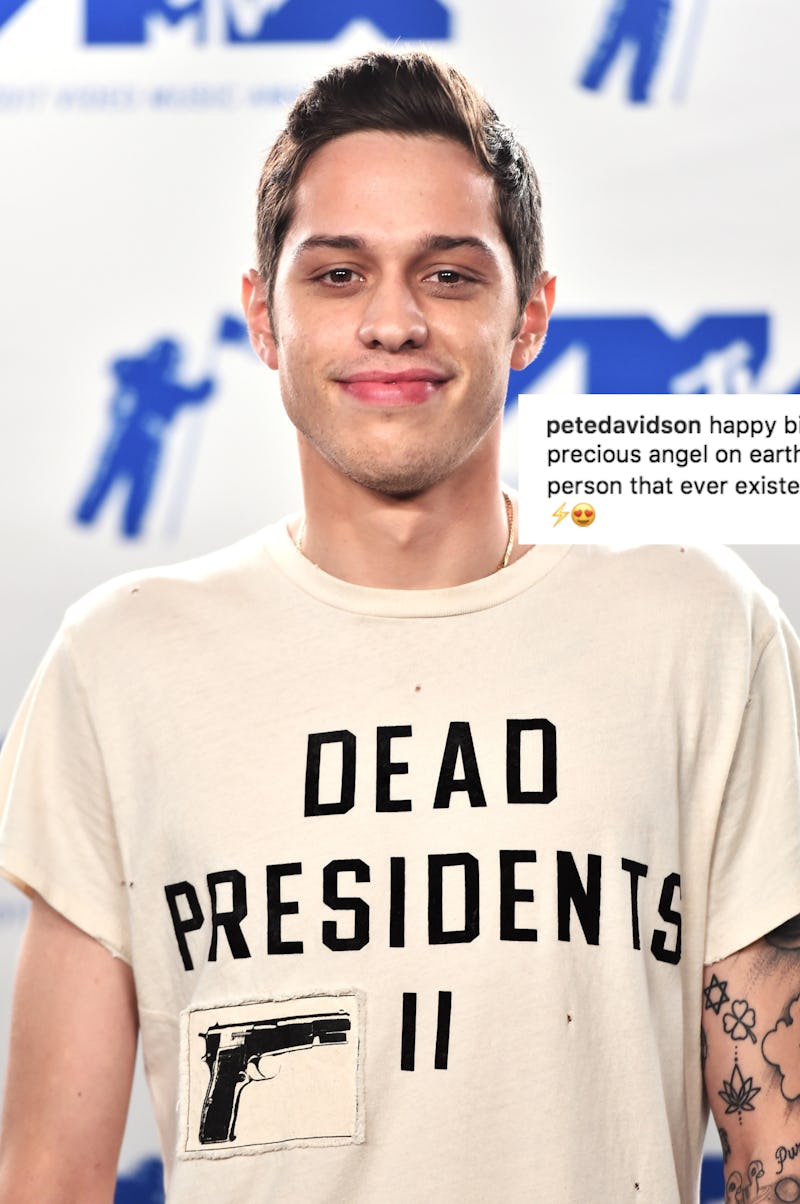 Alberto E. Rodriguez/Getty Images Entertainment/Getty Images; Pete Davidson/Instagram
Ariana Grande got a very special birthday shoutout on June 26 from someone equally special to her. Actually, she got two lovely notes. Pete Davidson wished Grande a happy birthday with two incredibly sweet Instagram posts. And his words will definitely make you see just how close the couple's relationship really is.
He first wrote, alongside a photo of him and Grande horsing around, "happy birthday to the most precious angel on earth! you're my favorite person that ever existed! :)" The Saturday Night Live cast member concluded his post with a Grande-approved love note, "i love you sm [so much]." Considering the fact that Davidson and the "No Tears Left To Cry" singer have had a whirlwind romance, evidenced by their many adorable social media posts, it's not surprise that he would express his love for his intended in such a sweet way on Instagram.
That wasn't the only message he wrote for her, though. In another Instagram post, he wrote, "one more for the queen. words can't express what a real f*cking treasure this one is." Leave it to Davidson to go all-out on the birthday wishes for his bride-to-be and be so darn adorable while doing so. By the way, shortly after his first message was posted, Grande returned the love in an Instagram comment with, "i love you so much." Did these two get a big dose of Sweetener or something? They're just too cute for words.
While Davidson wished the singer a happy birthday on Instagram, Grande also got in on the social media love for her fiancé. Instead of making a wish to coincide with 11:11 (and maybe an early birthday wish, too?), she decided to highlight why she doesn't need any wish, at all.
On her Instagram Story on June 25, she posted a photo of her lock screen, which showed a very happy-looking Davidson, along with the caption, "i have no wish, i have everything i ever wanted, hi." So, it seems like Grande had a great birthday, seeing as though she got to spend it with her "everything" (as other photos of her celebration on her Instagram Story showed).
If you've been following along with this whole Grande and Davidson love saga, you would know that this definitely isn't the first time that they've gushed about each other on social media or in public. Most recently, the comedian made an appearance on The Tonight Show Starring Jimmy Fallon, where he not only talked about his fiancée, but he also confirmed the pair's engagement.
When host Jimmy Fallon asked him about the engagement, Davidson enthusiastically replied that the whole thing is "lit." He also said that he's received an outpouring of support from the public about his relationship with Grande. "You ever see that Derek Jeter commercial, where he was, like, retiring and everybody just tips his hat? Some dude came up to me and was like 'Yo, man, you gave me hope,'" he explained to Fallon.
As you might have expected, Davidson's Instagram confirmation about their engagement was also all kinds of sweet. On June 15, he posted a photo of his hand, alongside Grande's, which sported some major bling on her ring finger, and said, "u know what you'd dream it be like ? it's better than that." In turn, the singer replied to his post with, "so much better," in a comment. Yep, this is pretty much a cuteness overload here.
This confirmation obviously put the couple's loving relationship on full display. And based on Davidson's sweet birthday wishes for Grande, their public displays of affection on social media aren't going to stop anytime soon.