Ariana Grande Reportedly Got A Tattoo That Honors This Member Of Pete Davidson's Family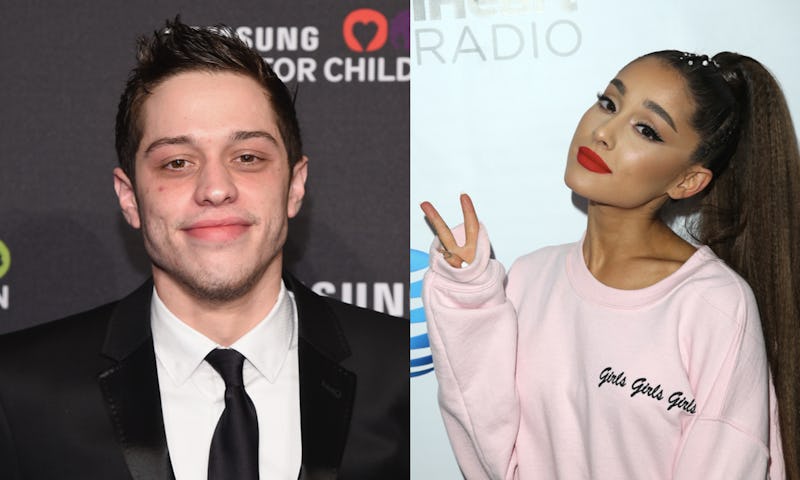 Bryan Bedder/Getty Images Entertainment/Getty Images; Jesse Grant/Getty Images Entertainment/Getty Images
To all those dissenters still hanging on to suspicions about the budding seriousness of Ariana Grande and Pete Davidson's relatively newfound relationship, it might be time to start thinking about letting go. Case in point: Ariana Grande reportedly got a new tattoo that holds special significance to Pete Davidson and his family. More specifically, per a handful of reports that started to circulate over the weekend, it looks like Grande's freshly-minted ink aims to pay homage to the memory of Davidson's father, who was killed during 9/11.
Of course, the standalone fact that Grande opted to procure the tattoo in the first place — if the reports about its significance are true — isn't necessarily the be-all and end-all marker of commitment, as far as her relationship with Davidson is concerned. That being said, it's hard to believe that the "Dangerous Woman" singer (or anyone, for that matter) would feel comfortable permanently stamping her body with such a significant, personal marker of her beau's father's life if she and Davidson weren't at least pretty sure they're in it for the long haul. As far as declarations of love and partnership go, it seems safe to say this is a big one.
So let's talk about Grande's new ink, shall we? According to a recent report by Just Jared Jr., the 25-year-old No Tears Left To Cry singer was apparently spotted with a small tattoo on her left ankle during a public outing over the weekend. That's not a complete departure from the norm for Grande, who's been showing off her ink on social media quite a lot lately. But it was the nature of this particular tattoo, as well as its seemingly powerful meaning, that caught the public's eye. According to Just Jared Jr., Grande's tattoo is comprised of an especially significant string of numbers: 8418.
Referencing Grande's reported new tattoo, the outlet suggested that the number sequence could be a commemorative token meant to honor her reported fiancé's late father, Scott Davidson. As several reports have noted, Davidson's father was a firefighter who died on the job during 9/11, and 8418 was his badge number. The photo that accompanies Just Jared's report — which seems to picture a close-up shot of Grande's tattoo — is pretty grainy, so admittedly, its contents are a little bit difficult to decipher. But still, after scrutinizing the snapshot, the outlet's tattoo interpretation definitely seems like a pretty on-point read.
Suffice to say, fans on Twitter have been all over Grande's new tattoo news — as well as its possible significance. Accompanying two side-by-side photos of Grande (the first pictures her hand-in-hand with Davidson; the second picture is a zoomed-in shot of her ankle tattoo), the Twitter account @CurrentCulture echoed Just Jared Jr.'s theory about its deeper meaning, writing,
The tattoo reads "8418," which happens to be the same badge # that Pete's dad wore on the day of the 9/11 attack. His dad was a firefighter, who died as a hero trying to save the victims.
To those skeptics currently thinking something along the lines of, "Uh, isn't that kind of a stretch?" — it's not, really. As Just Jared Jr. noted in its report, the meaning behind Grande's supposed "8418" tattoo was probably a little easier to pinpoint than it might've been otherwise, given that Davidson has the same tattoo on his upper left arm.
Fans of the reportedly engaged couple know that matching tats seem to have become a pretty run-of-the-mill happening for Grande and Davidson, what with the "H2GKMO" (that's "honest to god knock me out," for the record) ink they both unveiled on social media last week. Of course, that's in addition to their reported matching cloud tattoos, as well as the decidedly Grande-themed ones (a pair of black bunny ears and the initials "AG," respectively) that Davidson acquired at the beginning of June.
That being said, romance-related ink aside, Grande's latest tattoo honoring the memory of Davidson's dad feels like a very different kind of statement. So, while there hasn't been any official confirmation as to the true meaning behind Grande's reported "8418" tattoo, it certainly seems like yet another example of what seems to be an incredibly emotionally supportive partnership between herself and Davidson.