Ariana Grande, Robyn, & Ashley Tisdale Call Making Music "Therapy." Here's Why That's Legit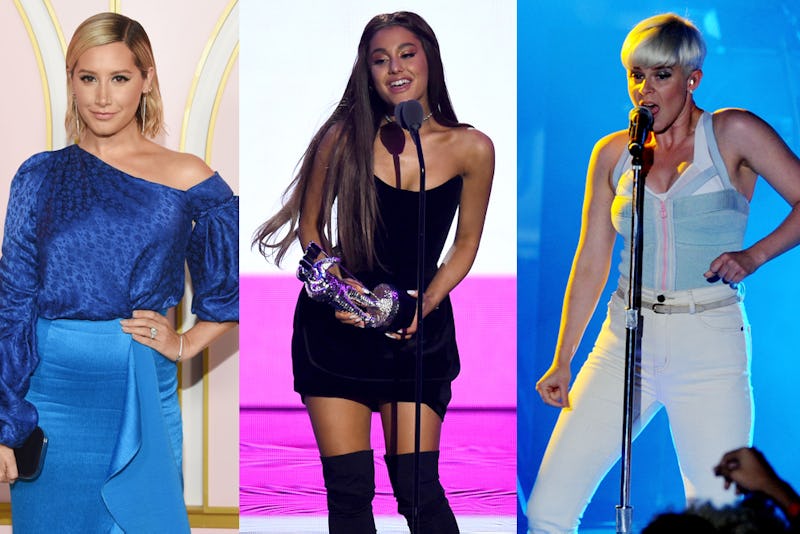 Amanda Edwards/Theo Wargo/Kevin Winter/Getty Images Entertainment/Getty Images
Over the last week, several musicians have come forward with stories of how they've used their music to help with their depression and anxiety. Mega stars like Ariana Grande, Ashley Tisdale, and long-time fave Robyn spoke openly about mental health in ways that not only reduce stigma, but make it easier for others to talk about mental health, too. Each of them cited the process of making music as a tool to lessen their symptoms of depression and anxiety. But how much can music really help your mental health?
Singer Ariana Grande described music as her "lifeline" after experiencing several traumas over the last year, including the Manchester bombing in 2017; her breakup with rapper Mac Miller, who died in September; and her breakup with actor Pete Davidson, according to E! News. The 25-year-old musician told a fan in a tweet that music "fixes everythin [sic]."
Grande has separately touted the life-saving benefits of therapy, encouraging fans via Twitter not to hesitate to seek help if they're ever in need. "In all honesty, therapy has saved my life so many times," Grande said on Twitter. If you're afraid to ask for help, don't be. u [sic] don't have to be in constant pain & u [sic] can process trauma."
According to Dr. Sherry Benton, psychologist and founder of Tao Connect, an online therapy resource, music can offer some relief from depression and anxiety. When someone experiences depression or anxiety, Dr. Benton tells Bustle, they experience repeated negative thought patterns that can reinforce their depression or anxiety. But doing something that requires concentration and focus breaks up those thought patterns, says Benton, creating a "flow."
"Creative activities like writing, creating music, art, are all particularly good for putting us in flow," Dr. Benton tells Bustle. "It's not just music. Other things work for experiencing flow. For instance, dancers and athletes talk about their work as being in the zone."
Former High School Musical star Ashley Tisdale told PEOPLE that she been experiencing anxiety and depression for years. Now 33, Tisdale told PEOPLE that the process of writing her latest album, Symptoms, had been therapeutic for her. "I feel like [writing the album] saved me from just dwelling in what I was feeling," Tisdale told PEOPLE.
Benton says the medical community has known for quite some time that music can change the body's neural anatomy in a way that impacts depression. In fact, a 2017 study published in Frontiers in Psychology found that music therapy — whether people listened to or created music — can reduce symptoms of depression. The study also found that participants also experienced higher self-esteem and increased motivation after participation in music therapy.
For Swedish pop star Robyn, who took an eight-year hiatus from her singing career, music enhanced her healing process, according to The Cut. The 39-year-old singer had reportedly exited the music world in 2010, says The Cut, and spent six years in "intensive" therapy trying to understand the effects of fame on her life and her identity. During that time, she experienced a painful breakup with her fiancé and the death of a longtime friend, The Cut reports. But the singer's depression began to alleviate as she started to record her latest album, Honey, says The Cut.
"You just become way lighter and, in a way, stronger," Robyn told The Cut. "I would say that's the other way of saying strong, maybe — it makes you free. 'Strong' is the word. It's nice to use the word strong … A self-generated energy that I could tap into on my own terms and whenever I wanted, which was a totally new thing for me."
It should be noted that musicians like Grande, Tisdale, and Robyn have the privilege of playing music professionally, and reap the additional benefits, such as income, that come with being major stars — both of which make it infinitely easier to access mental healthcare outside of making music. Still, music therapy is a seldom-explored mental health treatment that can be accessed with or without a trained music therapist, should you choose.
The effect of music "is an involuntary clinical process happening in your brain," Benton says. "Sometimes, simply participating in creative activities is enough to reap the mental health benefits [of those activities]."
Listening to or creating music certainly isn't a cure for depression or anxiety, but it does have proven therapeutic effects. If you are in the process of seeking treatment for depression or anxiety, the National Suicide Prevention Hotline has resources to help you find a therapist or support group in your area. Like other mental health interventions, music therapy might just be another tool in your self-care toolkit.