Ariana Grande Tweeted About How Therapy "Saved Her Life"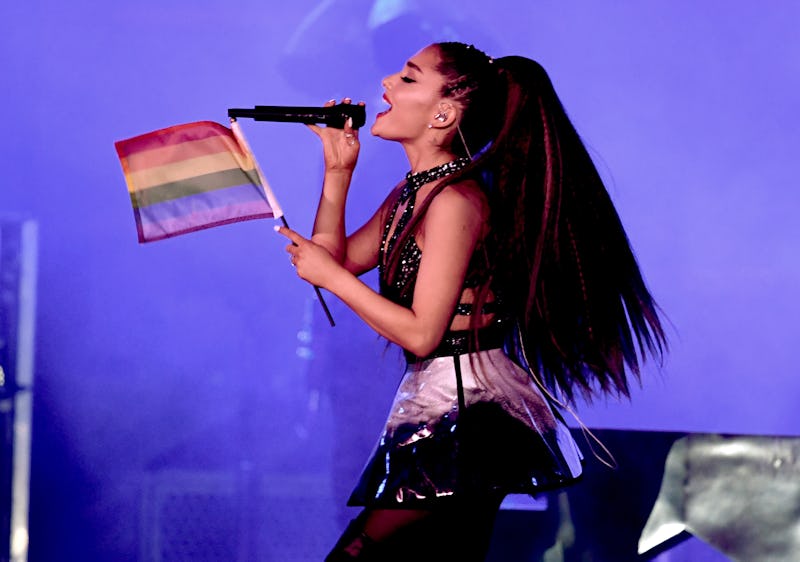 Kevin Winter/Getty Images Entertainment/Getty Images
In a quote retweet on Nov. 5, pop star Ariana Grande spoke out about the lifesaving benefits of therapy, following the tragic death of her ex, singer Mac Miller, and her breakup with fiancé, SNL actor Pete Davidson. In the tweet, the singer said that "therapy has saved my life so many times," while encouraging fans to seek help when it's needed. "If you're afraid to seek help, don't be," the singer tweeted, while saying that the pain of trauma can be overcome with time and help. "I've got a lot of work to do, but it's a start to even be aware that it's possible," she wrote. While Grande's words are inspirational, they also underscore how necessary and life saving mental health treatment can be.
The pop singer has previously confirmed that she developed post-traumatic stress disorder (PTSD) after the Manchester Arena terrorist attack on May 22, 2017, according to Newsweek. More than 800 people were injured in the bombing during one of Grande's concerts, while 22 were killed. Newsweek notes that the star has sought out therapy in order to process her trauma, and now wears a bee tattoo in honor of Manchester and her fans who died. Billboard reports that the pop singer has also found healing in her music, and while therapy has been pivotal to Grande's healing process, her new track, "thank u, next," is a tribute to both her recovery, and making peace with past relationships.
While creative outlets, like music, are a powerful way to process traumas, mental health treatment is also an invaluable resource. Even though the process of finding a good therapist can sometimes seem daunting — especially in the midst of a major life challenges — it doesn't have to be a struggle. The key is to find a good fit, and if you have to interview more than one prospective therapist to find the one you like best, then go for it.
Therapy "is not a one-size-fits-all model," Kiaundra Jackson, LMFT, a licensed marriage and family therapist and author of Staying Sane In An Insane World: A Prescription for Even Better Mental Health tells Bustle via email. When seeking out a new therapist, Jackson says, "You want to make sure they can help you, you trust them, you like their energy, and that you will see results based on the work you all will do together." Jackson suggests that "It's OK to have multiple consultations to make sure you find the right one."
Jackson notes that it's important to check your health insurance plan to see if you can find local therapists who accept your insurance. "Therapy can be expensive when paying strictly out of pocket," Jackson says. If your therapist can bill your health insurance, then you may only need to shoulder the cost of the co-pay.
Jackson also recommends online resources to help bridge the treatment gap if therapy is too expensive for you. "Websites like Open Path Collective … offer counseling services between a range of $30 to $50 per session," Jackson says. According to their website, Open Path Collective therapists offer affordable, in-office psychotherapy sessions for individuals, families, and couples. Also, online counseling services like Maven, BetterHelp, and Talkspace "offer a different form of therapy (virtual and text conversations) for those who are unable or unwilling to step foot in a traditional therapy office," says Jackson.
If you're living with the effects of trauma, a mental health condition, or stress from a major life event know that mental health treatment options are more diverse than ever — and are potentially life saving. A good therapist can be a game changer in your healing process, so don't hesitate to reach out.