Ariana Grande Started a Song Over For a Fan Mid-Performance, Proving She Loves Her Arianators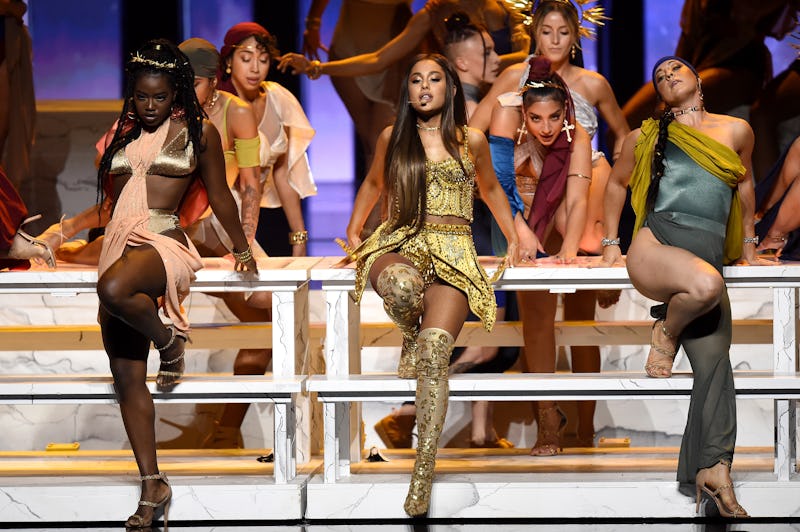 Michael Loccisano/Getty Images Entertainment/Getty Images
If you follow Ariana Grande at all, you'll know that her fans are the world to her. She interacts with them all day long on her social media accounts and often says how important they are. So, it's not surprising that, during a recent Sweetener Sessions concert in LA on Aug. 26, Ariana Grande started a song over again after a fan asked her to so that he could record her performance from the beginning.
In a video captured and posted to Twitter by user @urge4sergee, Grande begins to sing the first track on her new album Sweetener, "raindrops (an angel cried)." There are, of course, many screams coming from the audience, but one in particular stopped Grande in her tracks. Suddenly, she stops singing and starts to laugh, asking, "Did you say 'Start again I wasn't recording'?" A fan then screams "Yes," like his life depends on it, and guess what? Ariana gives her fan what he wants and starts the song over.
According to the tweet, the fan, @urge4sergee, wanted desperately to capture Grande's performance from the beginning. And considering the song only lasts 37 seconds, wanting to get every word makes sense. He tweeted the video, writing, "OMG I SAID WAIT I WASNT READY START AGAIN AND ARIANA FUCKING HEARD ME AND STARTED AGAIN!!!!"
The crowd went wild (just not as wild as the fan doing the recording), and Grande thought it was just hilarious. "And I listened. I listen," said Grande, and she definitely did. Not only did she stop, but she made sure the fan was ready and recording before she started the song over again. The incident was also captured by The Hollywood Reporter's Joelle Goldstein, who also shared her video on Twitter.
The song, "raindrops (an angel cried)" has a very special place in Grande's heart. Back in May, when no one knew much about Grande's fourth studio album, the singer discussed the track during an appearance on The Tonight Show Starring Jimmy Fallon.
In her interview, Grande revealed that one night, when the album was still unfinished, she woke up with the 1961 song, "An Angel Cried" in her head. The song was originally sung by Hal Miller & The Rays, and Frankie Valli and The Four Seasons covered it a few years later. After recording it a cappella — which is how it appears on the album — Grande went to look up who wrote it. And, as she told Jimmy Fallon, she was surprised to discover that she actually had a familial connection to the song. "An Angel Cried" was actually written by one of her grandfather's best friend, Charlie Calello, who co-wrote it with Bob Gaudio of The Four Seasons. Grande told Fallon that she believes it was a sign sent from her beloved grandfather, who passed away back in July 2014. "He was like okay, the album's done girl," Grande said.
While the lyrics are a bit sad, and the story behind how "raindrops (an angel cried)" ended up on Sweetener is bittersweet, fans can confirm that "raindrops (an angel cried)" is breathtaking and a great addition to her album. Great enough to start over again, and again.