Ariana Grande Remixed "7 Rings" With 2 Chainz & It's Basically A Whole New Song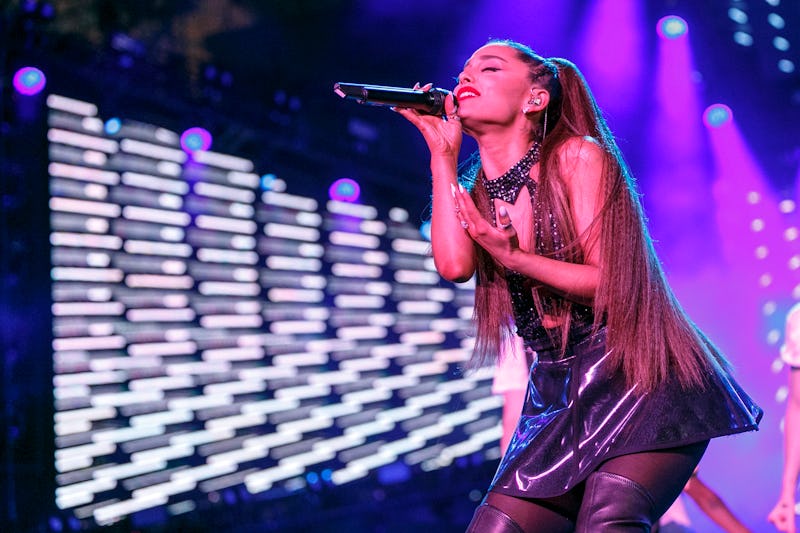 Rich Polk/Getty Images Entertainment/Getty Images
Following an enigmatic tweet hinting at the drop, Ariana Grande released her 2 Chainz "7 Rings" remix on Thursday night. "tonight @2chainz," she wrote on Twitter Thursday afternoon, along with her signature black heart, a diamond, and ring emojis. The new collaboration on her latest hit is a whole new take on the song.
Grande initially released "7 Rings," the third single off her upcoming album thank u, next, on Jan. 18, after which it quickly became a hit. In fact, according to Billboard, with 85.3 million streams last week it holds the second-place spot for most streams in a week in the United States, for women singers (the first-place spot actually also belongs to Grande, for "thank u, next").
2 Chainz's short rap replaces Grande's second verse in "7 Rings." Modulated with autotune, he offers up the lines "My ideas are priceless, I know I'm the nicest/ I knew you would like this, I must be psychic/ I'm from the streets, baby, I'm nothing like them/ She's sweet in the day, but freaky when night come."
With verses like "It's mine, invested; I spend it on necklace" and "I got the cash if I don't get credit," 2 Chainz echoes the wealth-flexing theme of Grande's "7 Rings" lyrics. In his feature he also references "thank u, next," Grande's song about moving on from ex-partners with the line "So scratch all the exes, it's next like contestants."
Following the release, several artists including Soulja Boy accused Grande of stealing from their own music to produce "7 Rings." Soulja Boy pointed to the supposed similarities in cadence between "7 Rings" and his song "Pretty Boy Swag". Grande hasn't directly responded to the accusations, but Bustle has reached out to her for comment.
2 Chainz himself also suggested on Instagram that Grande's music video, set in a pink mansion, was a rip-off of his Atlanta Pink Trap House. Despite fans also pointing out apparent similarities between "7 Rings" and 2 Chainz's 2011 song "Spend It," it seemed to be only a minor conflict, since Grande tapped him to feature on the remix. In fact, in the remix album art, 2 Chainz's name is inscribed on the roof of a pink house, approximately the same place "TRAP" is written on 2 Chainz's Atlanta attraction.
Grande first hinted at the "7 Rings" release at the end of the "thank u, next" music video (in case you missed it, the license plate on Grande's convertible in the video read "7 Rings"). The singer, who according to Harper's Bazaar carries a net worth of around $50 million, explained on Twitter last month that the idea for a song about flaunting wealth initially came from a girl's day out. "my friends took me to tiffany's," after a "rough day," she said. "we had too much champagne. i bought us all rings. it was very insane and funny. & on the way back to the stu njomza was like 'b*tch, this gotta be a song lol'. so we wrote it that afternoon."