Ariana Grande's BTS Photo From The VMAs Is All About Celebrating Strong Women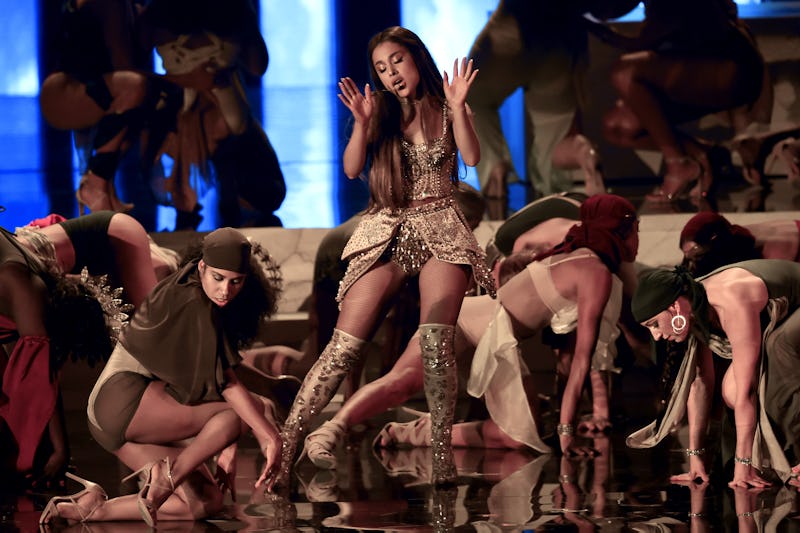 Theo Wargo/Getty Images Entertainment/Getty Images
Ariana Grande always gives people something to talk about every single time she takes the stage. Her vocals are flawless, she turns it out with the fashion, and she sends a strong message. Grande concluded her VMAs performance with an appearance from the women in her family. And the next day, Grande shared a behind-the-scenes photo from the VMAs that emphasizes these strong women.
Grande was on stage surrounded by over 50 dancers while she held hands with her mother, grandmother, and aunt, as Cosmopolitan reported. That's the same trio of women featured in the BTS photo that the "God Is A Woman" singer shared, along with a sweet message thanking them for their support. She wrote, "thank you to the brilliant Grande women for joining me on stage last night."
Grande said, "i love you so much." She also joked, "as Lani put it, it looked like Nonna was some legendary designer debuting her new collection *scream*." That actually does make a lot of sense. It really did look like she was surrounded by a bunch of supermodels at an elaborate fashion show or something.
But on a serious note, it was very cool to see the vocal feminist bringing so many women on stage of varying ethnic backgrounds, shapes, sizes, and ages, along with the women in her family who have inspired her throughout her whole life. It was an undeniably powerful moment.
After the performance, Grande tweeted rehearsal footage and wrote, "Thank god vmas are over so i can finally f*cking post this. y'all..... this choreo works with every and i mean every song ever made. enjoy. more to come."
Does this mean she will be including her beloved family members in more performances? Does it mean that she will continue to have 34,737,373 awesome women dancing with her on stage? It's unclear, but there will be more Grande performances ASAP. That's for sure.
In response to a fan who praised her performance, the pop star tweeted, "i love y'all so much u have no idea. thank you."
Her older brother, and arguably her most loyal fan, Frankie Grande couldn't help tweeting about the "God Is A Woman" performance either. He wrote,
"OMG MY SISTER JUST SLAYED THE #VMAS!!! That is HOW YOU DO IT!! LIVING ART WITH SOMETHING TO SAY AND THE MOST BEAUTIFUL INSTRUMENT TO SAY IT WITH! I AM SO PROUD OF YOU @ArianaGrande!! YOU HAVE DONE IT AGAIN! I LOVE YOU!!!!"
The proud sibling also quoted a tweet from Billboard and added, "damn right ariana was the best performance of the night! #VMAS #proud #godisawoman."
He wasn't the only one to rave about the big performance. Plenty of fans were moved by it as well and they even yelled, "Nonna, you're an icon," to Grande's grandma as she walked through the streets of New York City, based on one fan video shared on Twitter.
While not everyone had the privilege of being in Nonna's presence, plenty of Arianators tweeted about the special family moment.
Grande is on fire these days. She's killing it with music. She's very happily in love. She's maintaining a strong bond with her family. She's empowering women. What isn't she doing? Now that's the real question at this point.