Ariana Grande Brought Her Nonna Onstage During Her VMAs Performance & Fans Were Living For It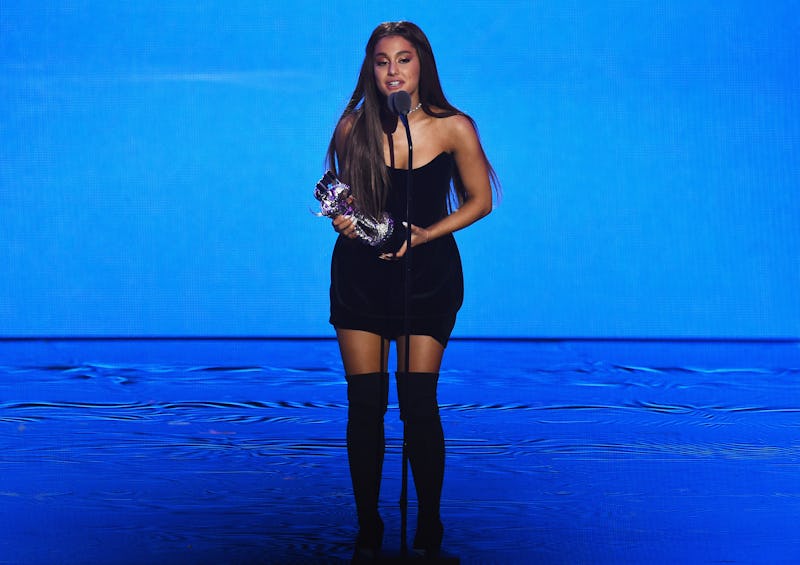 Theo Wargo/Getty Images Entertainment/Getty Images
Ariana Grande was just one of the many performers at the 2018 MTV Video Music Awards, and unsurprisingly, she didn't disappoint. The singer has a long history of amazing showmanship and a rich background in performing, and when Ariana Grande brought her Nonna onstage at the 2018 VMAs during her performance, it was yet another high note and basically a spiritual experience.
While singing her hit "God Is A Woman," she and her dancers mimicked the Bible story of the Last Supper, complete with halos, silk robes, and one very long table. The dozens of dancers were perfectly synced up with Grande as they flitted across the stage, and at the end, she brought her grandmother up onstage with her to take a final bow.
Grande has always made it clear that family is important to her, and this isn't the first time her fans have gotten a chance to see her Nonna in action. Her fans are well acquainted with her grandmother, and recently she even posted a video of the two dancing together. People love getting a glimpse into Grande's personal life, so naturally, when Nonna stepped onstage at the end of her VMAs performance, social media exploded.
It was a big night for Grande — she was also nominated for Artist of the Year, Video of the Year, Best Pop Video, Best Visual Effects, and Best Cinematography, all recognizing her hit song "No Tears Left To Cry." As of her performance, she'd already won Best Pop Video. And of course, people were obsessed with her and her date, Pete Davidson, and they're obviously super in love.
Grande has proven time and time again that she's a born performer. Not only does she boast incredible vocal chops, but she's also an actor. She did get her mainstream big break on Nickelodeon's Victorious, after all, and also appeared on Sam & Cat and had a stint on Scream Queens. She also rocked her Saturday Night Live performances, both musically and within the sketches, and has always made the most of her appearances on late-night talk shows. Grande is always game to deliver something stunning that will satisfy viewers looking for a show.
She's a self-proclaimed workaholic, so it's not really any surprise that her songs seem so poignant and honed, especially when she's performing them live. "I think I'm more comfortable working than I am doing real-life things," she said in an interview with Vogue UK published last week. "Everybody thought I was crazy when I got home and wanted to hit the ground running. I was in the studio the next day [after returning from tour]. I am a workaholic. It is the thing I know how to do best. I've been working straight since I made my Broadway debut at the age of 14."
Her fans have always been obsessed with following her every move, but Grande has also been in a new kind of spotlight recently. I'm talking, of course, about the undeniable public intrigue surrounding her mysterious relationship and engagement to SNL star Davidson. Prior to the VMAs, they had been pretty hush hush, flirting with each other via social media (though they recently both took a joint Instagram break) and stepping out together from time to time, but their relationship remains an enigma to most people, and that seems to be exactly how they like it.
Grande has clearly captured public interest with her talent and charm. This VMA performance is just another thing to add to her long and ever-growing list of accomplishments.