Ariana Grande's Gorgeous New Music Video For 'Breathin' Will Take Your Breath Away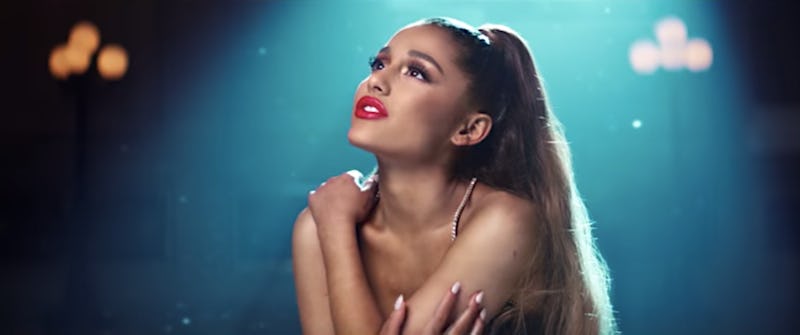 YouTube
Shortly on the heels of releasing her already widely popular breakup anthem "Thank U, Next," Ariana Grande released the music video for her song "Breathin" on Wednesday morning and odds are it'll send all of your emotions into overdrive. From Grande's fourth album Sweetener, which was released back in August, "Breathin" tells the story of the singer's struggle with anxiety, something that the song takes its time in exploring.
Grande has always been open about her anxiety in the past, though her disorder became a lot more prominent after the bombing at her Manchester U.K. concert back in 2017. "I've always had anxiety," Grande revealed in the July 2018 issue of Vogue U.K. "I've never really spoken about it because I thought everyone had it, but when I got home from tour it was the most severe I think it's ever been."
That's a big part of what makes her lyrics in "Breathin" ring so true, since it seems to pull directly from Grande's own real life experiences: "Some days, things just take way too much of my energy / I look up and the whole room's spinning / You take my cares away / I get so overcomplicate, people tell me to medicate"
The video shows Grande reflecting on these parts of herself as the rest of the world passes by in a whirlwind around her.
The video also features Grande in various outfits — each one more stunning than the next — as she keeps reminding herself to keep on breathing in order to get through all the rough times. Whether she's sitting on a pile of suitcases (perhaps meant to represent all of the baggage we, as humans, carry around with us throughout our lives) or relaxing on a swing high off in the clouds, the visuals Grande provides her fans with truly stunning and provides further meaning to the already relatable lyrics:
"Feel my blood runnin', swear the sky's fallin' / How do I know if this shit's fabricated, oh? / Time goes by and I can't control my mind / Don't know what else to try, but you tell me every time"
During an appearance on The Tonight Show Starring Jimmy Fallon, Grande spoke a little more in depth about what the song was about, stating:
"'Breathin' is about breathing...when you're anxious. It's about anxiety and feeling like you can't get a full breath. It's like the worst feeling in the whole world. It's a song about that feeling... I was having lots of [anxiety attacks]. We were in the studio, we were writing and I was like, 'Ugh I can't breathe.' And they were like, 'We're going to write this song.' And I was like, 'Okay, I still can't breathe, but we'll write it.'"
So to say that fans have been eagerly awaiting the music video for this song to come out would be an understatement, and like always, Grande did not disappoint and proves that — much like the video itself — she is beautiful, both inside and out. We are not worthy.