Ariana Grande's New Song "Breathin" Is About Her Anxiety & Fans Are Loving The Singer's Openness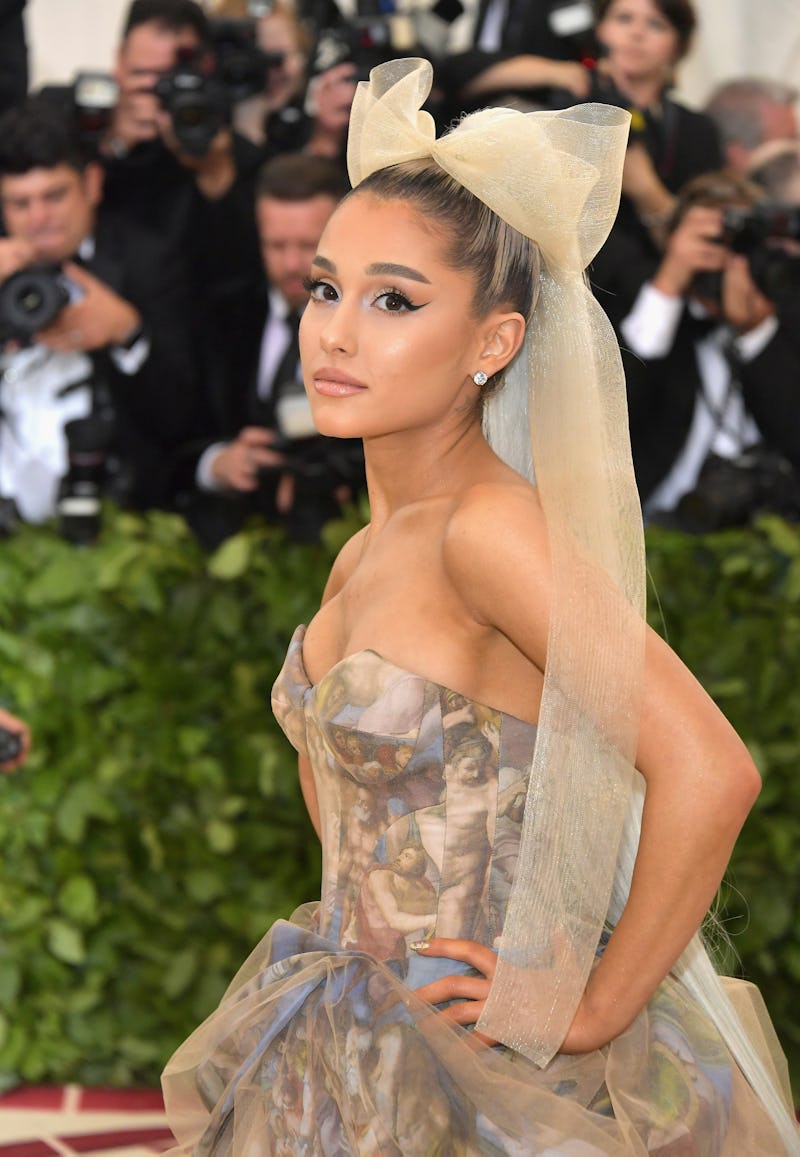 Neilson Barnard/Getty Images Entertainment/Getty Images
Ariana Grande released her highly-anticipated album Sweetener on Friday, August 17 and while there are several songs on the project that have struck a chord with fans, listeners couldn't help but to wonder if the lyrics to Grande's "Breathin" are about the singer's struggle with anxiety. It certainly makes sense, as Grande has been open about the issue in the past. In the July 2018 issue of Vogue U.K., Grande revealed that while she's always dealt with feelings of anxiety, but the disorder began affecting her more severely after the bombing at her Manchester U.K. concert in 2017.
The 25-year-old entertainer, who also revealed that she's been diagnosed with Post-Traumatic Stress Disorder or PTSD, shared in an interview with People that she was initially apprehensive about sharing her diagnosis given the fact that 22 people lost their lives in the horrific event last year. She explained:
"It's hard to talk about because so many people have suffered such severe, tremendous loss. But, yeah, it's a real thing. I know those families and my fans, and everyone there experienced a tremendous amount of it as well. Time is the biggest thing. I feel like I shouldn't even be talking about my own experience — like I shouldn't even say anything."
In her discussion with Vogue, Grande went on to tell the magazine just how badly affected she's been by the disorder, sharing:
"My anxiety has anxiety… I've always had anxiety. I've never really spoken about it because I thought everyone had it, but when I got home from tour it was the most severe I think it's ever been."
Throughout her "Breathin," lyrics, Grande seems to address some of the issues she's faced over the past couple of years. In the track's opening verse, Grande sings:
"Some days, things just take way too much of my energy / I look up and the whole room's spinning / You take my cares away / I get so overcomplicate, people tell me to medicate"
The picture Grande paints with her lyrics, with everyday tasks seemingly taking more energy and the feeling that the room is spinning, is one every person who has ever suffered from anxiety will recognize. Leading into the pre-chorus, Grande shares some of the feelings she endures in those moments. She continues,
"Feel my blood runnin', swear the sky's fallin' / How do I know if this shit's fabricated, oh? / Time goes by and I can't control my mind / Don't know what else to try, but you tell me every time"
Upon its release, Arinators were quick to pick up on the song's meaning, with many taking to Twitter to share their thoughts while thanking Grande for being open on the subject.
While "breathin" doesn't mention "anxiety" outright, Grande made it clear that she intended to use the song to share her mental health struggles with fans. Months before Sweetener's release, the "Bang Bang" singer confirmed that "breathin" was about anxiety in a tweet when a fan inquired about the song's title.
She also took to social media to detail just how extreme the feelings were for her last year. In a May 2018 tweet, she shared:
"i felt like i was floating for like 3 months last year & not in a nice way. like i outside my body? was v scary and i couldn't breathe well. so it's ab that. & lots of voices in my head singin."
Ariana Grande's honesty about her mental health is certainly admirable, and will hopefully help others who suffer with similar struggles.