Ariana Grande's Comment On Pete Davidson's Engagement Announcement Will Make You Swoon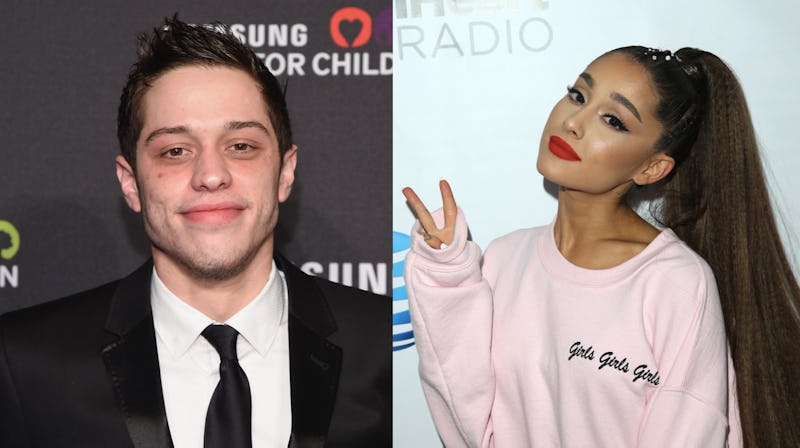 Bryan Bedder/Getty Images Entertainment/Getty Images; Jesse Grant/Getty Images Entertainment/Getty Images
Because fans' heads weren't already spinning, Ariana Grande's comment on Pete Davidson's engagement announcement made things official on Friday, June 15, thanks to an Instagram post on Davidson's account. In case fans were still skeptical about the whirlwind romance, Grande commented on the post, making this anything but fake news. On Friday, the SNL star posted a black-and-white photo of the couple's legs, with Grande on his lap, and a clear view of her engagement ring. The caption reads, "u know what you'd dream it be like ? it's better than that." Shortly after, Grande replied on the post with a heart emoji and the comment, "so much better." To make this exchange even cuter, Davidson replied back with a drooling face emoji. And suddenly fans have never felt so single.
Meanwhile, Grande has yet to post an engagement photo on her own Instagram. On Thursday, though, Grande posted a video of herself and Davidson having a ball on a ride at Disneyland with the caption, "FOREVER LIT." Around the same time that Davidson posted his photo on Friday, Grande shared short snippets of Davidson eating a fruit roll-up and hilariously dancing on her Instagram story. It seems the two were with each other when the engagement photo was posted, basking in the glory together.
The official Instagram announcement comes just a day after Grande publicly wore the pear-shaped engagement ring while performing at the 2018 Songwriters Hall of Fame Induction & Awards Dinner in NYC. (According to Just Jared, the three-carat rock costed a cool $93,000.) E News reports that Davidson purchased the ring back in May. The first official report of their engagement was published on June 11 by Us Weekly. A source told the magazine, "They are a perfect fit. They are not rushing to get married. Their friends are really excited and supportive." Ever since, fans have been watching their every move.
On May 31, Grande posted the first photo of them on her Instagram, in which Davidson has his arms wrapped around her and is kissing her forehead. The day prior, Davidson posted a photo of the two in head-to-toe Harry Potter costumes, which ensued in a back-and-forth exchange of Harry Potter puns between them.
It's unclear when or how Davidson popped the question, seeing as how a majority of their new relationship is still a mystery to fans. In early May, Grande confirmed her breakup from longtime boyfriend Mac Miller on social media. Just a few days later, it was reported that Davidson and Cazzie David called it quits. A few days after that, Davidson reportedly cheered Grande on at the 2018 Billboard Music Awards from backstage, and rumors regarding their romance were officially sparked. On May 21, People reported that they "just started" dating and "it's very casual," according to a source. 25 days later, and a very shiny rock is officially on Grande's finger.
Not only are audiences keep an eye on the newly-engaged couple, but also on their exes. According to Glamour, Davidson's ex-girlfriend and Girl Code star Carly Aquilino posted a text exchange to her Instagram story on June 12 that was pretty suspect. "I know I'm the 9 billionth person to text you about this, but…I can't," someone texted her. She responded with, "HAHHAHAHAAH." The screenshot was captioned, "My day in a text message."
Meanwhile, Cazzie David was drinking lots of wine and living her best life amidst the news, documenting with photos on Instagram. (There's still a photo of her and Davidson on her account from May 3 with the caption, "Bffs" and a heart.) As for Grande's ex? Hollywood Life reports Miller is "devastated" by the news, although the rapper has yet to speak to the engagement himself.
The lovebirds seem pretty happy though, and with such a wild, publicized engagement, they're bound to get mixed reactions here and there. Doesn't seem like they care. Why should they?