Ariana Grande Addressed The Meaning Behind "Get Better Soon" In This Emotional Interview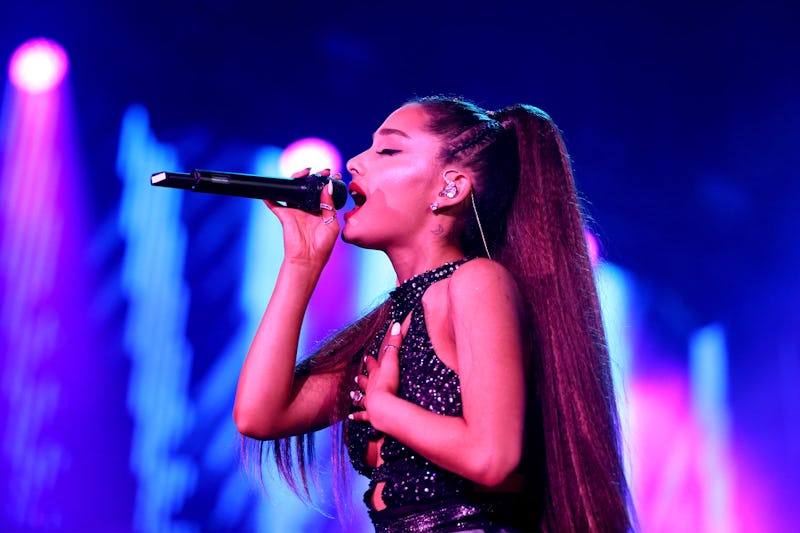 Rich Polk/Getty Images Entertainment/Getty Images
You're probably well aware that Ariana Grande's latest album, Sweetener, was released on Aug. 17. And, if you've listened to the album already, you would know that there's one particularly personal song, "get well soon," that fans have speculated features a tribute to those who passed in the Manchester bombing. During an interview on Apple's Beats 1 with Ebro Darden, Ariana Grande became emotional talking about "get well soon" and the Manchester bombing.
Grande was visiting Beats 1 to celebrate the release of her new album on Friday when, after playing "get well soon" for the Beats 1 audience, Darden connected the song to the attack on Grande's Manchester concert last year. It was then that Grande began to get emotional, and fans listening in to the live stream could hear her crying as she spoke about the song and what she wants fans to get from it. Through her tears, Grande said that she hopes the song will be cathartic for those going through troubling times, and remind people to help each other. "It's just about being there for each other, and, like, helping each other through scary times, and, like, anxiety," she said.
Understandably, the "no tears left to cry" singer got more emotional as she continued to discuss the track and devastating situation. "It's just f*cked, so I just wanted to do something to make people feel good," she said. Grande went on to explain that it's not necessarily a song just about Manchester, but about all hardships, adding, "It's not just about [Manchester], you know? It's also about personal demons and tragedies, as well."
She also said that she wanted her album to be a positive experience for everyone, even describing her songs as giving "people a hug musically." Grande told Darden, "I just wanted to give people a hug, musically. The lyrics can sound kind of corny, you know, like wanting to give you a hug, but I really do."
The experience of having a concert targeted and attacked has clearly had a lasting effect on Grande, as she related on Beats 1. "It's like people are permanently affected by this sh*t, and... it changes your life quite a bit," she said. The tragedy has made the singer want to make the most out of every moment. "You really want to be more present and follow happy impulses and figure it out later. You want to live in the moment," she explained.
In the emotional interview, Grande also added that she was determined to finish her Dangerous Woman tour after the attack because she wanted to live without fear. "You try not to give into fear, because obviously that's the point of being here," she said, adding that she wanted to make sure that her fans saw her rise above a tragedy. "That's why I wanted to finish my tour, to set an example for my fans."
Grande has indeed shown an immense amount of strength in light of the tragic Manchester bombing attack that took place in May 2017, per CNN. Following the tragedy, the "God is a Woman" singer bravely returned to Manchester only a few weeks after the ordeal in order to visit those injured by the bombing. She also hosted a fundraising concert for the victims only two weeks after the attack, also according to CNN.
Obviously, the event still weighs heavily on Grande's mind, as you can tell by the emotional tributes she's made through her music. In fact, her vulnerable moment on Beats 1 appeared to be tied to the theory that there's possible tribute to the event hidden in the length of "get well soon." The song runs at 5:22, with a notable 40 seconds of silence at the end of the track. Fans have deduced that the silence was added so that the song could end on 5:22, which would mark the anniversary (May 22) of the bombing.
Whether or not "get well soon" was intended as a response to the Manchester bombings, it clearly has an emotional power for both Grande and her fans. And the message she wants it to send to the world, that we all need to be nicer to each other, is always going to be an important one, worthy of spreading no matter the circumstances.