Ariana Grande's 'Legally Blonde' Photos On Instagram Have Fans In, Like, A Total Frenzy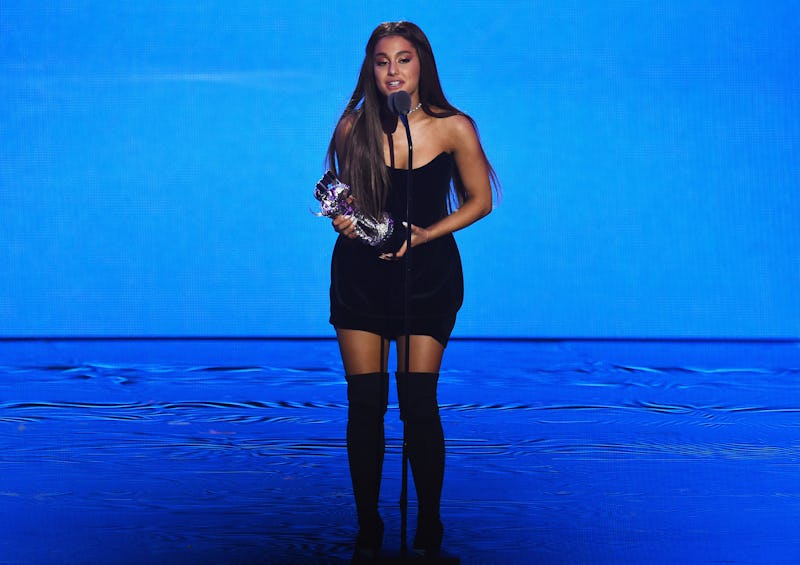 Theo Wargo/Getty Images Entertainment/Getty Images
You can always count on Ariana Grande to leave fans on the edge of their seats when it comes to next projects or songs she has in the works. And based on her latest series of Instagram stories, her next endeavor is gearing up to be any rom-com lovers dream. On Monday, the singer made a Mean Girls reference accompanied by various images of her and her close friends. However, it hasn't stopped there. On Tuesday, Ariana Grande shared multiple Legally Blonde photos on both Instagram and Twitter, many of which included the caption of "Thank U, Next" added in. Starting to see a common theme here?
All of these teasers are connected to various romantic comedies that Grande has always loved. Could this all be part of her "Thank U, Next" music video? Some fans certainly seem to think so — and Grande is definitely adding some fuel to the rumor fire. After her nod to Mean Girls on Monday, Grande's Instagram stories also hinted that this was just 25 percent of the cup of tea she was spilling to fans. That still left 75 percent to be uncovered. Now, with the addition of her Legally Blonde shoutouts, that takes away another 25 percent of the clues, which Grande confirmed to a fan on Twitter.
"If mean girls was 25% of the tea... perhaps legally blonde was also 25% so we have two movies left? i'm reachin," one Twitter user wrote, prompting Grande to respond by saying "nah u got it," with a black heart emoji. One almost needs a Harvard Law degree to get to the bottom of this mystery!
Another huge Grande tease: this photo of her with Jennifer Coolidge, who played Elle's BFF Paulette in Legally Blonde. The photo shows Collidge dressed up exactly as Paulette — could she be making a cameo in the video?
Naturally, this left many fans eager to figure out what the two remaining rom-coms would be, and apparently enough fans guessed the correct answer that it prompted Grande to go ahead and confirm the next 25 percent to be none other than 13 Going On 30.
Grande is so committed to the 13 Going On 30 theme, she's even got a Barbie dream house, just like the one Matt makes Jenna in the film.
That just leaves one more movie left. So what could it be and what the heck is it all for? Given the many references to her hit song "Thank U, Next" odds are these are all teases to the upcoming music video, which will evidently be rom-com themed. But in regards to what the final movie is, that's still up for some debate.
After one Twitter user guessed that it was Clueless, Grande responded, saying, "no [black heart emoji] it's been done (and very well!) so we did some of my other personal favs!"
Some predicted that it'll be Sixteen Candles, while others looked back on Grande's previous tweets for clues, noticing that she tweeted back in 2010 that Bring It On and Crossroads were two of the greatest movies ever. Does that still hold up in 2018? Only time will tell.
For this fan, it'd be great for the final movie to be 10 Things I Hate About You (an all-time favorite of yours truly) or She's All That (another classic '90s hit). But until she uploads any final clues, there's no way to know for sure. Some come on, Grande, spill the rest of this dang tea already!