Ariana Grande's 'Mean Girls'-Inspired Instagram Posts Have Fans VERY Intrigued By What's Next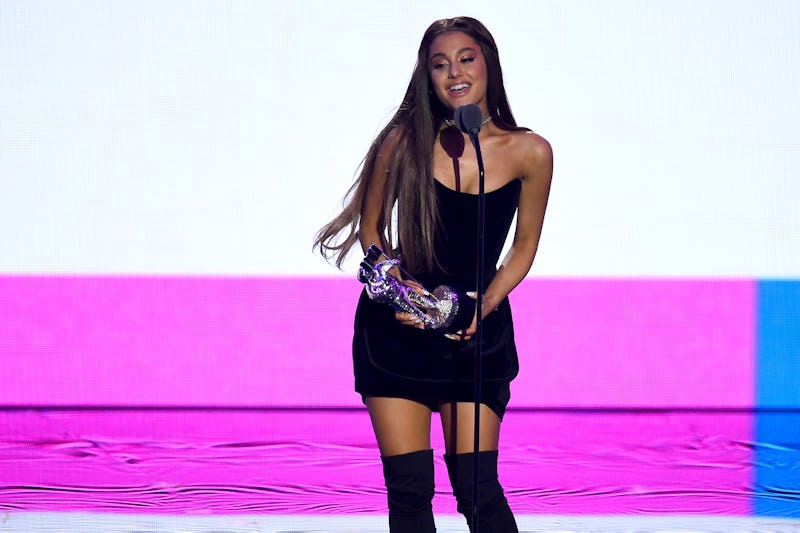 Theo Wargo/Getty Images Entertainment/Getty Images
Ariana Grande's hair might not be as "big" as Gretchen Weiners', but, much like the locks belonging to Toaster Strudel's fictional heiress, it seems hers might also be chock-full of secrets right now. Ariana Grande's latest Instagram Stories — shared with the likes of her social following in several parts Monday, Nov. 19, following a string of similar tweets and IG posts throughout the morning — teased fans with the vague-ish beginnings of some sort of exciting new project.
The specifics of that project remain mostly under wraps, at this point. But, if the aggressive subtext is any indication, it certainly looks like Grande's next venture — whatever it is — could have something to do with Mean Girls. "meet the plastics," Grande tweeted, followed by a black heart emoji, captioning one of several teaser tweets doled out to her 58 million followers Monday morning. Anyone else caught up in a flashback to Janice Ian's "high school cafeteria" breakdown from Mean Girls' first act? "You've got your freshmen, ROTC guys, preps, JV jocks," Janice explained, before iconically continuing on to provide Lindsay Lohan's Cady Heron with a hysterically detailed blueprint of North Shore High's social scene. After dubbing herself (and her pal, Damien, of course) The Greatest People You Will Ever Meet, she warns Cady about "the worst" of 'em: The Plastics.
Now, "the plastics" that Grande introduced on Twitter don't look anything like the ones who terrorized North Shore's student body (and some teachers, too) in Tina Fey's beloved 2004 teen comedy film. Rather than Regina George, Gretchen Weiners, and Karen Smith, Grande's tweet instead sees the star herself posing lovingly alongside two close friends, Alexa Luria and Courtney Chipolone. The three-part photo set on Twitter was evidently crafted using snapshots from three individual posts that Grande shared to Instagram a bit earlier on Monday. Fittingly, each of those respective IG posts touts a Mean Girls zinger of its own.
OK, but, seriously. What's all this Mean Girls stuff about? Re-posting those three photos to her IG Story a little later on Monday, Grande didn't say exactly what prompted her recent string of Plastics-centric content (she didn't give too much away as far as what it's all supposed to mean, either), though she definitely encouraged fans to keep a look out for something big headed their way.
"all of this is tea," wrote Grande in Monday's IG Story, overlaying those snapshots of the star with her own personal Plastics trio. In classic Grande fashion, though, she didn't spill the whole cup right away. Trailing those re-posts to her IG Story, Grande followed up with a little caveat about this Mean Girls-themed nugget of teaser tea. "only a tiny sip tho," she wrote, "and by tiny sip i literally mean tiny ... like 25 % of the cup."
When a fan on Twitter inquired about the remaining 75 percent, Grande didn't reveal much, but told them to expect another round of (ostensibly Mean Girls-related) tea on Tuesday. "i'll tell u more tomorrow," she replied, tacking a little teacup emoji onto the end of her tweet for good measure. Who's to say if tomorrow's teatime treasures will see some similarly modest spillage or what, but here's hoping Grande goes ahead and dumps the whole dang tea kettle on us as soon as possible.