Ariana Grande's Manager Opened Up About The Time She Fired Him & How It Made Them Closer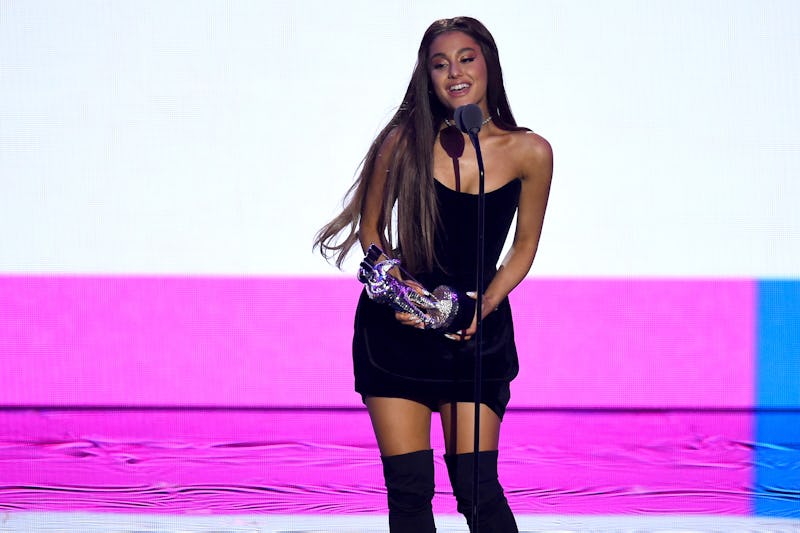 Theo Wargo/Getty Images Entertainment/Getty Images
Scooter Braun may not be a household name to most people. But in the entertainment world, the manager is a star in his own right. Braun has worked with a few of the biggest names in music — think Kanye West and Justin Bieber — and in some cases, he's been fired by them, too. Ariana Grande's manager Braun talked about her firing him during a conversation with Variety. And it sounds like their split made these two appreciate their working relationship even more.
Braun explained to Variety that when Grande fired him in February 2016, he didn't say anything negative about her, in case they worked together in the future. "With Ariana, I could have said a lot of stuff, and in fact my team wanted me to, because they were pissed," he told the magazine. "But I said, 'We're not gonna say a word, and this is gonna come back around.'" It sounds like his intuition was right, because the "God Is A Woman" singer rehired him in September 2016, per Billboard.
The manager also hinted that one of Grande's exes may have been, at least in part, responsible for the professional split. "When s****y boyfriends leave, she starts to see the light on some stuff, and one day I got a phone call," Braun told Variety. "She said, 'Can I see you tomorrow?' and I said, 'No, I'm busy' — I actually couldn't, so I said, 'I could see you Thursday' or whatever, and I went over there, and we had a very honest conversation."
Braun also explained that the experience with Grande helped him become a better manager, because he'd never had a client let him go. "It made me and her really tight, because now when we get into those fights and she's coming at me, I just go, 'Woah, do you want to go back to where we were?,' and then it kinda calms down," he told Variety. "And that relationship we had, from being fired to getting back together, really gave us the strength for what we never imagined would come that following year."
Even though it's not clear who the "boyfriend" is that Braun mentioned, it sounds like he might have been a little dismissive of Grande's relationship at the time. His comment about her "see[ing] the light" after a breakup suggests that he doesn't believe she was thinking for herself in her relationship, at least with that person. But either way, it sounds like the disagreement is way in their past now, and that Braun and Grande have developed a greater mutual respect for one another, which ultimately is what matters most.
Braun and Grande have known each other for years now, and it sounds like their differences are in the past, at least for the most part. (It's hard to imagine, though, that Grande will be thrilled to hear he choice of words that Braun used to describe her ex.) Professional relationships, like any other, are built on trust. And after their time apart in 2016, it sounds like the singer and manager have more faith in each other than ever before.