Ariana's PTSD Revelation Is Even More Heartbreaking When You Look At It Closely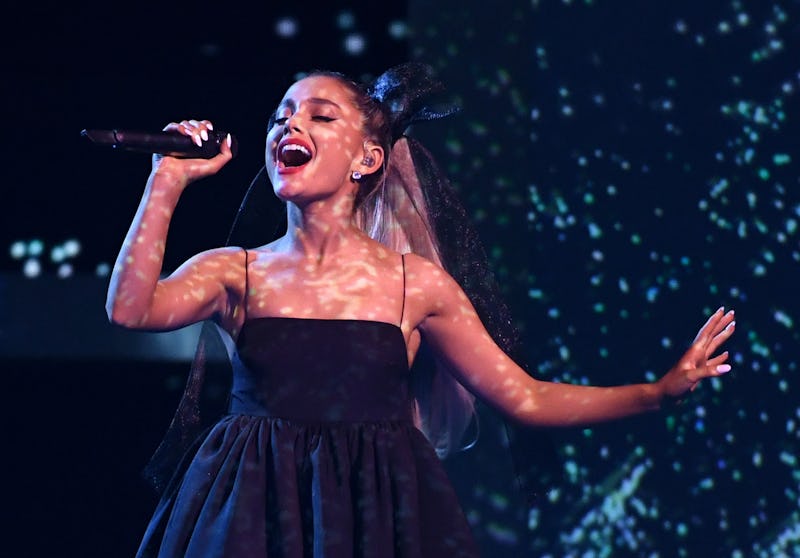 Ethan Miller/Getty Images Entertainment/Getty Images
The 2017 Manchester bombing at Ariana Grande's concert shocked the world, and the singer has recently spoken out on the effect the tragedy has had on her mental health. The attack, which left 22 of her fans dead after a suicide bomber targeted the gig at the Manchester Arena, has unsurprisingly been a incredibly tough for Grande to process. Though Grande has consistently talked about the devastation the incident caused for her and her fans, this is the first time she has opened up with such personal details. Speaking to British Vogue, Ariana Grande revealed she has suffered with PTSD since the attack.
According to the NHS, PTSD is reported to affect one in every three people who have experienced a traumatic event, and it can occur immediately after the incident or take months, or even years, to manifest in the survivor. Given the intensity and catastrophic results of what Grande went through, it's understandable that she would suffer with the condition. Though there are no hard and fast rules for how post-traumatic stress disorder will influence people, the singer's interview in British Vogue details how difficult the past year has been for her and how PTSD has changed her life.
Reflecting on the year since the Manchester Arena attack, Grande said how speaking about what happened is still an incredibly emotional thing for her, especially considering how many young people lost their lives while attending her concert. "It's hard to talk about because so many people have suffered such severe, tremendous loss. But, yeah, it's a real thing."
PTSD often takes the shape of nightmares, flashbacks, anxiety, and depression, with sufferers also prone to experiencing feelings of isolation, irritability, and severe guilt. Grande went on to talk about how overwhelming discussing the Manchester attack is for her, while simultaneously acknowledging how hard it is to know so many other people out there are dealing with similar pain. "I know those families and my fans, and everyone there experienced a tremendous amount of it as well. I feel like I shouldn't even be talking about my own experience — like I shouldn't even say anything."
It's devastating to hear Grande talking like this, and I hope that she's getting the support she needs. In the aftermath of the attack, several of the victims described dealing with "survivor's guilt," as reported by The Sun, and Grande's comments about not feeling able to speak to her own experience reflects the complexity of the emotional impact of an event like this.
According to Sheila Drexler, a psychotherapist and counsellor based at ThoughtSpace, Dublin, people encounter these feelings "as an emotional reaction where an individual feels guilty for having survived a tragedy where others have died. They may feel remorse for surviving the tragedy or responsibility for the event occurring." She also adds that "the feeling of guilt can be compounded by feelings of grief and devastation. These can be very difficult feelings to process."
Reaching out to a professional and recognising that you need to treat your PTSD is an essential step in moving forward. "Avoiding the emotion lying underneath the surface of the guilt blocks the person from coming to terms with what has happened, moving forwards, and feeling better." Drexler added that "this is where talking to a mental health professional can be of importance. A counsellor can help an individual dealing with PTSD and survivor's guilt to explore their complex emotions and feelings surrounding the devastating event that has occurred."
The singer heartbreakingly revealed that she can't currently see a time when she will be able to speak about what happened to her and everyone at the event without reliving the huge pain it caused, saying, "I don't think I'll ever know how to talk about it and not cry." In May, Grande got a tattoo of a bee in memory of the lives lost at the attack.
The support for Grande and the families of the Manchester Arena victims has been astounding, especially during the first anniversary of the attack in May, with fans showing an outpouring of love and wishes. The young singer herself has consistently shown that matters are never far from her mind, tweeting on May 22 that she is "thinking of you all today and every day. I love you with all of me and am sending you all of the light and warmth I have to offer on this challenging day."