Ariana Grande's Recent Tweet Actually Sparked An Increase In Dictionary Searches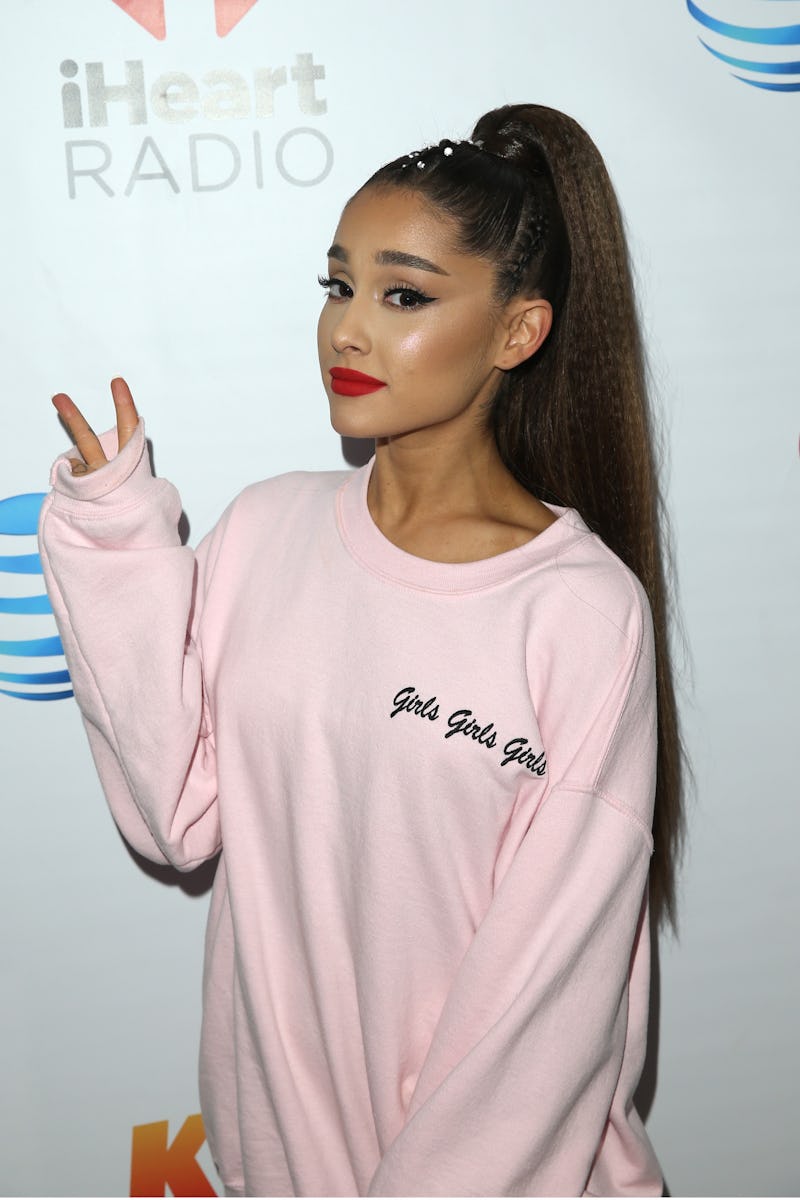 Jesse Grant/Getty Images Entertainment/Getty Images
As everyone knows, Ariana Grande is an icon in more ways than one. And now, her influence has spread to the dictionary realm. According to Merriam-Webster, Ariana Grande prompted an increase of dictionary searches for "relevancy" after she posted her Twitter response to Pete Davidson's Saturday Night Live promo on Nov. 1.
In a press release, Merriam-Webster noted that searches for the word "relevancy" rose over 5,600 percent on Nov. 2. In case you're wondering why, that's where Grande comes in. On Nov. 1, she tweeted (but has since deleted) what many presume to be a response to one of the latest SNL promos, in which Davidson, her ex-fiancé, jokingly proposes to Maggie Rogers, the musical guest for the Nov. 3 episode.
Hours after the promo was posted on Twitter, Grande originally tweeted, "for somebody who claims to hate relevancy u sure love clinging to it huh." She followed that up and wrote, "thank u, next." Grande also responded to one of her fans who tweeted about the promo. They wrote, "tag yourself i'm maggie" in response to the clip. The singer originally quote tweeted their response with a simple period.
It should be noted that the "God is a Woman" singer did delete the tweets and did not specifically name Davidson. To be fair to the SNL star as well, he did not mention Grande by name during the promo. But seeing as though there's a pretty major comparison to be made (the pair was engaged up until mid-October), the connection seems pretty apparent, which is why Grande may have been addressing him with her "relevancy" response.
Oh, and by the way, just in case you were going to look up "relevancy" like so many others did, the word is defined by Merriam-Webster as either "relevance" or "something relevant" (in other words, something relating to a specific matter).
It's kind of not surprising that Grande's tweets were able to create this major impact. She's one of the most famous singers in the world right now, after all. If you take a look at her Twitter, you'll notice that she has more than 58 million followers, with all of her tweets receiving thousands of engagements. So, yep, it's safe to see why her tweets, and subtle shade, could spark such a large spike in look-ups for "relevancy."
Following this response, Grande seems to be focusing on the positive. Surprisingly, that includes posting about a sexy Voldemort stripping video to "Dangerous Woman," a wild video she posted about on Nov. 2 and captioned, "i never knew i needed this." Aside from some wonky videos, she's also focusing on her music. Many of her fans believe that she's posted some lyrics from a forthcoming song on Twitter. In one tweet, she wrote:
"got so much love..... got so much patience..... i've learnt from the pain ... and turnt out amazin.... say i've loved and i've lost..... but that's not what i see cause look what i got.... look what u taught me."
No matter what she does, you can always count on Grande to make such a major mark on the world. Apparently, that even comes in the form of dictionary searches.