Ariana Grande & Pete Davidson Split & Call Off Engagement, According To Reports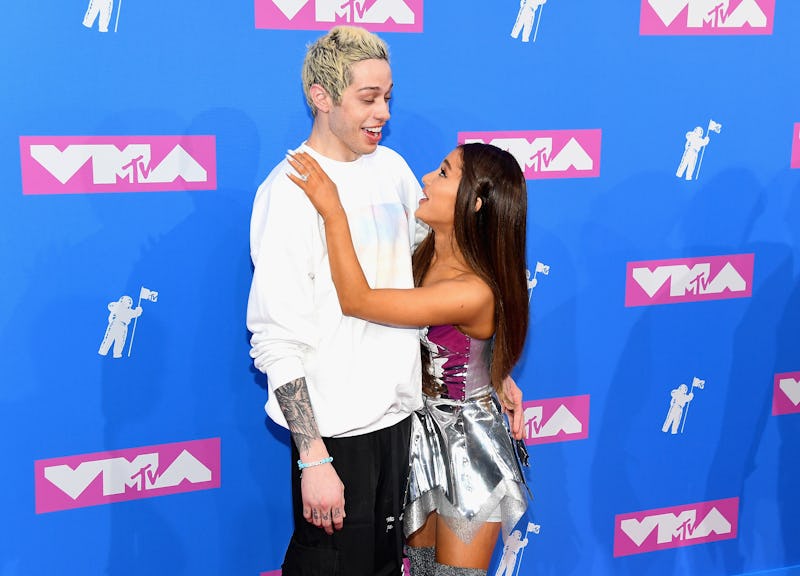 Nicholas Hunt/Getty Images Entertainment/Getty Images
After a whirlwind romance over the summer, TMZ is reporting on Oct. 14 that Ariana Grande and Pete Davidson have split. People is also reporting that the couple has ended their relationship. According to the outlet, the pair called off their engagement over the weekend. An unnamed source told People, "It was way too much too soon. It's not shocking to anyone." Bustle has reached out to both celebrities' representatives, but did not at hear back at press time.
Reports that Grande and Davidson were dating first broke in May 2018, shortly after Grande split from Mac Miller, and Davidson ended his relationship with comedian Cazzie David. The duo announced their engagement via Instagram on June 15, and shortly afterwards they moved into an apartment in New York City together.
Throughout the summer, the couple shared updates on their relationships, photos from date nights, and they even adopted a pet pig. However, since the untimely death of her ex-boyfriend, Miller, on Sept. 7, Grande has been taking some time to herself. She recently canceled a planned appearance on Saturday Night Live, and pulled out of performing at a cancer fundraiser on Oct. 13.
Grande has continued to post frequently on social media, though, so it's possible she'll take to Twitter or Instagram soon to confirm or deny the break-up reports. Over the past several months, the singer has filled her Instagram with photos of Davidson and of their lives together, and as of this writing time, has not deleted any of those images. It's possible she'll do so shortly, but perhaps both she and Davidson will choose to leave photos of each other over their feeds despite the reported split.
Many fans of the former couple are devastated by the break-up news, and it's very understandably why; although Davidson and Grande's relationship was short-lived and intense, they seemed truly in love and had even adopted a pet pig together, adorably named Piggy Smalls. It's unclear what'll happen to Piggy Smalls now that her parents are reportedly splitting, but there'll surely be updates in the coming days.
According to TMZ, Grande and Davidson's reported break-up doesn't mean that they're no longer friends, as the site reports that "they still have love for each other, but things are over romantically." Over the last few months, the duo have had nothing but good things to say about each other in interviews and on social media, and they've even expressed their admiration for one another with multiple tattoos. Only time will tell if either of both of the celebs choose to cover up or laser off the tattoos they've gotten for each other, which include both matching designs and individual tributes.
It's a sad day for fans of Grande and Davidson's romance, but who knows — perhaps even if the split is confirmed by the pair, they might not be done for good. Their relationship began and escalated so unexpectedly, after all; it wouldn't be a surprise if they ended up back together after taking some time apart.