Ariana Grande's Response To Fans Blaming Her For Mac Miller's Behavior Will Make You Proud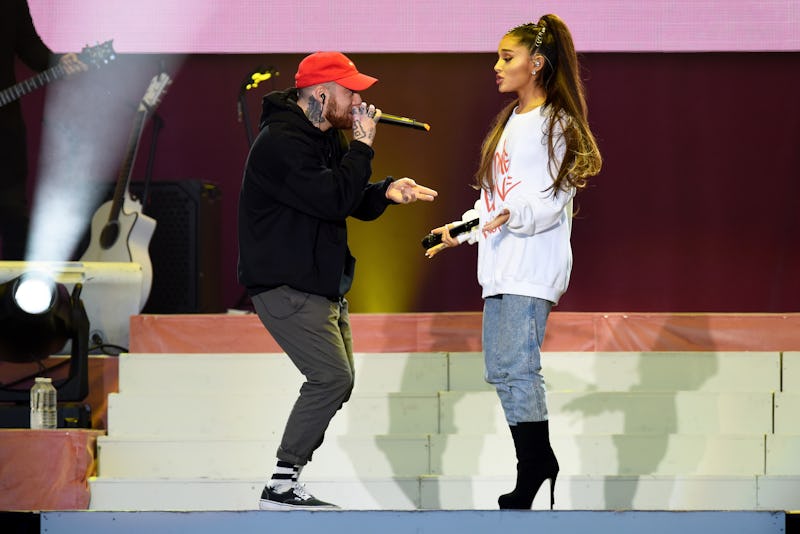 Getty Images/Getty Images Entertainment/Getty Images
For anyone who might think it's OK to blame Ariana Grande for her ex-boyfriend Mac Miller's recent behavior, the pop star has a message for you. On Wednesday, May 23, Grande responded to a fan on Twitter who implied that she was responsible for Miller's recent arrest because the couple recently split. Grande clapped back with a response that will definitely make you proud of the singer.
On May 17, TMZ reported that Miller was arrested on charges of driving under the influence (DUI) and a hit-and-run. (Bustle reached out to Miller's agent for comment on the arrest, but did not receive an immediate response.) According to People, Miller allegedly struck a power pole with his Mercedes-Benz G-Wagon and allegedly fled the scene of the accident. The publication reported that Miller was arrested at home and then released on $15,000 bail; his court date is on June 7. He has not commented publicly about the arrest.
On Monday, May 21, Twitter user @FlintElijah wrote a tweet seemingly blaming Grande's recent split from Miller as the cause of his recent behavior. The Twitter user wrote:
Mac Miller totalling [sic] his G wagon and getting a DUI after Ariana Grande dumped him for another dude after he poured his heart out on a ten song album to her called the divine feminine is just the most heartbreaking thing happening in Hollywood
A few days later, Grande posted a response to the user. On Wednesday, May 23, Grande responded to Flint's tweet with the following statement:
"How absurd that you minimize female self-respect and self-worth by saying someone should stay in a toxic relationship because he wrote an album about them. I am not a babysitter or a mother and no woman should feel that they need to be. I have cared for him and tried to support his sobriety & prayed for his balance for years (and always will of course) but shaming/blaming women for a man's inability to keep his shit together is a very major problem. let's please stop doing that."
(Bustle has reached out to Mac Miller's agent regarding the claims in Grande's tweet, but has not yet received a response.)
Grande's response points out that no one should be obliged to stay with a partner if they do something nice for them (like write a song). and any person should not be held responsible for their partner or former partner's actions.
Grande's response led the Twitter user to apologize to Grande in a tweet that began: "My sincerest apology, Ariana" with a lengthy apology attached. In the apology, @FlintElijah wrote that they didn't mean to imply Grande is in any way responsible for Miller's behavior. "I in no way think that you are the cause of Mac's shortcomings, we all have our demons to keep at bay," @FlintElijah wrote.
The apology continued:
"...I truly worry about his well being just as a fan so I am sorry to minimize any of that or make it seem like a break up is a justifiable cause to go deep end. Finally, I had no idea this would go viral and get treated like a story on TMZ it truly doesn't go as deep as you're implying and I truly hope you and Mac get back to living your best lives as soon as possible."
Grande quickly accepted their apology, tweeting, "Thank you for hearing me. I appreciate your response v much. [cloud emoji] Sending u love."
Grande has never been afraid to stick up for herself, but in this case, it wasn't just about her. She was speaking up for everyone, letting others know the responsibility of someone's actions lies with the individual person —and it is not shared with their partner or spouse.