Here's What We Know About Ariana Grande & Mac Miller Post-Split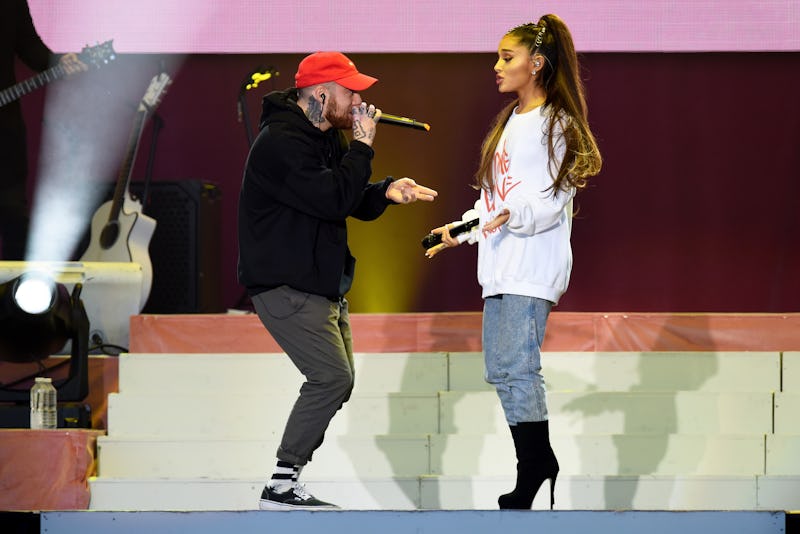 Getty Images/Getty Images Entertainment/Getty Images
One of the music industry's young couples, Ariana Grande and Mac Miller, has taken a trip to Splitsville. But, when did Ariana Grande and Mac Miller break up, anyway? The pair reportedly ended their longterm relationship recently for a mature reason.
It was reported by multiple outlets, such as E! News and TMZ, on May 9 that Grande and Miller had split after nearly two years together. So, it stands to reason that they broke up around that time, especially since they were seen together not long before that. According to E! News, they broke things off because of their "busy schedules" but they will still be friends. E! also reported that there's still love there, but only in a friendly manner.
Shortly after the news was reported, Grande confirmed the split on her Instagram story. As BuzzFeed noted, the singer only had kind things to say about Miller or, as she refers to him by his given name, Malcolm McCormick. She posted a photo of herself with him and wrote,
I respect and adore him endlessly, and am grateful to have him in my life in any form, at all times, regardless of how our relationship changes or what the universe holds for each of us!
She also posted that she wished her ex and long-time friend nothing but the best in life. "Unconditional love is not selfish. It is wanting the best for that person even if at the moment, it's not you," she wrote. Based on her Instagram story statement, it didn't seem like there was any bad blood when it came to their split.
The last time that they were seen together before their split was during Coachella. On April 20, Grande appeared at the festival to perform her single "No Tears Left To Cry" for the first time onstage. As E! News reported, during the trip to Indio, California, the couple went on a helicopter ride together, which she chronicled on her Instagram story. She also posted photos of them at the festival. However, they've since been deleted off of her Instagram page.
About two weeks after the news broke about Grande and Miller's split, it was reported by People that the singer was seeing someone new. The publication reported that the "Bang Bang" singer was seeing Saturday Night Live star Pete Davidson. A source told People that the relationship "just started" and that they're keeping things "very casual" right now. In addition to this, an onlooker at the Billboard Music Awards, where she performed, told People that "They [Grande and Davidson] seemed very lovey-dovey. He was hanging out with her and her friends with his arm around her. She seemed quite smitten."
Ever since it was reported that Grande and Davidson were seeing each other, fans have pointed out clues about their relationship status. One Twitter user @theAGParadise even came up with a whole thread of information about the pair (and Grande's recent breakup). One example they gave that they think points to the two dating is that the SNL comedian was spotted wearing what looked like a "No Tears Left To Cry" sweatshirt during the live broadcast of the comedy show. (Bustle reached out to a rep for Grande and an agent for Davidson for comment on the dating reports, but did not receive a response.)
So, based on all of the evidence and the recent reports about a romantic relationship with Davidson, it appears that Grande has possibly moved on after she broke up with longterm beau Miller in May 2018.