Ariana Grande & Ellen Pompeo Had The BEST Convo Over A 'Grey's'-Themed "Thank U, Next" Meme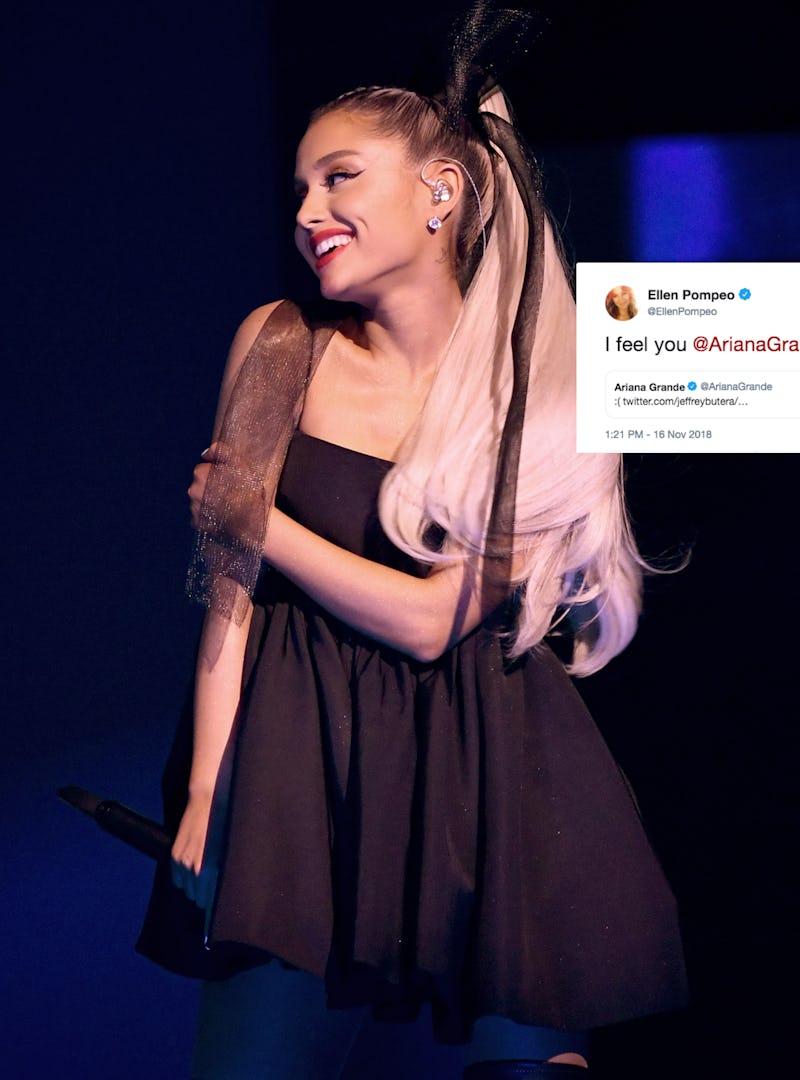 Kevin Winter/Getty Images Entertainment/Getty Images; Ellen Pompeo/Twitter
Grey's Anatomy has a reputation for making viewers cry, so it was only a matter of time before fans connected the series with "thank u, next" memes. After all, the Shondaland drama has taught fans plenty of pain, as well as some love and patience, too. It's no surprise, then, that Ariana Grande posted a Grey's Anatomy "thank u, next" meme on Instagram and Twitter. But might surprise fans is that Grey's actors Ellen Pompeo and Kate Walsh got in on the fun, too.
On Friday, Grande tweeted a still of Meredith Grey, with "thank u, next" overlaid on top of the screenshot. She shared the image after replying to a fan who'd tweeted at her, "McDreamy taught me pain," to which Grande responded with a sad-face emoticon.
Of course, the tweets are only the latest "thank u, next" memes that Grande's shared — she's been posting plenty of them on her Instagram stories as of late. Still, this one feels special, namely because Pompeo and Walsh, who played Derek "McDreamy" Shepherd's two (now ex-) wives on the medical drama, both responded to Grande's tweets. And it looks like both of the actors are more than ready to say "thank u, next" to their characters' mutual ex.
First, Ellen Pompeo retweeted Grande's message about McDreamy, writing, "I feel you @ArianaGrande." (In all fairness, before Derek and Meredith got married, and even after, he did cause her an awful lot of heartache.) The singer seemed surprised that Pompeo was actually responding to her tweet, and she shared a message of support for the actor. "I don't know how to ..... respond to this. love u. so much. okay bye," Grande tweeted.
Then, Kate Walsh responded to Grande's sad-face tweet about McDreamy, writing "thank u, next." Grande retweeted Walsh's message, writing, "i'm not okay."
And if those exchanges weren't enough, Pompeo took the love fest even further. She tweeted at Grande, "Right back at you sis ... @ArianaGrande and I are here to let you know.. gotta keep it moving #ThankYouNext," to which Grande responded with the black heart emoji.
What might be the funniest part about the whole thing, though, was Grande's joke about the fact that McDreamy's exes both tweeted at her. Responding to a fan who pointed out that fact, Grande wrote, "i'm tryna marry em both next." Of course, that might be a challenge, given the fact that Walsh's character, Addison, got married in the Private Practice finale (not to mention the fact that these are fictional characters). Still, fans were loving Grande's sassy response, which has already garnered more than 42,000 likes.
If you've been wondering whether or not it's too late to make "thank u, next" jokes and memes on Twitter and Instagram, it looks like it definitely isn't. Judging by Grande's interaction with the Grey's cast, it looks like plenty of people are still having fun with the song's lyrics, including Grande herself.
After all, there are so many exes out there, and so many characters who've taught us love, patience, and pain — the "thank u, next" meme could really go on forever. And to any haters who say the meme has been overdone, well, "thank u, next."