Ariana Grande Posted A Video Of Mac Miller With Nonna That's Breaking Fans' Hearts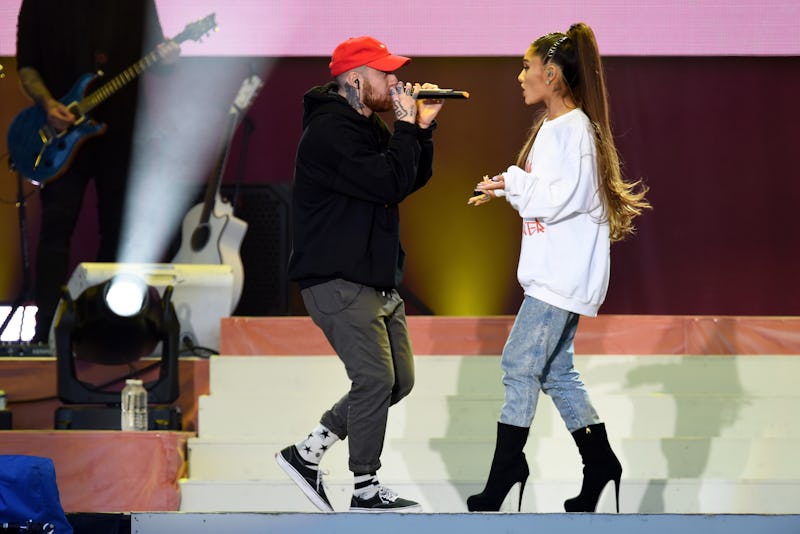 Getty Images/Getty Images Entertainment/Getty Images
If you take a glance at one of Ariana Grande's latest social media posts, there's going to actually be plenty of tears left to cry. That's because on Monday Ariana Grande shared a video of Mac Miller, in which her late ex-boyfriend can be seen hanging out with the singer's grandmother Nonna, according to People. To no one's surprise, the kind post left more than its fair share of fans' heartbroken over the tribute.
On her Instagram Story, Grande posted the aforementioned clip, which featured her grandmother, her mom, Miller, and his dog Myron (whom the Sweetener singer is reportedly taking care of now, per People) watching a video of Elton John. As the publication reported, the video the singer posted featured the crew getting ready for the Oscars, with Miller joking around that he "should've worn that for the night" in reference to John's burgundy coat and pink glasses look. After making the fun comment, he turns back to Grande, who's recording, and shares a laugh. Given the upsetting news about the rapper's recent passing, it's pretty emotional, yet super sweet to see the couple in one of their happier moments.
While the "God Is A Woman" singer has since-deleted the clip from her Instagram Story, fans managed to capture it on Twitter. As one of those Arianators excitedly said in their caption for the video, "SHE POSTED A VIDEO OF NONNA MAC AND MYRON. NOTHING COULD HAVE PREPARED ME FOR THIS."
That wasn't the only fan was a little emotional over seeing Grande's throwback post. One fan wrote, "ariana posting that video of mac on her insta story last night really broke my heart sign."
Another fan, in a very relatable move, said that they couldn't focus on any of their responsibilities after viewing Grande's latest post, even joking that they can't make it to class because of it.
Yet another fan mentioned how they weren't prepared at all, conveying just how heartbroken they were over seeing it with a Katy Perry meme.
It's easy to see why Grande's since-deleted post was very emotional for many of her fans. As you'll likely recall, the "Dangerous Woman" singer previously dated Miller for a couple of years before it was announced that they had broken up in May 2018, per Billboard. At the time of their split, Grande noted on her Instagram Story that the two were still on good terms with each other. The publication reported that she wrote,
"This is one of my best friends in the whole world and favorite people on the planet, I respect and adore him endlessly and am grateful to have him in my life in any form, at all times regardless of how our relationship changes or what the universe holds for each of us!"
Tragically, it was reported by TMZ in early September that Miller had passed away. In response to this news, Grande took to Instagram to post a couple of moving tributes to her late ex. Shortly after the news was reported, on Sept. 8, she posted a photo of Miller during one of the pair's hangouts. On Sept. 14, she posted another tribute to him in the form of a video, in which she captioned it, in part, with, "i adored you from the day i met you at nineteen and i always will."
Based on her previous tributes and this most recent video, it's clear that Miller will always have a special place in Grande's heart.