Mac Miller Has Died At Age 26, According To Reports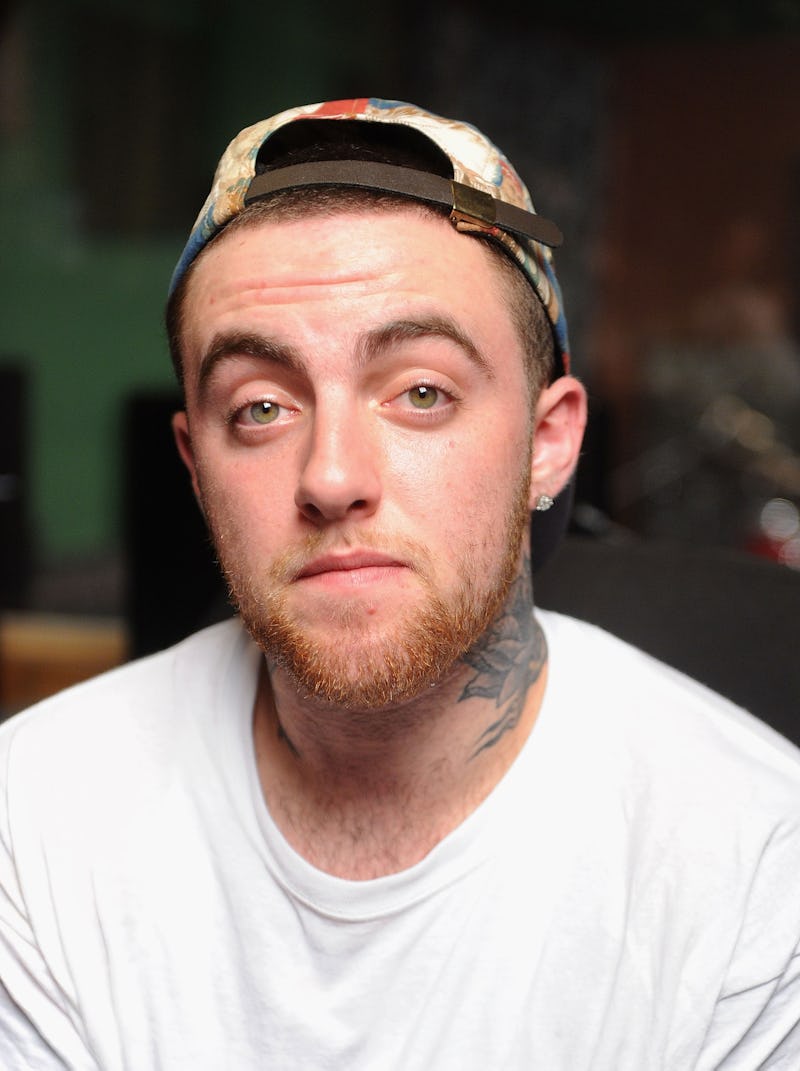 Jamie McCarthy/Getty Images Entertainment/Getty Images
In very unexpected, sad news, TMZ reported on Friday that Mac Miller has died at age 26. The site is also reporting that the artist's death was the result of an apparent overdose, though this detail has yet to be confirmed. Soon after TMZ's report, Us Weekly also tweeted about Miller's passing, and E! News confirmed the news as well. (Bustle reached out to reps for Miller for comment, but did not receive an immediate response. Bustle also reached out to the Los Angeles Police Department.)
UPDATE: On Friday evening, the rapper's family released a statement to E! News:
"Malcolm McCormick, known and adored by fans as Mac Miller, has tragically passed away at the age of 26. He was a bright light in this world for his family, friends and fans. Thank you for your prayers. Please respect our privacy. There are no further details as to the cause of his death at this time."
EARLIER: According to TMZ, who cited law enforcement sources, Miller was reportedly pronounced dead on the scene after being found in his California home around noon on Friday. However, no further details are currently available.
Not long after word spread, fellow musicians began mourning Miller on social media, including Chance The Rapper and Wiz Khalifa. Chance wrote a heartfelt message, reflecting on the time they worked together:
"I dont know what to say Mac Miller took me on my second tour ever. But beyond helping me launch my career he was one of the sweetest guys I ever knew. Great man. I loved him for real. Im completely broken. God bless him."
Meanwhile, Wiz extended well wishes to Miller's family. Jaden Smith tweeted, "Long Live Mac Miller, Rest In Peace We Love You."
Likewise, fans are sharing videos and lyrics, as well as memories of Miller. There's an outpouring of support all across Twitter.
Making the news especially upsetting, Miller had tweeted about his upcoming tour just a day before and how much he was looking forward to it. The performances were set to begin on Oct. 27, and he wrote, "I'm bringing a band. The show is going to be special every night. I wish it started tomorrow."
Additionally, an in-depth profile of Miller was published to Vulture on Thursday titled "Mac Miller Perseveres," along with the line: "The rapper and musician knows you think he's had a bad year, but it's more complicated than that." When discussing his 2014 mixtape, which included "ominous lyrics about hard drugs and musings on premature death," per Vulture, Miller told the publication,
"I used to rap super openly about really dark sh*t, because that's what I was experiencing at the time. That's fine, that's good, that's life. It should be all the emotions."
And while Miller spoke to Vulture about the pressure of the spotlight, he also mentioned the power of not letting public perception control him anymore. "I could live this squeaky clean life and everything," he explained. "I could try to control the media. But I've been finding freedom in just living and letting people say whatever the f*ck they want."
Now, those comments are much more poignant, yet highlight just how open he was with his fans. It's also a powerful message about not letting others define him. While the details surrounding his passing remain unclear, one thing is certain: Fans are mourning this major loss, and his music will live on.
If you or someone you know is seeking help for substance use, call the SAMHSA National Helpline at 1-800-662-HELP(4357).