Arie Being The New 'Bachelor' Has Everyone On Twitter Feeling Some Type Of Way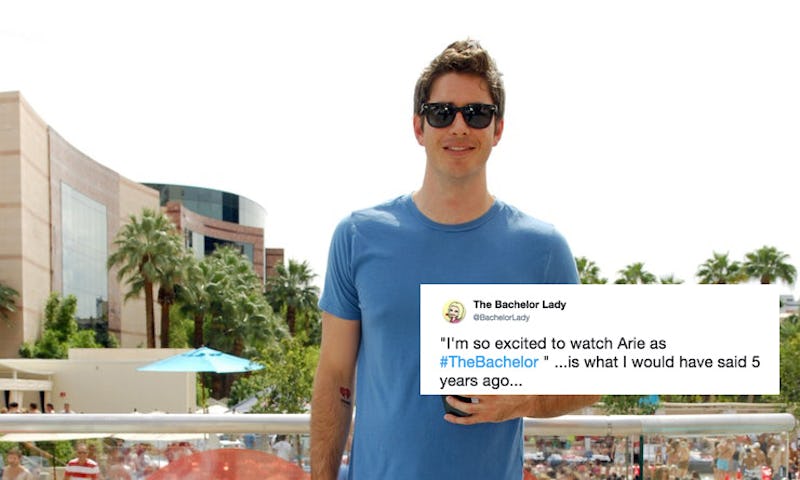 Getty Images/Bustle
It's no surprise that Twitter has been blowing up since ABC announced Arie Luyendyk, Jr. as the 2018 Bachelor on Thursday morning, because the loyal viewers of the franchise have all the feels. Whether they're excited, hopeful, sad, angry, or confused beyond belief, Bachelor Nation has never been afraid to get vocal about it. What's so bad about Arie, after all? He's a race car driver! He's rich! He's not terrible to look at! But all of these things do not a perfect Bachelor make, which is probably why everyone's opinions are all over the place.
Some fans are heartbroken over the surprise casting, because Bachelorette contestant Peter Kraus felt like the obvious choice. Others were stans for another former Bachelorette contestant, Eric Bigger. The sassiest fans just feel sorry for Bachelor applicants who thought they'd have someone other than Arie handing out roses. But, of course, not everyone is bummed. After all, the dashing Arie still has a fanbase, and most longtime Bachelor viewers will tune in regardless of the star.
Well, whatever Arie has been up to since his time on ABC, let's hope staying away from Twitter has been high on the list. Right now, all Bachelor Nation is definitely not ready to offer this guy a rose.
Some Fans Were Upset
Let it all out, Bachelor Nation.
Some Were Just Pissed Off
Yikes, tell the world how you really feel.
Some Found The News Meme-Worthy
The first meme pretty much says it all. "Gangnam Style"? "Gangnam Style."
Some Are Bewildered AF
New Bachelor, who dis?
But Some Excited Fans Found Everyone Else Overdramatic
Not everyone is a hater. In fact, some people are even Pretty Okay with ABC's decision to cast Arie as the 2018 Bachelor.
Ready or not, Arie Luyendyk, Jr. is the 2018 Bachelor. Meanwhile, the tweets are just going to keep on coming, and they'll only get funnier, sadder, and angrier as time goes on.