Of Course, Arie & Lauren's Baby Already Has An Instagram Like A True 'Bachelor' Star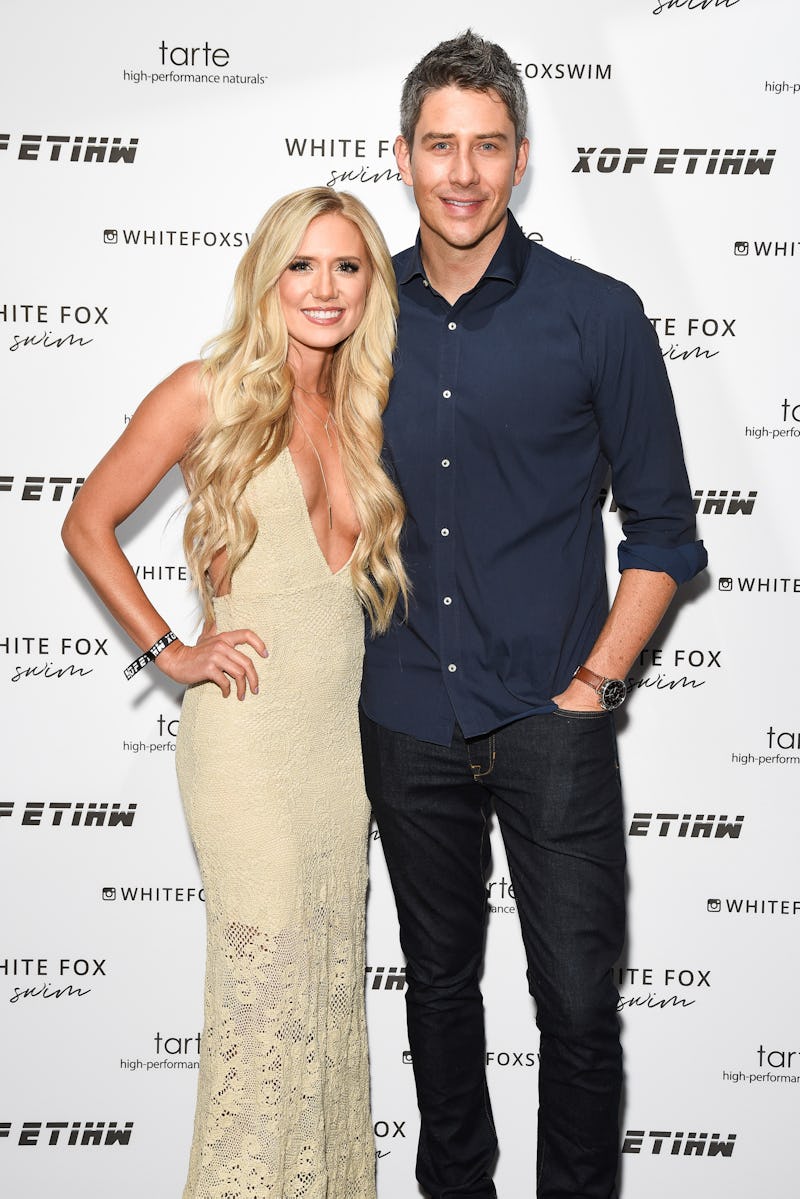 Presley Ann/Getty Images Entertainment/Getty Images
After their seasons of The Bachelor and The Bachelorette are over, contestants usually go on to become influencers on social media thanks to their new found fame, and now, even the newest baby in the franchise is getting a head start. Arie Luyendyk Jr. and Lauren Burnham's baby already has an Instagram — yes, the same baby that they just announced will be joining them when he or she is born in 2019 — but really, knowing Bach culture, is this news actually surprising?
The news that Arie and Lauren are expecting broke earlier this week, and when the couple shared their announcement photos on Instagram, there was a very important detail that you may have missed. Tagged in the photos that both of them posted was an account called @BabyLuyendyk, and yes, it's exactly what you think it is.
When you click on the tag, you see a brand new Instagram account that's clearly made for Arie and Lauren's impending firstborn child... and a post has already been made on the account, which already has 11.2 thousand followers. The first post is a picture of Lauren showing off what her baby bump looks like so far, along with a caption that was written as if it was from the baby's perspective.
Here's what the caption said:
"Hey world. turned 11 weeks old yesterday! I'm the size of a fig, imagine that! I have little arms, legs, and I no longer have webbed hands and feet. All my little organs are in place too. Mom is finally not feeling sick anymore, here's a pic of her."
While pregnancy updates are very, very common from expectant parents — especially if people watched you fall in love, break up, and then get back together on national television earlier this year — they're usually all about Mom. This is definitely an interesting twist that Lauren and Arie are taking.
No word on what they're planning to use the account for just yet, but it's probably safe to assume that fans can expect more updates like this one, written from the baby's perspective. It is a sweet way to document and remember Lauren's pregnancy (and probably the baby's first year, if they keep using this Instagram). Will this eventually be used by the baby when he or she gets older, though? What if their baby doesn't want an Instagram account that's followed by thousands of people who watched his or her parents on TV? There are so many questions already.
There's no doubt that these parents-to-be are excited for the adventure to come — at least, according to the post that Arie shared announcing the news. He wrote:
"Nothing compares, absolutely nothing compares to the moment you find out you're going to be a dad! We cried, we laughed and it really was such a special moment for us, we're so freakin' happy!"
At this point, the baby's social media presence is 100 percent up to Arie and Lauren, since they're the parents... and it's good news for fans who are looking forward to following along. What will the baby post about next?