'Bachelor' Stars Arie Luyendyk & Lauren B. Just Announced They're Expecting Their First Child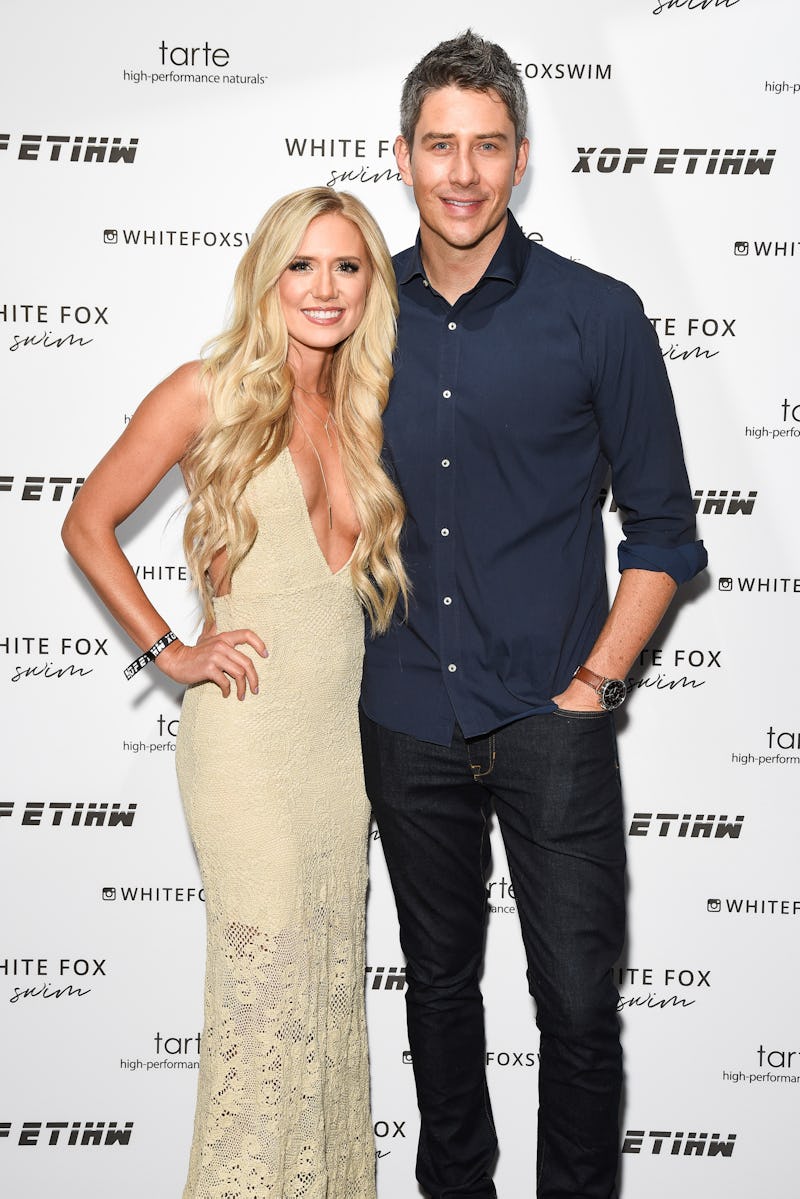 Presley Ann/Getty Images Entertainment/Getty Images
As you eagerly wait for the next season of The Bachelor to air, one couple from the reality TV franchise just gave an exciting relationship update. Us Weekly revealed on Wednesday that Arie Luyendyk Jr. and Lauren Burnham are pregnant with their first child. The pair met on Season 22 of The Bachelor and became engaged during After The Final Rose. While their love story caused a significant amount of drama, as Luyendyk initially proposed to Becca Kufrin, Luyendyk and Burnham have been going strong ever since. And their pregnancy announcement highlights how thrilled they are to start their family.
Since appearing on The Bachelor in early 2018 (and throwing all of Bachelor Nation into a tizzy), Luyendyk and Burnham have been keeping busy. They bought a house together in Phoenix, traveled around the world, and planned a wedding. Now the next step in their adventure is a baby. "We weren't trying, but we are so excited," Luyendyk told Us Weekly. "It's going to be a whole new chapter in our lives."
The couple will be getting married in a private ceremony in Hawaii on Jan. 12, and Burnham noted that their wedding was definitely on their minds when they found out they were expecting. "The first thing we thought of was, 'Oh my gosh. Our wedding,'" she said. "Obviously we're not married yet, but this is the way it happened — and this is probably the way it was meant to happen!"
Bachelor pairs are familiar with relationship milestones moving at a quick pace, but the 26-year-old Burnham and the 37-year-old Luyendyk have been vocal about their plans to grow their family. After the finale of their Bachelor season aired, Burnham told PEOPLE, "We're both very excited about marriage and starting a family." Luyendyk added that he was thinking of having two to four kids and said, "If we get lucky, maybe we'd have twins!"
Burnham also used the hashtag "#cantwaittillimnottheonlyonecallingyoudaddy" in an Instagram post featuring her fiancé back in July. But fans of the couple should have really seen this coming based on another recent interview Burnham gave to Us Weekly. "I want babies soon," she said at The Knot Gala in New York City on Oct. 8, which was a major clue since Burnham already knew she was pregnant at the time.
Burnham said in their pregnancy announcement that she has struggled with morning sickness during her first trimester. "October was miserable. I had really bad morning sickness and barely left the house," she said. "But over the last week I've started feeling a lot better, so it's nice to have my energy back." She said she's staying active by doing cycling a few times a week and also noted how grateful she was that Luyendyk "does everything" around the house. Their reveal in Us Weekly doesn't mention a due date, but it did include Burnham and Luyendyk posing with their sonogram pictures.
This pregnancy announcement may remind some people about another time that Luyendyk claimed they were expecting. For April Fools' Day, he had posted an image of a pregnant woman without her face visible and wrote, "Secrets finally out, we have a bunny in the oven!" He later replied that it was just an April Fools' joke, but he was criticized for being insensitive to people who have experienced infertility. Luyendyk issued an apology where he wrote, "I do have sympathy for women struggling from infertility. My April Fools prank was in no way meant to offend women who struggle with that. I apologize if you were effected personally by my post."
For now, Luyendyk and Burnham are looking to their future with their upcoming nuptials and their baby on the way. As for their parenting style, Luyendyk said he believes he'll be "such a softie" while "Lauren is a little bit more of the disciplinarian." Burnham admitted this comes from how they parent their dogs, but time will tell if their prediction comes true once this Bachelor pair are parents.