Arie & Lauren Aren't Holding Back When It Comes To Updates About Their Wedding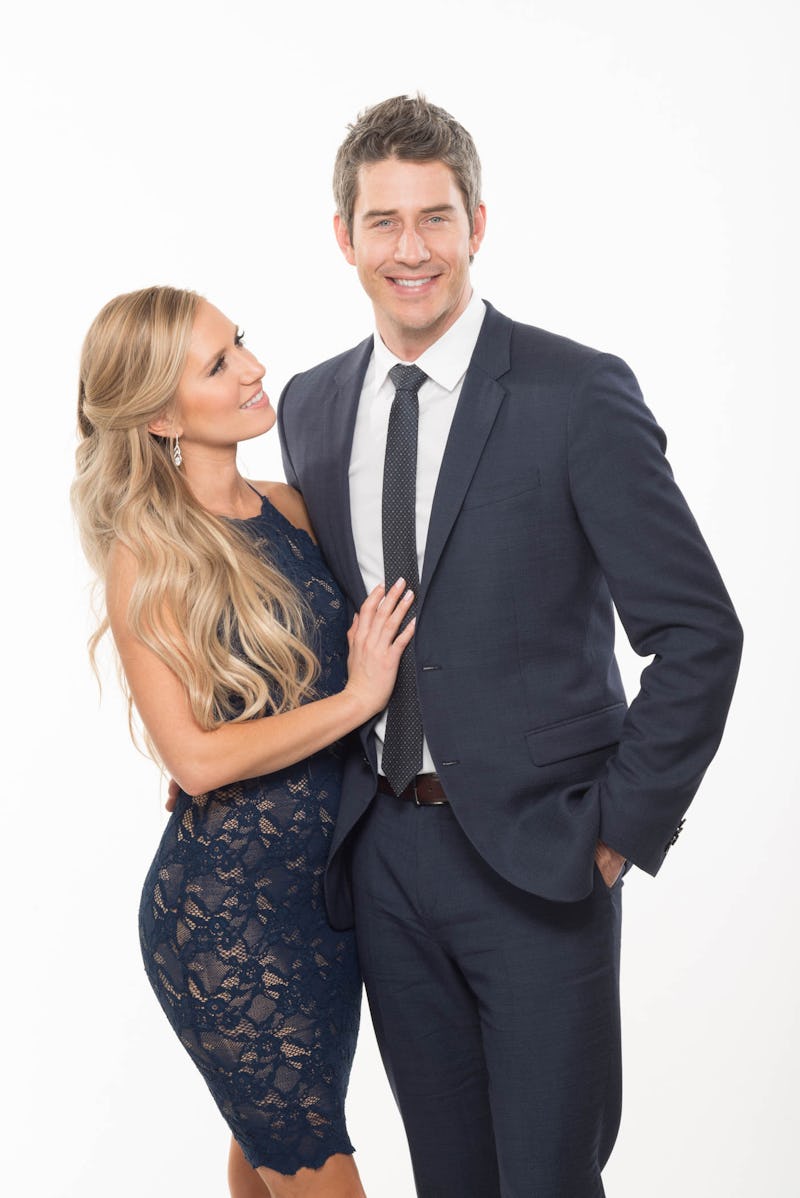 ABC/Lorenzo Bevilaqua
They got engaged on the After The Final Rose special for their season, and only a couple of months later Bachelor stars Arie Luyendyk Jr. and Lauren Burnham have shared their wedding date. A lot of couples in the public eye go to great lengths to keep their wedding details under wraps, but not Arie and Lauren. They are all about including their fans and followers when it comes to their nuptials.
During a May 23 appearance on The View, Arie and Lauren officially announced their wedding date and venue. Lauren shared, "We are very excited to tell you guys that we have booked a venue and we are getting married in Hawaii on January 12 next year."
Arie went a step further and not only revealed the specific island in Hawaii, but also the the exact location of the wedding. "It's in Maui," Arie said. "It's at Haiku Mill, which has this beautiful old world feel with a lot of vines and greenery. It's not your typical beach wedding. It's so pretty."
And get ready for this bomb. "It's a private wedding, so not on TV," he continued. Wait. What? Seriously? It's not going to be filmed for the show? Arie even emphasized that revelation by repeating it again and said, "Not on TV, so just a close group of friends, probably a hundred guests."
Wow. No one would blame the couple for wanting to go low-key with their wedding considering that most of their relationship has been highly scrutinized, but it really is surprising that they chose to be so private considering how their engagement went down on the live show.
Aside from the wedding not being televised, it really isn't surprising that the future husband and wife have already nailed down the major details of their big day in advance. On the March 6 episode of Jimmy Kimmel Live — which aired on the same night as the Bachelor Season 22 finale — Lauren and Arie emphasized their desire to be married as soon as possible.
Arie told Jimmy Kimmel, "We've spent the last few months together and we're just ready to move on with our lives." After that, Lauren shared, "We've actually been planning our wedding already," which is very interesting since they were only together for about two months at that point.
Even though they are no longer confined to the timeline that comes with dating on reality TV, they really do feel the urgency to get married right away. Apparently, you can take a couple out of The Bachelor, but you can't always take that Bachelor pace out of the couple. They are still very much on the fast track to marriage. The only thing that has changed is the possibility that they will get married on TV.
In an April 14 interview with People, Arie said that they "want to plan [the wedding] around The Bachelor schedule." You might think that would mean that they wanted to have their wedding filmed for the show, but Arie clarified that even if they got married "privately" they would still plan around The Bachelor's filming schedule so "the producers that were filming The Bachelor could still be there."
Arie and Lauren deciding to get married in private might be surprising to a lot of Bachelor viewers, but it was also shocking news to one of the show's producers. During a May 29 interview with Variety, Bachelor producer Rob Mills said, "Honestly, I didn't know about this until I watched [them announce their wedding date] on The View myself."
He continued, "My suspicion is they probably want a measure of privacy. I don't think they've been a couple that people have been particularly kind to, so they probably didn't want a bunch of people hate-watching their wedding."
For any fans who do want to see Arie and Lauren tie the knot on TV, the producer shared some hopeful news. He told Variety, "I'm sure we'll include the wedding in some way in the show, and we'll have Arie and Lauren on one of our specials. You can never leave the Bachelor family."
Plus, this is a 2018 wedding, after all. Just like most weddings there will probably be a ton of photos and videos posted on social media and they may even share some with a magazine or website. Even though fans will not be "invited" to watch the couple exchange vows, Arie and Lauren have kept everyone in the loop up until this point, so it is very likely that they will continue to share more details in the future.