Arie & Lauren From 'The Bachelor' Just Announced Their Super Sweet Wedding Plans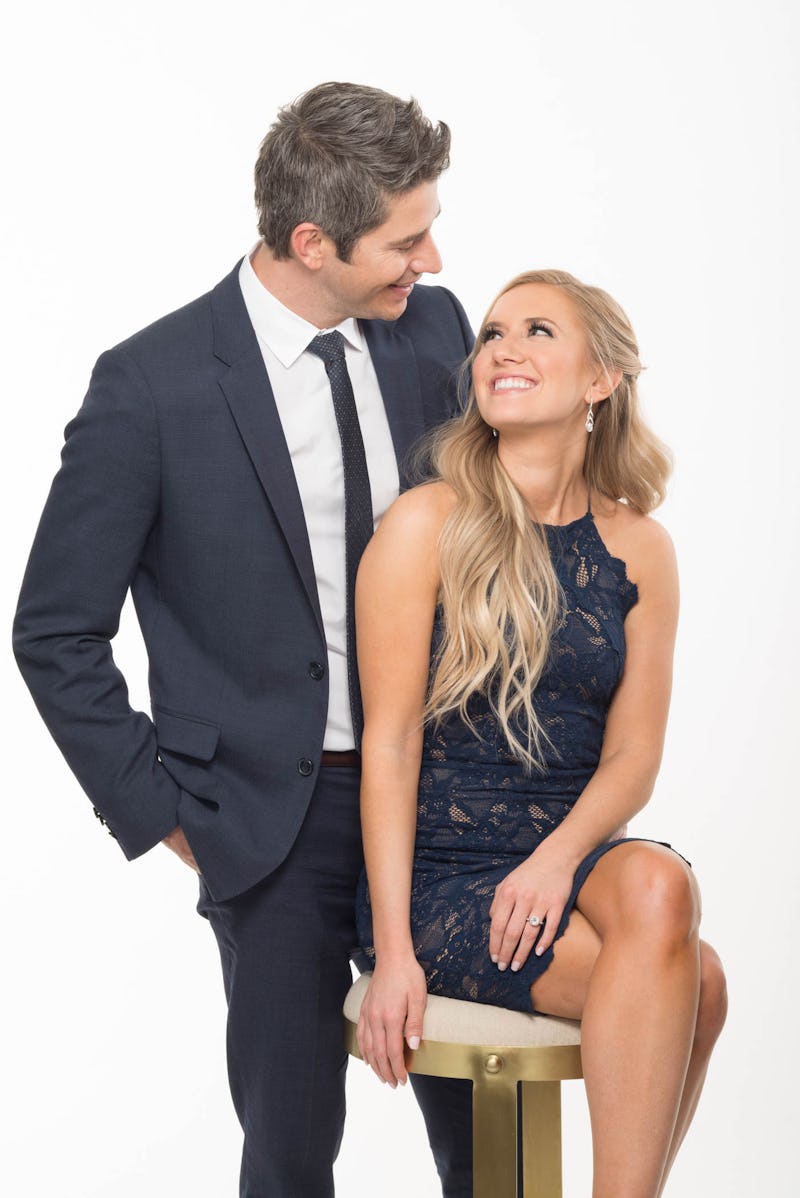 ABC/Lorenzo Bevilaqua
Mark your calendars, Bachelor Nation. Details about Arie Luyendyk Jr. and Lauren Burnham's wedding were just revealed on an episode of The View on Wednesday, May 23. They'll be kicking off the new year in a special way by getting married on Jan. 12 in Hawaii. Overall, it sounds super sweet.
"We are very excited to tell you guys that we have booked a venue, and we're getting married in Hawaii on January 12, next year," Lauren shared on The View. Arie added that the venue is in Maui — and the wedding ceremony won't be televised. The former Bachelor said told the audience,
"It's at Haiku Mill, which is this beautiful, old world feel, with a lot of vines and greenery. It's not your typical beach wedding. It's so pretty. And it's a private wedding, so not on TV... just a close group of friends, probably 100 guests."
That means that fans shouldn't expect to see the ceremony on live television, unlike Arie's proposal to Lauren. (Still, the couple may choose to share photos or video of their special day with fans.) The news that the couple has chosen a private wedding may be a surprise to reality TV fans. But after having their relationship in the public eye for so long, it's understandable the two would opt for a more intimate wedding.
A quick scroll through the venue Haiku Mill's website shows that Arie and Lauren will have an absolutely beautiful wedding ceremony and reception. The venue appears to feature hanging florals, plenty of lush greenery, and even a waterfall. It shows off the city's complex history, too — there are ruins and artifacts on site. Arie even tweeted out a scenic shot of the space, captioned, "We're getting married in Maui JanuLarie 12th!"
The beautiful space won't come cheap for the couple, though — Haiku Mill's website notes that the venue suggests "a minimum budget of $45,000 for full day events under 45 people." So if Arie and Lauren plan to have 100 people at their ceremony, the cost could be considerably higher than that figure.
Arie and Lauren's relationship re-started after the Bachelor originally sent Lauren home, proposing to Becca Kufrin instead. But Arie apparently realized Lauren was the true love of his life, and he broke things off with Becca to be with the runner-up. Fans were shocked at the way Arie's Bachelor season ended, but it looks like things have calmed down for the couple since then.
After Arie proposed to Lauren on After the Final Rose, everything appears to be going smoothly for the couple. Following their engagement, Arie and Lauren took a romantic vacation in Iceland and Barcelona. And Lauren moved to Arizona, Arie's home state, after a road trip with her fiancé from her own former home in Virginia Beach.
Arie and Lauren's relationship may seem unconventional, but they appear happier than ever. And there are Bachelor Nation couples who are still together — so despite the rough start to their relationship, they could definitely make it last. Plus, as fans saw on The Bachelor, Arie's family likes Lauren, which is a great sign, too.
Fans who are wondering about Becca's happiness shouldn't be worried, either. After Arie called off his engagement to the Bachelor runner-up, Becca went on to become the Bachelorette herself. And it looks like she did find love on the show. Becca revealed to People that she is engaged, so fans will be happy to hear that things have apparently worked out between Becca and one of her Bachelorette suitors.
Arie's Bachelor finale with Lauren and Becca may have been controversial, but it looks like everything worked out for all three of them in the end.