Your Mom Will Love Arie's Response To Bekah M.'s Missing Person Drama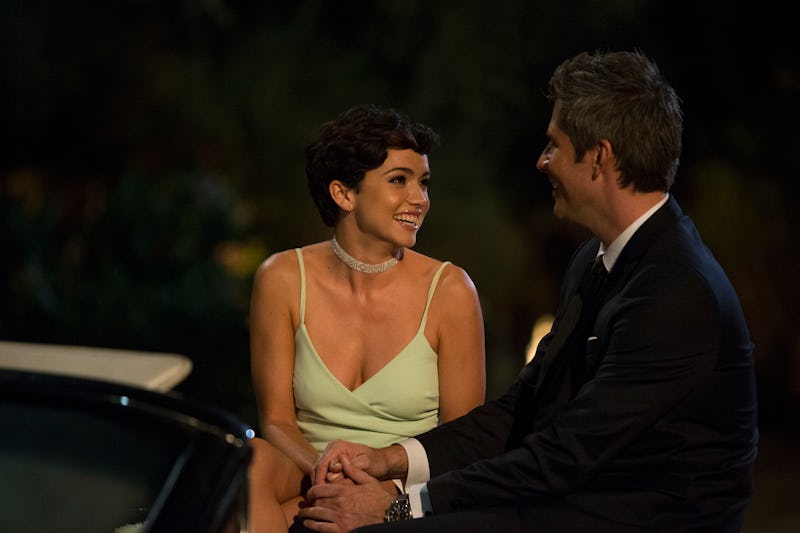 Paul Hebert/ABC
During Monday's Live With Kelly and Ryan, Arie responded to Bekah M. being a "missing person". After co-host Ryan Seacrest asked him about the incident that made headlines at the beginning of February, The Bachelor (supervising producer: Deborah Read) star responded, "I think the PSA for that is: Call your parents."
His answer actually mirrors how Bekah responded to the situation. On Instagram Feb. 2, she reacted follows: "Found myself, quite literally, on this season of The Bachelor. PSA: always call your mom back." So, it looks like Arie and Bekah have the same views about the ordeal.
On Feb. 1, the North Coast Journal shared a list of 35 individuals who were reported missing. One reader noticed that one woman resembled Bekah, who is currently a contestant vying for Arie's heart on the ABC dating competition. Of course, this quickly spread across the internet and people became seriously confused as to why she was considered "missing", when she was actually filming a highly-popular television reality show.
According to the North Coast Journal, Bekah's mother reported her missing in Humboldt County, California on Nov. 18, 2017, after she hadn't heard from her daughter since Nov. 12, 2017. Public Information Officer Samantha Karges informed the North Coast Journal at the time that Bekah moved to the county to work on a farm but reportedly hadn't contacted her mother in days.
The Humboldt County Sheriff's Office confirmed to Bustle that Bekah was indeed on the Missing Persons list up until Feb. 1, 2018. Bekah's mother did make contact with her daughter on Nov. 18, 2017 and informed the Sheriff's Office of this on Dec. 12, 2017 via email. That said, the Sheriff's Office requires the missing person to make direct contact with the investigators, in order to confirm their well-being. Bekah remained on the missing persons list up until she and the deputy got in touch on Feb. 1.
Soon after Bekah's missing person's report became a news topic, she also took to Twitter and joked about it. She tweeted, "MOM. how many times do I have to tell you I don't get cell service on The Bachelor??"
The 22-year-old also made fun of herself by taking a jab at the old license photo that was provided with her missing persons report. "Honestly the scariest thing about this story is that my efforts to conceal The Worst Drivers License Photo Of All Time have been thwarted," she tweeted. Well, at least she can have a laugh at all of this. That certainly says a lot about her personality.
Regarding Arie's response, it is curious that he gave such a similar reaction to Bekah. Does this mean they've been in communication during the airing of their season of The Bachelor? If so, does this possibly hint at that Arie gave Bekah the final rose?
Kelly Ripa would probably by into that idea. During Arie's appearance on the daytime talk show Monday, Ripa said to him, "I have a theory." She then continued, "Bekah is the girl you choose. Wanna know why I have this theory? Because she went into lockdown … The dealio is when you choose a bachelorette, she has to go underground. She went so deep underground her mom thought she was a missing person!"
Hey, it's a pretty good theory. However, Arie remained tight-lipped and would only say, "That's one theory."
Another reason why Arie's reaction could have been similar to Bekah's? Because he saw her response on social media just like the rest of us. Whatever the case, both of their responses reiterate the importance of communication and making sure those who care about you know you are safe and well — even if you are away filming a reality show.