This Republican Is The FIRST Lawmaker Fired Over Harassment Allegations Since #MeToo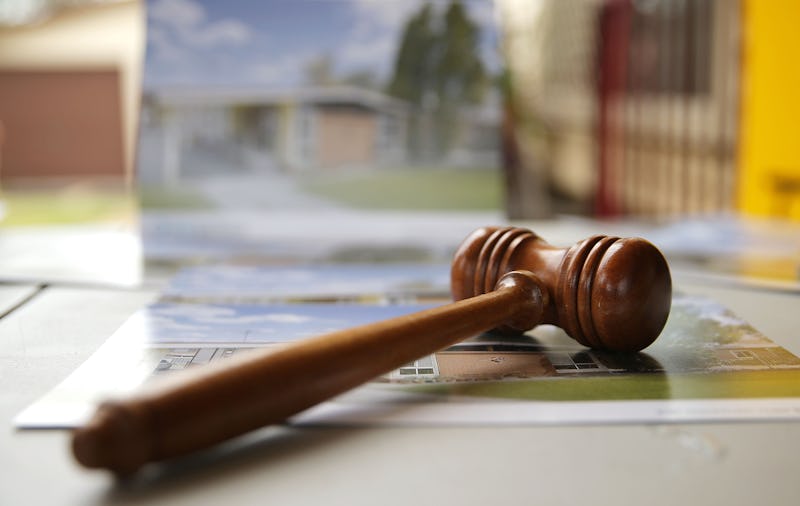 Mark Metcalfe/Getty Images News/Getty Images
On Thursday, the Arizona state House voted to expel Rep. Don Shooter over sexual harassment complaints from several women, including one of his female colleagues. Members of Shooter's own Republican Party called for his expulsion, and it makes him the first state lawmaker to have been booted — not resigned or retired — since the advent of the #MeToo movement.
In November 2017, Republican state Rep. Michelle Ugenti-Rita accused Shooter of sexually harassing her for years. She alleged that Shooter repeatedly made vulgar comments about her body to her and propositioned her for sex. Then, according to the Associated Press, other women also came forward accusing him of sexual harassment. Shooter, who sat on the Arizona House Appropriations Committee, initially claimed that Ugenti-Rita's allegations were lies. He denied engaging in sexual harassment, but acknowledged that he had made "jarring, insensitive, and demeaning" comments in the past and deserved punishment, but not as severe as being kicked out of the Arizona state House.
Before the vote on Thursday, Shooter told House members that he had said and done "stupid things." Shooter told the AP:
I've had two, three months to think about this. I did wrong, I deserve a censure. But I'll tell you this. I was sent here by the people of District 13. And to the best of my knowledge, I've never betrayed that trust, never, never. Not for monkey business, not for contributions, not for influence, not for power, not for anything. And by God, they're the ones who should throw me out if they want to throw me out. And they may.
In order to expel a member from a party, the chamber requires the approval of 40 members out of the total 60. In case of Shooter, 56 members cast votes to expel him while three voted against the notion. Only one member abstained from casting a vote.
It's no surprise that the national discussion on sexual misconduct has shifted to the political world. The national reckoning on sexual harassment and assault has taken down powerful men in entertainment, tech, media, and other industries. And although it has led to male lawmakers accused of sexual misconduct being stripped of leadership positions or being forced to resign or retire, Shooter is the first the state lawmaker to be outright expelled as #MeToo continues to roil the country.
Last year, Al Franken was also forced to step down from his Senate seat after multiple women came forward alleging sexual misconduct. Franken denied some of the allegations and apologized.
Then there was Arizona Republican Rep. Trent Franks, who resigned from his position after he was accused of sexual harassment by female staffers. Franks apologized for making his colleagues "uncomfortable" but denied any physical form of harassment.
That same month, Michigan Democrat Rep. John Conyers was accused of sexual harassment by multiple women. Conyers denied all accusations and said that he could not "explain where they came from." Shortly after, he announced his retirement from the House of Representatives.
Shooter's expulsion seems to have caused tension in the Republican Party. On Thursday, Shooter shared a letter where he said he would do "much soul searching" but also accused the internal investigative commission — led by Arizona Republican House Speaker Javan Mesnard — of singling Shooter out and ignoring other accusations of sexual misconduct in the Republican Party. Shooter did not name anyone.
Mesnard commented on Shooter's letter and said it was "a clear act of retaliation and intimidation, and yet another violation of the House's harassment policy, so I will be moving to expel him from the House of Representatives immediately."