This University's Viral "Cry Closet" Is So Relatable That It Has All Of Twitter SCREAMING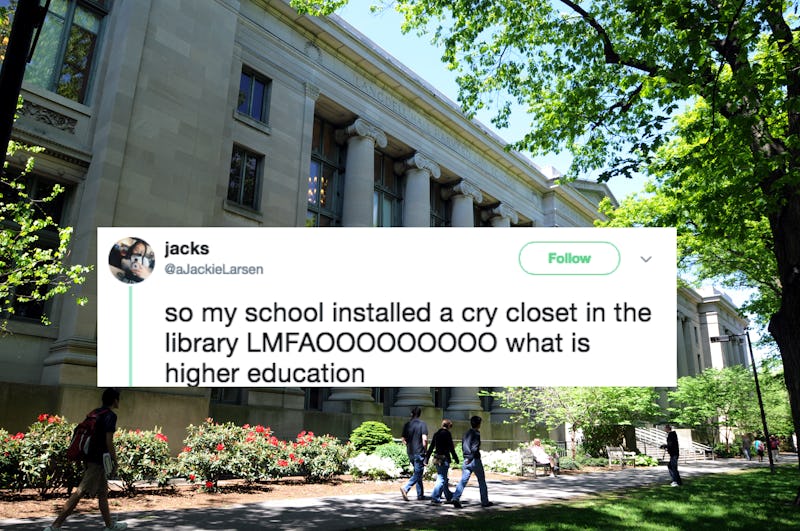 Darren McCollester/Getty Images News/Getty Images; Twitter
In addition to a degree and an absurd amount of student debt, no one graduates from college without at least one good crying-in-public story. My preferred place to publicly breakdown was on one of the comfy couches in the library while, nearby, another student slept soundly in a wooden chair, nestled inside a makeshift sleeping bag constructed out of their hoodie pulled tight to engulf their face. However, students at the University of Utah no longer need to shed their tears out in the open as one art student created a "Cry Closet" in their university library. *sobs in finals week*
The Cry Closet, according to a sign its door, is "a safe place for stressed out students." Of course, the Cry Closet doesn't come without a few rules. Namely, it can only be used in ten minute intervals (long term sobbing must be conducted elsewhere like in a bathroom stall or while your roommate is out of your dorm room), and you must respect the privacy of criers ("knock before entering") as well as the sanctity of the space ("turn lights and timer off before leaving"). The closet also comes complete with plenty of stuffed animals to keep you company/soak up your tears.
The Cry Closet caught the internet's attention after University of Utah student @aJackieLarsen shared a photo of it on Twitter. "So my school installed a cry closet in the library," she tweeted. "What is higher education."
Clearly a place where a Cry Closet is an understood necessity as her tweet quickly went viral, being shared over 74,000 times.
"This was designed and built by a student and cost nothing to the student body or the school," she clarified in a second tweet. "So for everyone bitching about the use of school funds, pls rest easy."
Nemo Miller, an art student at the University of Utah, is to thank for the Cry Closet. The closet is part of an art project Miller installed in the university library.
Miller was recently profiled in the University of Utah's Humans of the U series and spoke about the art program and what it's like to be a fine arts student at the college. "I got immersed at the College of Fine Arts very early on and loved it," Miller said. Miller also spoke about a networking event which helps students and professionals contextualize art in the real world and "the value it provides in the modern workforce."
Miller is set to graduate this year with a degree as a ceramics major and sculpture minor. "I like the idea of being able to focus on the work, not handing in assignments for a grade," Miller said, while also expressing the fear many of us feel on the cusp of graduation, at the beginning of something new and unknown.
The response to the Cry Closet has been overwhelmingly positive as Miller expressed in a tweet. " I'm so stoked that the response has been so incredible!!" Miller wrote. I mean, if there were a Cry Closet Kickstarter, I'm sure students across the country would gladly help fund it.
For many college students, mental health isn't (or can't be) a priority given rigorous schedules including classwork, part-time jobs, and extra curricular activities. Thankfully, some universities are working to make mental wellness easier to incorporate into students' overall well-being. Last year, UCLA announced they'd be providing students with free mental health checks. Earlier this year, Yale professor Dr. Laurie Santos spoke with The New York Times about her "Happiness 101" course, focused on mental wellbeing, which over a fourth of Yale's undergraduates are currently enrolled in. (Psst, you can also take the course for free online, in case you don't have plans to attend Yale any time soon.)
The Cry Closet may be a seemingly silly project, but it acknowledges a more serious problem many students face regularly. Hopefully, colleges across the country continue to acknowledge the unique set of stress many students are under. In the meantime, I call dibs on the next spot inside the Cry Closet.