'Cake Wars' Host Jonathan Bennett Has The Best Job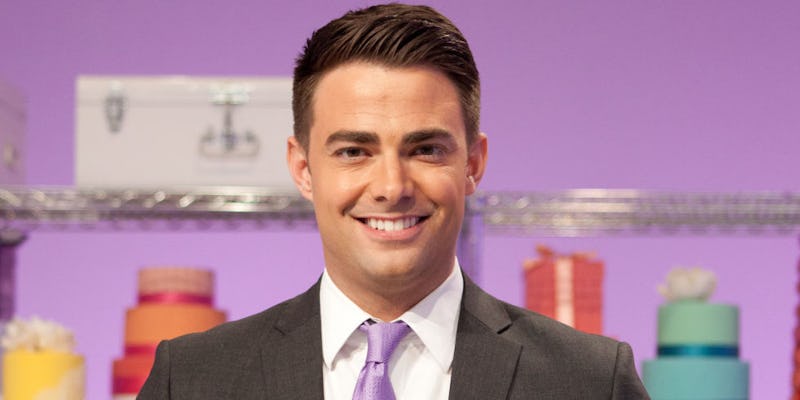 FoodNetwork.com
Ever wonder what it's like to watch four teams battle to make an extravagant cake, all while they're racing against the clock and trying not to crumble under the pressure? That's a question Cake Wars host Jonathan Bennett can answer. Bennett has been at the helm of the show since 2015, and he's loving every minute of it.
"Hosting the show is so much fun. You never know what you're going to get when you go into work," Bennett tells Bustle. "It's such a cool opportunity for me as a performer being able to have a platform where you can just try things, be silly, and see if it works and comes together."
This hosting gig has also subjected Bennett to a startling amount of standing. "It's like, I need a chair," he jokes. But he says that the perks of the job outweigh not being able to sit as much as the judges.
"I get to eat all of the cake, which is so much fun. Like, when we go to commercials, I eat Waylynn Lucas' cake, always," Bennett confesses. "I'm actually picking up so much when it comes to baking. I'm learning so much about the cakes and little tricks of the trade, which help me bake in my everyday life."
Even with the unexpected physical activity that's involved with the job, Bennett still enjoys this exciting opportunity and assured fans that they'll have a lot of tasty episodes to look forward to. Winners from past Cake Wars episodes will return this month for Cake Wars: Champs, which kicked off on Sunday March 6. The champion bakers take their cakes and skills to the next level with nostalgic cartoon-inspired challenges, including LEGO, Pokémon and Disney Princesses.
"What's so cool is that Cake Wars: Champs takes the best of the best and we pit them against each other in this giant Cake Wars champion battle," Bennett said of the upcoming episodes. "They're just such great iconic characters and pop culture moments, so the cakes that these bakers create are absolutely mind blowing."
It's safe to say that if Bennett ever needs a break from hosting, I'd be down to take his place. I can only imagine how amazing these cakes are going to be and how delicious they're going to taste. And, hey, maybe someone can bake him a chair made out of cake.