'Bachelor' Fans Can Expect A Love Triangle With Bibiana & Ashley I On 'Winter Games'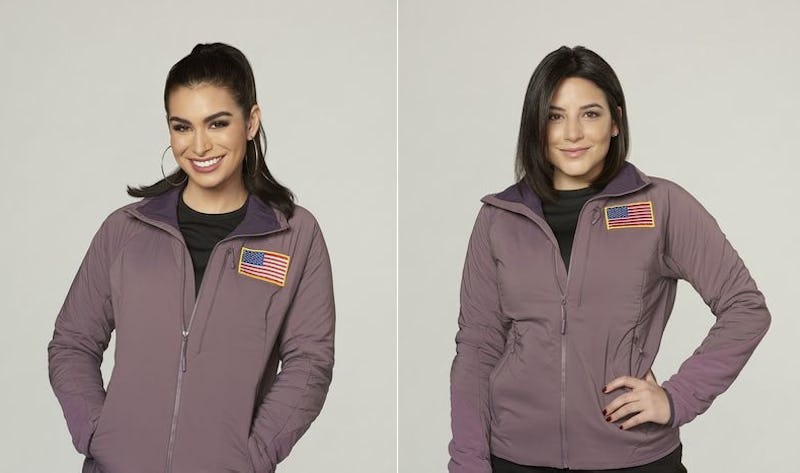 ABC
Aside from the list of cast members, almost everything about The Bachelor Winter Games is vague. It sounds like it will be a competition show with some love mixed in, and now we have an idea of one love triangle fans can look out for. Cast member Ashley Iaconetti revealed that she and Bibiana Julian are interested in the same guy on Winter Games.
Ashley posted about the situation in an Instagram story. She shared a photo of the cast and wrote, "Swipe up to hear @bib_julz & I discuss our friendship and being interested in the same guy on The Bachelor Winter Games." Anyone who swiped up was brought to the January 29 episode of The Ben And Ashley I Almost Famous podcast. Ashley and Ben Higgins had Bibiana on as a guest to discuss her thoughts on Arie Luyendyk Jr.'s Bachelor season and the upcoming Winter Games season.
It is clear that they were trying to keep the spoilers under wraps since on the actual podcast they never explicitly stated that the obstacle between Ashley and Bibiana was a love interest, but it was strongly implied. Plus, Ashley later confirmed that with her Instagram story. Unfortunately, Ashley did not name the guy in her Instagram story, but that will be revealed soon enough. The Bachelor Winter Games premieres on February 13.
Considering that Bibiana was a guest on Ashley's podcast, it's safe to say that they are on good terms now. Who would go on an enemy's podcast? And listening to the interview, it is clear that Ashley and Bibiana handled their love triangle in the most respectful and tactful manner. As a result, they are not just "cordial" for the sake of Bachelor Nation. They are actually very good friends, who didn't let a guy come in between them.
During the episode (at the 31:40 mark), Ben told Bibiana, "Let's just say this. Winter Games is going to be a lot of fun. There's some great relationships that form and you and Ashley have a situation that comes up during Winter Games that could have completely destroyed your friendship, but the two of you handled it so well."
He continued, "To be very vague here, this situation happens in the real world a lot, and it often times destroys friendships, but the two of you, I think, built a relationship around this common interest during Winter Games."
Thanks to Ashley's Instagram story, it's clear that "this situation" has nothing to do with competitive athletics. Just based on the podcast alone, that was a little bit unclear until Bibiana said, "We would talk about it and you could tell her relationship was forming a lot more and I wasn't feeling it, either."
Even though the two reality TV stars were into the same guy, it actually seems like their mutual interest brought them together instead of tearing them apart. Bibiana explained how they navigated the complicated situation. "For me," she said, "it's so important to just be completely open with people, and I think like a lot of the time, when you're just not vocal about where your feelings are at, it leaves it to the imagination. I wanted to make sure that we tackle this head on, and if she was feeling a certain way that she was always honest with me. And we continuously kept checking in with each other and seeing where we were at."
The fan favorite from Arie's Bachelor season added, "The first few days, we didn't really get a chance to talk about it ... It's easier, really, if women were to talk to each other more." Exactly. Talking is helpful in real life and on Bachelor spin-off shows like Bachelor in Paradise and Winter Games where there are multiple people to pursue and love triangles are bound to happen.
Ashley added, "You allowed me to be so open with it." Which again, is how things should be in these scenarios. It's hard enough looking for love in real life, let alone on reality TV. Why not make the best out of the situation?
"I connected with Ashley and I always wanted her to be comfortable around me and by not talking, that's when you kind of shut people off," Bibiana said. "I am someone who puts my girlfriends first. I think that it's extremely important ... It's like a girl power thing." Ashley told her, "You very much respect women and their feelings." This respect is something that should be front and center in the Bachelor franchise. Hopefully, this is emphasized when Winter Games premieres and the story line doesn't get an edit that simply pits the two against each other.
Everyone who follows this franchise knows that some of the strongest relationships that come from these shows are actually the friendships that form between the contestants. There's no word on whether Ashley or Bibiana is actually dating this guy they were both into, but either way, they both walked away with a good friend, which is far from a consolation prize.