Ashley I. & Jared Addressed How Being Friends First DEFINITELY Benefitted Their Relationship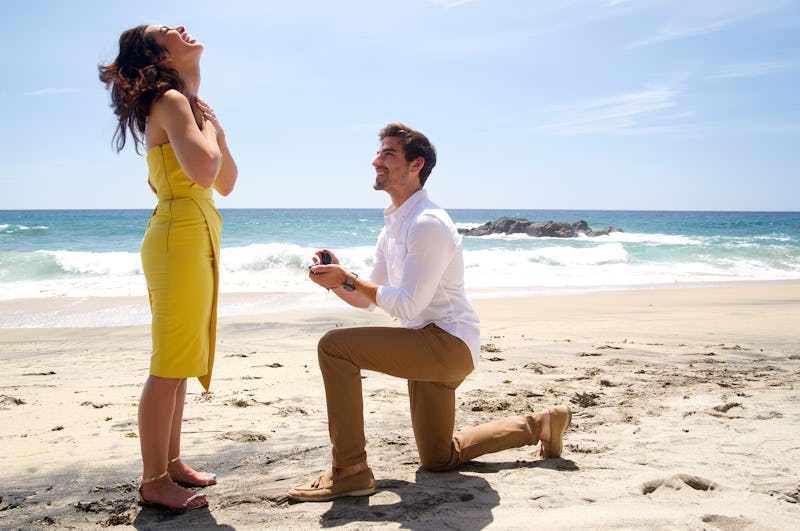 ABC/Paul Hebert
Being friends first doesn't mean a romantic relationship is doomed, and Ashley Iaconetti and Jared Haibon are living proof. The Bachelor Nation members are engaged after knowing each other for years. And it sounds like Ashley I. & Jared's romantic relationship benefited from their time as friends, too.
In a new interview with People, Jared explained that his physical relationship with Ashley came super easily to the two of them. He told the magazine,
"It just felt right. It's so crazy now thinking about a time where we didn't touch. That seems so abnormal."
Ashley also told People that the physical side of their relationship was "natural" for the two of them. She said,
"It was amazing to see how natural the romance and the sensuality of our relationship came."
Jared and Ashley have been dating since the end of May, but they've known each other for way longer than that. The two of them met on the second season of Bachelor in Paradise in 2015. Ashley expressed romantic interest during that season, but Jared said that he didn't feel the same way about her at the time. (Still, Ashley said in the couple's "Story of Us" video that it was "love at first sight" when she saw Jared at the Paradise bar.)
Even though they weren't on the same page romantically at first, the two of them stayed friends over the years. The two of them briefly dated at the beginning of 2016, too, but Jared called it off. And when they were both on Bachelor in Paradise's third season that summer, they both found romance with other Bachelor Nation members, though those relationships didn't work out.
Things took a turn for the two of them, though, when Ashley appeared on Bachelor: Winter Games. She found love with Kevin Wendt, and the two of them seemed super happy in the Bachelor spinoff. But eventually, they went their separate ways — and Jared revealed that seeing Ashley on the show helped him realize his feelings for her.
"I remember I heard rumors that you might have met somebody, and I was sad," Jared told Ashley in the Story of Us video. "Sometimes I need a kick in the ass. That was a big kick in the ass."
Ashley and Kevin announced their breakup in March, and she and Jared got together in May. (It looks like there are no hard feelings between Ashley and Kevin, either. He congratulated Ashley on her new relationship, and he'll be appearing alongside the couple on the upcoming Paradise season.)
Jared and Ashley's new comments to People are a reminder that there's really no such thing as the "friend zone" when two people are on the same page. If someone says they've been put in the friend zone, it probably just means the other person doesn't feel the same way. When Jared realized he did have feelings for Ashley, though, they were able to move into a romantic relationship with ease, proving that the whole "friend zone" idea doesn't really exist. It's refreshing to hear the two of them speak so openly about their nontraditional path to love, which seems to be working out perfectly for them.
"He'd pace around my apartment and he'd be like, 'I can't do it anymore! I have to touch you!" Ashley told People, referring to when they got together earlier this year. "We have three years of not touching to make up for."
The couple's engagement news may sound quick. But if you think about it based on their friendship timeline, it's actually been a long time coming. It sounds like Ashley and Jared are ready to commit to each other fully, and that includes both the emotional and the physical sides of their relationship.