Bachelor Nation's Ashley I. Went Wedding Dress Shopping & The Photos Are Stunning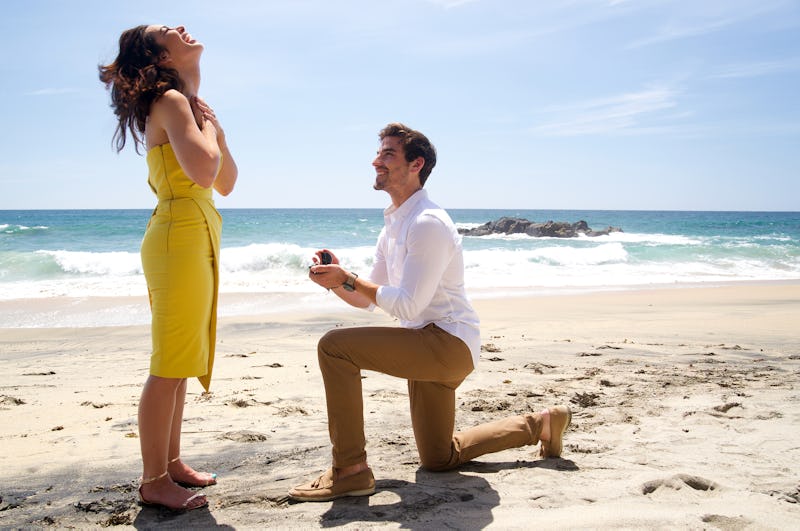 ABC/Paul Hebert
Just when you thought you were over your whiplash from how quickly this relationship went from zero-to-sixty, Ashley Iaconetti went wedding dress shopping this weekend. Her engagement to Jared Haibon is just weeks old, and the earliest their romance could've started is March, but they're showing no signs of slowing down on the road to the wedding. The Bachelor in Paradise star and her family visited Kleinfeld Bridal in New York City on Saturday to shop for a dress, and luckily for us, she documented her entire journey on Instagram so that fans can follow along.
Depending on your daily reality TV-intake, you may or may not know that Kleinfeld Bridal is the shop where TLC's Say Yes to the Dress is filmed, and while trying on dresses, Ashley worked with the show's fan favorite Diane as her consultant. The 30-year-old remained tight-lipped about whether she said yes to any of the options she tried on, but did tease some details about the gown that she'll ultimately wear down the aisle. "Jared, don't look!," she captioned one photo of herself in a strapless, sweetheart neckline gown, before adding, "Just kidding. I did not say yes to this dress. But it'll be a ball gown for sure. Some of my favorite options so far are in my insta story!"
But even if Jared did get curious and go clicking around through his fiancée's Instagram, the Rhode Island native is unlikely to stumble across any spoilers. Although Ashley posted images and video of another dress in addition to the one above — which she clarified was gorgeous but "felt like curtains" — she largely obscured the gowns she was considering with emojis. Just to make sure that her options could stay secret.
"I might actually get this. So you can't see!!" she wrote over a photo of herself in a strapless number with an intricate bodice, covering the bottom half with the bride emoji.
For other options still on the table, she employed a red heart and a cascade of flower emojis, the latter blocking the skirt of a garment that's visibly exciting her. In the photo, she holds her arms out from her body slightly and beams open-mouthed into an unseen mirror.
But the most likely candidate for a potential "yes" is the gown that Ashley obscures with the heart eyes emoji. As any religious watcher of Say Yes To The Dress knows, things aren't serious until the bride gets "jacked up," a term coined on Say Yes to the Dress: Atlanta for the moment when all the other additional bridal accouterments are added to a gown to really make things real. In the heart eyes video, Ashley is all decked out an off-the-shoulder, lacy ballgown that floats across the floor, topped off with a delicate veil and a bouquet. So that one could very well be the winner!
But on the other hand, in that very same video, the bride-to-be reveals that she just wants to try on one or two more "to compare," and someone off-camera says that's what she's said after every gown. So there's no way to know exactly which dress she walked away with until we see it on her at her wedding day.
But knowing this couple, that won't be long to wait; a wedding date has yet to be announced, but it's a safe bet that it's coming up fast.