'Bachelor' Nation's Ashley Iaconetti & Jared Haibon Are Engaged & You Won't Believe Where He Proposed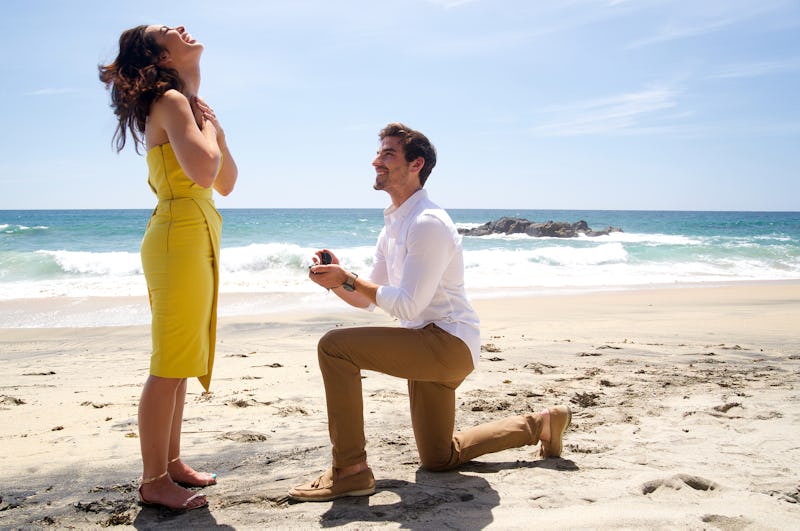 ABC/Paul Hebert
The 2018 season of The Bachelorette isn't even close to approaching a proposal, and yet Bachelor Nation has a new engagement to celebrate. Resident Bachelor in Paradise will-they-won't-they couple Ashley Iaconetti and Jared Haibon are engaged, according to a new report from People. According to the site, the proposal takes places on the upcoming Season 5 of Bachelor in Paradise. ABC confirmed Ashley I. and Jared's proposal to Bustle, but could not provide further details at this time.
Oh, how far they've come. The Bachelor in Paradise favorites announced that they were officially boyfriend and girlfriend on May 22. On that night, Ashley posted a photo of them on Instagram with the caption "I love my boyfriend." Jared shared his own post with a very sweet caption to celebrate their official relationship status. Along with the photo, Jared wrote, "I came here tonight because when you realize you want to spend the rest of your life with somebody, you want the rest of your life to start as soon as possible."
They shared even more information with a 44-minute video for Ashley's web series The Story of Us. The duo explained the behind-the-scenes details of their love story and how they went from Bachelor in Paradise drama, to a close friendship, to an official couple.
In a May interview with People, Ashley explained why she and Jared filmed the video. She said,
"Bachelor Nation hasn't seen so many of the important details that make up our story. I thought there was no better way to explain to the people who have followed our love lives for over three years than by filming our own episode of The Story of Us."
It may seem like sudden jump from announcing their relationship in May to getting engaged in June, but it really has been a long road for the future Mr. and Mrs. Haibon. The two initially hit it off during Season 2 of Bachelor in Paradise in Summer 2015. That didn't last long, though — Ashley had immediate and strong feelings for Jared, but he ultimately put her into tears-filled friend zone.
They both appeared on Season 3 of the show in 2016, which ended up being even worse than the first one. They didn't "date" at all during that season and it seemed like Ashley would reside in that dreaded "friend zone" forever.
After that awkwardness, the two put all of the reality TV drama behind them and became close friends. Ashley even started another Bachelor franchise relationship with Kevin Wendt on The Bachelor Winter Games, which aired in January this year.
During The Story of Us video, Jared admitted, "I remember I heard rumors that she might have met somebody, and I was sad." He also said, "Sometimes I need a kick in the ass. That was a big kick in the ass".
Jared even confessed, "It's so unfair for me to say anything. Ashley goes on a show, finds another guy and now I'm gonna say something? What kind of assh*le does that?"
But clearly it worked out, since Jared ended up telling Ashley how he feels about her and they are now engaged. Ashley even told People, "I just knew in my heart at that point that it wasn't right with Kevin," she said. "I ended the relationship because it had run its course — and then Jared was still there."
Ashley has given hope to anyone who has been stuck in a friend zone and now members of Bachelor Nation are wondering when the wedding will be and if it will be on television. They did meet on TV and they filmed the engagement for Bachelor in Paradise so a televised wedding special seems like a logical next step.