Ashley I. Addressed To Colton's Virginity Discussion On 'The Bachelorette' With A Major Point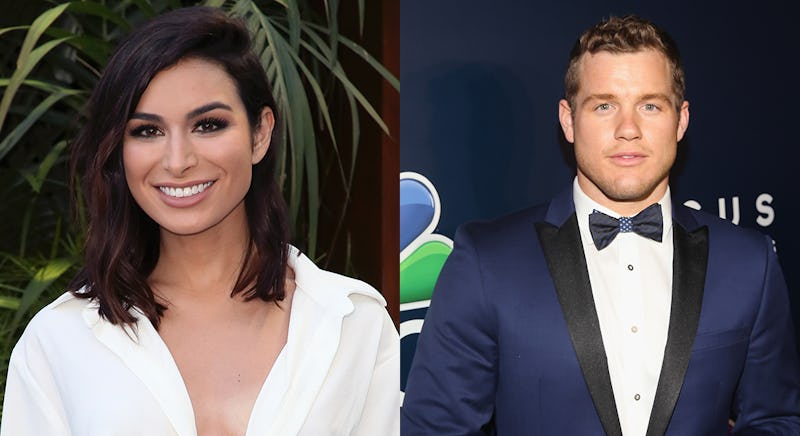 Jesse Grant/Getty Images Entertainment/Getty Images; David Livingston/Getty Images Entertainment/Getty Images
If you've been following Becca Kufrin's season of The Bachelorette, then you've probably seen the build up to Colton Underwood telling Becca about his virginity for weeks now. Well, Bachelor Nation finally got to watch the situation play out during Monday night's episode, and some people were a little put off by Becca's reaction. But after hearing Ashley I.'s response to Colton's virginity discussion, it sounds like Becca and Colton's actual conversation might've looked a bit different than the one fans saw on-screen. Not only that, but, during a sit-down interview with Access Live on Tuesday, July 10, the Bachelor alum also raised some compelling points about why everyone's so obsessed with Colton's sexual history in the first place.
During Tuesday's interview with Access Live, Ashley I. didn't beat around the bush. Personal experience has assured her that sex isn't a necessary ingredient to foster a healthy, meaningful relationship (in its earlier stages, at least), so she's not too keen on the Bachelor franchise making it seem like it is. "What I am really tired of is the show making [Colton's virginity] seem like such a big deal, such a big reveal," Ashley I. told the Access Live hosts, "Like it's even something that we have to talk about at this point in a relationship."
Those who watched Chris Soules' Bachelor season might remember Ashley I. has been in Colton's shoes before, and knows full-well how hard it is to talk about your virginity on television. Suffice to say, she's not thrilled about the way the series has called so much attention to Colton's supposed "virginity reveal" over the course of the season, especially given the show's history of focusing on sex as if it's the be-all, end-all for a successful relationship. She said,
"Mainly, what I find so frustrating is that [Bachelorette producers] keep making it seem, time and time again, like [virginity] is a reason for some romantic development to stop."
(Bustle reached out to Warner Bros. regarding Ashley I.'s previous comment, but has not yet heard back; ABC declined to comment.)
Ashley I.'s logic here is pretty tough to argue with. It's no secret that promoting unhealthy narratives about sex — and being a virgin in your 20s — is harmful. Ashley I. dealt with the consequences of that narrative herself back in 2015, when she opened up about her virginity during Chris Soules' Bachelor season. "I have to be honest, I didn't think that he thought it was very attractive," she told Access Live Tuesday, adding, "I think he stopped looking at me as a sexual object at that point. I felt a change in our relationship."
Per her comments to Access Live, it doesn't sound like Ashley I. thinks that's what's going on with this year's Bachelorette. But before diving any further into Ashley I.'s comments on the whole Colton-Becca situation, let's rewind to Monday night's Bachelorette episode. Buzz over the status of Colton's virginity has been a pretty hot topic around #BachelorNation since Becca's Bachelorette season first aired (courtesy of ABC's teaser video and the press-fueled hubbub that followed). But viewers didn't actually watch Colton tell Becca that he's a virgin until the season's seventh episode, which aired Monday, July 9. For those who missed it, rest assured: Colton, for his part, handled it like a champ.
"I haven't had that many girlfriends or that many dates because of sports," he told Becca about mid-way through the episode, referencing his background in professional football. "And because of that, I still am... I am a virgin." Colton's admission, in and of itself, didn't feel like such a monumental statement to make, especially given the fact that he's conceivably vying for Becca's hand in marriage. (Definitely an important thing to discuss with your potential long-time partner.) So it seemed a little jarring — and pretty uncharacteristic of the famously kind-hearted Bachelorette, too — when, right after Colton told her, Becca promptly got up and left the room. "Can you excuse me for one second?" she told him, before making what seemed like a very oddly-timed exit.
Of course, those who watched Monday night's Bachelorette episode also know that Becca didn't send Colton home after that conversation. In fact, it looks like he's still one of this season's frontrunners. So, why'd Becca react like that? Both Becca and Colton tweeted that she likely got up to use the restroom at that point. "I don't call the show out for editing very much, but it was definitely edited," said Ashley I. of Colton and Becca's conversation. Or, the version of it viewers saw on TV, anyway. Whether or not that particular claim is actually true remains up for reasonable debate (which is to say, it hasn't been confirmed, but isn't incredibly hard to believe).
Echoing Ashley I.'s comments, it seems the most important takeaway here is this: Being a virgin really just isn't that big of a deal. It's no measure of heart, wit, talent, or capacity for epic romance. Both Colton and Ashley I. have shown us that.