This Mini 'Full House' Reunion Photo Will Make '90s Kids So Happy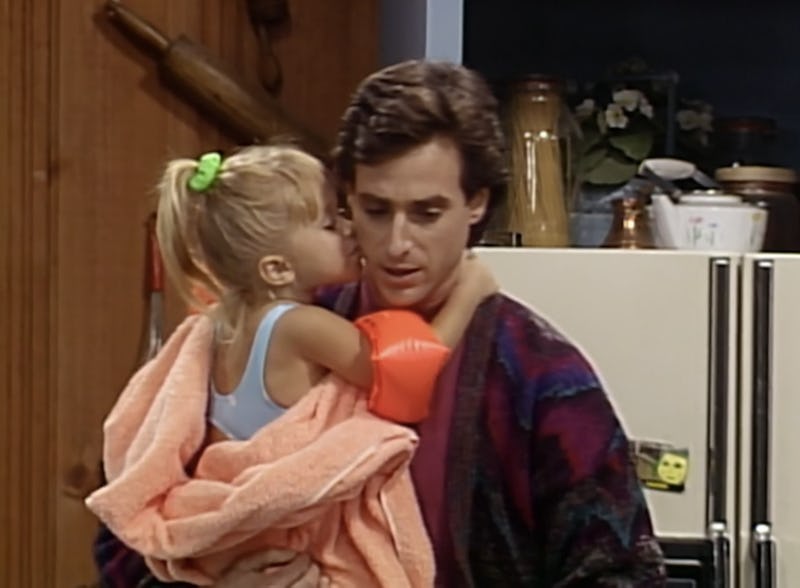 Warner Bros. Television Distribution
It finally happened — Danny Tanner reunited with his youngest daughter, and even though it didn't happen on the set of Fuller House, the moment was well worth the wait. Bob Saget and Ashley Olsen had a Full House reunion on Tuesday, Dec. 5, at the comedian's Scleroderma Research Foundation Event. On social media, Saget thanked his TV daughter for attending the special night, and he revealed that she's a usual at the evening of good food and comedy.
Saget shared a photo of himself, Olsen, and John Oliver (who performed at the event) and captioned it,
"So honored my dear friend Ashley Olsen came to support my Scleroderma Research Foundation Event as she has all these years -and here we share a photo with my friend John Oliver generously and hilariously performing at #CoolComedyHotCuisine - Thank you for your support, John and Ashley!!"
While Ashley and Mary-Kate Olsen have declined invitations to appear on Fuller House due to their busy lives as businesswomen, it's nice to see that they haven't completely left their time with the Tanner family behind. Even though they no longer seem interested in acting, the twins appear to remain friendly with their TV dad. Seeing Ashley and Saget reunite — even though it was off-camera — is the perfect Christmas present for Full House fans who miss seeing Danny with his youngest daughter.
The Olsen twins are the only actors from the main cast of Full House that haven't appeared in Netflix's Fuller House. The reboot, which is now in its third season, has made multiple references to Michelle's absence since the show began. In the first episode, Danny notes that Michelle is "busy running her fashion empire in New York," suggesting that the character may have followed the same path as her portrayers. The Season 2 Thanksgiving episode made a similar joke which ended with John Stamos' Uncle Jesse looking directly into the camera and saying, "Come, it'll be fun."
At the 2017 Paleyfest, Full House and Fuller House creator Jeff Franklin admitted he was done asking the Olsens to return. However, in true Tanner family fashion, he also promised the door would always be open for them. During the event, Franklin said,
"I've stopped asking, really I kind of gave up. But when somebody rings a doorbell, the girls yell, 'It's always open!' on the show so that's kind of how we feel about the Olsen twins. The door is open. But I think we've gotten enough nos. We're kind of done asking. But who knows? You never know in life. Who thought this whole thing would happen?"
Given how busy their new careers are, it's not surprising that the Olsens haven't jumped at the chance to reprise their role as Michelle. The sisters live in New York, where they run their fashion brands The Row and Elizabeth & James. While they had a lucrative career as child actors, it seems they've found a new career path that makes them happy as adults.
Just because they've moved on from acting that doesn't mean they've stopped supporting their TV family, as Ashley's appearance at the Scleroderma Research Foundation Event illustrates. This is far from the first time the twins have showed up for Saget. As E! points out, Ashley attended Saget's Broadway play Hand to God in 2015, and one or both of the twins tends to appear at the annual Scleroderma event.
Michelle Tanner probably won't be appearing on Fuller House anytime soon, but Full House fans can take comfort in the fact that the Olsens and their TV dad seem to have the utmost respect for one another. And, on special occasions, Danny and Michelle still make time for quality father-daughter moments.