Asia Argento Mourned Anthony Bourdain With The Perfect David Bowie Lyrics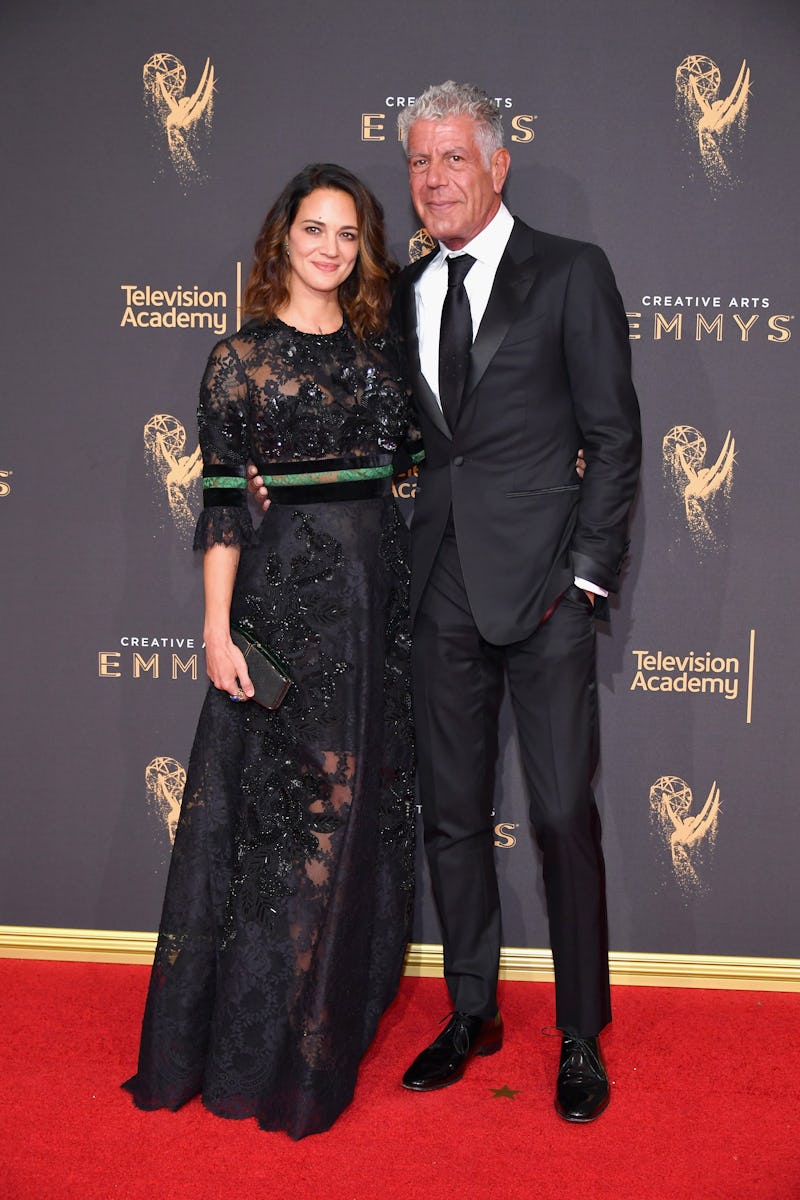 Neilson Barnard/Getty Images Entertainment/Getty Images
Following the shocking death of Anthony Bourdain just a week ago, Asia Argento shared the lyrics to David Bowie's song, "Lazarus," on her Instagram Stories, according to Entertainment Tonight. Though Argento did not mention Bourdain by name in her post, the lyrics about heaven no doubt carry more weight this week. The actor and #MeToo activist took to social media with a series of posts that seem to provide some insight into her difficult mourning process after Bourdain's death on June 8. The "Lazarus" lyrics, which were written on top of a screenshot of the song's cover art, read:
"Look up here, I'm in heaven. I've got scars that can't be seen. I've got drama, can't be stolen. Everybody knows me now. Look up here, man, I'm in danger. I've got nothing left to lose. I'm so high, it makes my brain whirl. Dropped my cell phone down below. Ain't that just like me?"
The song, released in December 2015, is from Bowie's 25th and final album Blackstar and is more notably the last single released before his death in January 2016. Billboard ranked "Lazarus" at number 40 on their "100 Best Pop Songs of 2016" list. Meanwhile, Pitchfork listed "Lazarus" on their ranking of the 100 best songs of 2016 at number 5. And many viewed the album and video for "Lazarus" as the final goodbye to fans.
The lyrics appear to be very dear to Argento, who posted them a day after Bourdain's cremation in France on Wednesday. People reported that after Bourdain's death, Argento has been spending time in Berlin, Germany, leaning on the help of friends in this difficult time.
In addition to the Bowie lyrics, Argento posted a photo with a friend in Berlin with the caption, "Berlin Sisterhood." The 42-year-old entertainer also shared a prayer written in Spanish, which ET indicates was a request of enlightenment and guidance.
Her Instagram Story posting on Thursday ended with a video of Rose McGowan singing along to a song she released back in February in light of the Harvey Weinstein scandal.
Shortly after Bourdain's death, Argento released a loving statement about the late 61-year-old chef, food critic and TV personality which read:
"Anthony gave all of himself in everything that he did. His brilliant, fearless spirit touched and inspired so many, and his generosity knew no bounds. He was my love, my rock, my protector. I am beyond devastated. My thoughts are with his family. I would ask that you respect their privacy and mine."
Bourdain and Argento began dating in 2016 and recently worked together on an episode of Bourdain CNN series Parts Unknown. Bourdain often spoke of his admiration for Argento and had also become an outspoken advocate for the #MeToo movement after she publicly accused Harvey Weinstein of rape. Bourdain often supported others who have come forward to speak out against the disgraced film producer. (Weinstein has repeatedly denied all allegations of non-consensual sex.)
In November 2017, Bourdain tweeted about making dinner for Argento, as well as Rose McGowan and Annabella Sciorra. Along with a photo of the women, Bourdain wrote, "It was an honor to cook for this meeting of the minds."
While Argento's posts share some of the grief and heartache she must be experiencing following Bourdain's passing, it's good to see that she has friends like McGowan and music like Bowie's to lean on.
If you or someone you know are experiencing suicidal thoughts, call 911, or call the National Suicide Prevention Hotline at 1-800-273-8255 or text HOME to the Crisis Text Line at 741741. For international resources, here is a good place to begin.