At Protester Boot Camp, The Bernie Coalition Readies For A Fight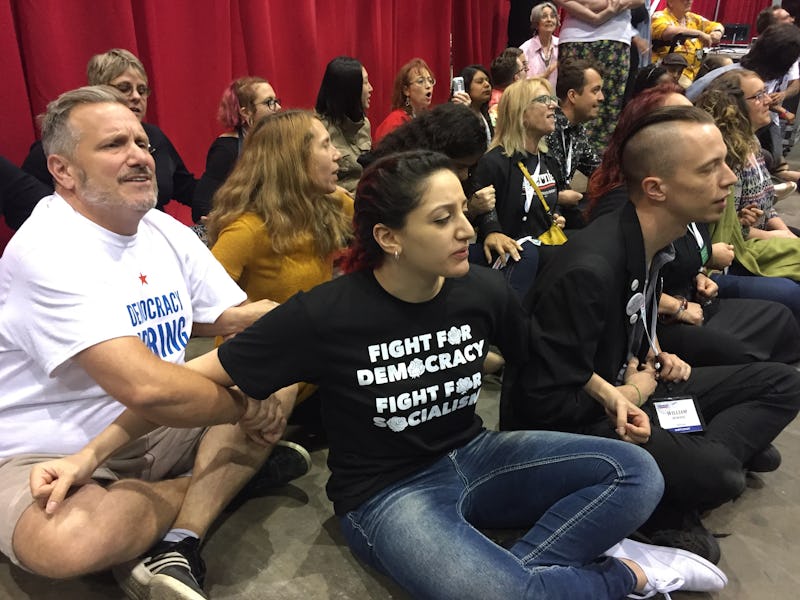 Erin Delmore/Bustle
In the largest convention center in North America, a handful of activists at The People's Summit lay with their backs on a concrete floor and their fists in the air.
"What are you all doing over here?" Million Hoodies Movement for Justice founder Dante Barry asks. "We're laying down for Mike Brown!" one shouts, recalling the 2014 protests in Ferguson, Missouri. Another group of activists chant "black lives matter" a few feet away.
Down the line, Barry asks the same question: A group of activists are protesting construction of the Keystone Pipeline. Another group is staging a sit-in, posing arm-in-arm on a pretend Sioux reservation at Standing Rock.
It's a virtual "museum of non-violent direct action," as Barry calls it. He had asked the group to act out examples they had participated in, seen, or heard. "We're shutting down construction on a mountain!" a woman on the other side of the room shouts. Then another: "We're protesting the DNC when they denied Bernie his rightful nomination!"
At that, the room cheers. These hundred or so activists traveled to Chicago to meet their Progressive heroes, like Barry and National Women's March co-chairs Carmen Perez and Linda Sarsour, who are all leading the four-hour seminar on non-violent direct action, or "NVDA" in activist parlance.
But mostly, the crowd is here to see Vermont Senator and former presidential candidate Bernie Sanders, who headlined the event with a keynote speech on Saturday night, and whom they feel was robbed of the presidency and abandoned by the Democratic Party.
The Campaign Flame Berns On
It's been seven months since the vote tallies on election night 2016 leveled the prospects of a Democrat in the White House, and nearly a year since Sanders called off his rivalry with Hillary Clinton. But his followers are as emboldened as ever, and this weekend, Chicago was the site of "Bern-chella."
"I think its really inspiring that there are so many like-minded people here fighting for the same cause," Beth DeBoard, a 20 year-old from Mount Olive, Illinois, tells Bustle.
"Don't ever let people in my generation tell you that you don't know what you are talking about, because by and large, they're the ones that messed it up."
Organizers touted the numbers: 49 states represented. Fifty-four percent of attendants are not white. The largest group represented is under age 35.
"Don't ever let people in my generation tell you that you don't know what you are talking about," National Nurses United's Rosanne Demuro says, "because by and large, they're the ones that messed it up."
Fifty-six year old Marcia Santini is a member of the California Nurses Association, one of the nurses unions that endorsed Sanders in the 2016 Democratic primary. "For me, this was my first political awakening," Santini says. "I am so far behind your generation. That's why I'm so impressed with you guys."
Montana Democrat Rob Quist, who spoke at the summit, enjoyed the support of the Bernie coalition, especially young voters, in his quest for the Congressional seat vacated by Ryan Zinke, whom Trump picked to lead the Department of the Interior. Quist lost the race to Republican Greg Gianforte, but offered a call to action to young progressives still reeling from the loss.
"You know it's time for millennials to get up, get out, and really take action because this country is going to be yours and so the future belongs to the millennials, so please get involved," he says.
If You Build It, They Will Come
Twenty-seven year-old Melissa Chavez took an eight-hour train from Kansas to attend the Chicago summit, the second of its kind in as many years.
"I didn't know where to start," Chavez says, on getting involved and getting informed. She tells Bustle inequality, racism, health care, and mental illness awareness are the issues that drive her political involvement.
The coalition of leaders featured at The People's Summit are, like Barry, Perez, and Sarsour, well-known heads of social justice movements. People for Bernie co-founder Winnie Wong is the digital mastermind behind the "Feel the Bern" hashtag and an alum of Occupy Wall Street. Social activist, author, and filmmaker Naomi Klein is a thought leader on climate and economic policy. She digs her teeth into President Trump's record in a new book out this month.
They all have a turn at the mic during Friday's pep rally, in a presentation called "Why we're here." They're featured on panels throughout the weekend and mobbed by fans, mostly young women and men looking for a handshake and a selfie, as soon as they step off the stage.
Nineteen year-old Chicagoan Guadalupe Gonzales says she understands how some of the terminology thrown around can be alienating for people outside the movement. She sat in on classes like "Democratic Socialism 101" and "The Attack on Democracy" over the weekend.
"Socialism is a scary word for a lot of people," Gonzales says. "You say socialism and they think that it will bring the country to ruins." She uses the humanitarian and economic crisis in Venezuela as an example. "The USA is not Venezuela. Democratic socialism is the way to make things fair for everyone and it's a way to bring the power back to the people."
"The Democratic Party ... Is Broken Right Now."
At a Friday night pep rally, a speaker ticks through Trump's record over the last 140-some-odd days in office. The packed theater boos. "Better than Hillary!" a man yells. He's handing out leaflets advocating for a third party.
While the results of the 2016 election spurred no shortage of hand-wringing, second-guessing, and post-mortems among the Hillary Clinton crowd, Sanders supporters at the Chicago summit have little patience for looking back.
"The Democratic Party, I would say, is broken right now," Piash Ahamed, a 26 year-old from Woodbridge, New Jersey, tells Bustle. "Bernie Sanders is the leader we need to bring the party to the masses. Most people don't have faith in either of the parties, so we need to build a Democratic Party that's built for us, the people and not for the corporations."
It's a message that resonates with Sanders' youngest supporters, who say the weekend-long event has turned them from post-election depression to a new sense of purpose. Some are already eyeing the 2020 election, evidenced by interjections to Sanders' primetime speech. They seem sure he can win, but less sure of whether he'll run.
Lucia Brandt is a member of California Nurses Association. She sees the leadership mantle as Sanders' for the taking.
"Ideologically, he will be [the progressive leader]. He has been the mentor for all of us and he has laid the groundwork for authenticity for compassion and for being the real deal," Brandt tells Bustle.
"Resistance Isn't A Word We Take Lightly"
"Solidarity!" one man shouts.
"Make other people acknowledge the cause!"
"Show up for the people who can't!"
The crowd at non-violent direct action training is talking about why they protest, drawing on historic racial, social, and economic injustices as an image of Martin Luther King Jr. and Coretta Scott King looms large on a projector.
"Resistance isn't a word we take lightly," a spokesperson for the movement said on a narrated video at the start of the weekend. As images of the 1960s lunch counter sit-ins dissolved into one another, the crowd roared.
For Sanders, the Civil Rights Movement was a formative experience. The senator served in his college's Student Nonviolent Coordinating Committee. More than a half-century later, Sanders' disciples are urging supporters to organize, build the base, and "fight like hell."
Thanks to the weekend's classes, discussions, training and networking, Sanders supporters tell Bustle, The People's Summit delivered the fuel they need to Bern on.