Don Jr.'s Reported Ex Spoke Out About Trump & Whoa, She Really Went For It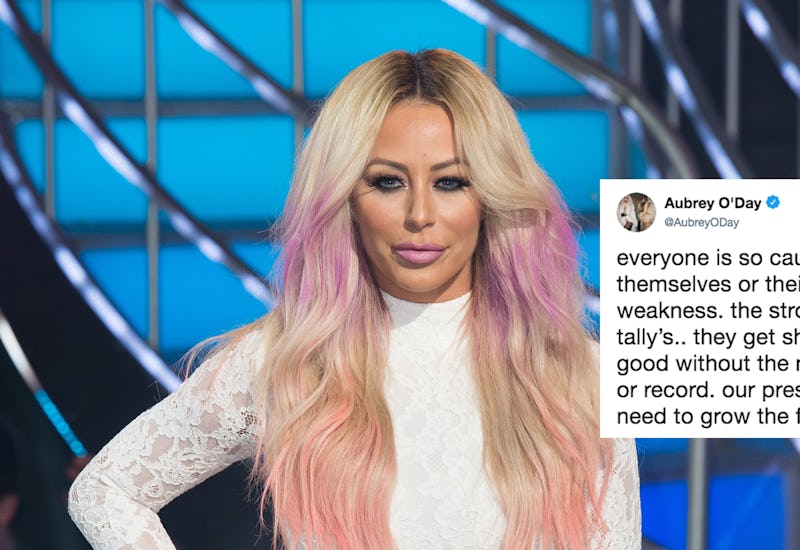 Jeff Spicer/Getty Images Entertainment/Getty Images
Pop singer Aubrey O'Day was an outspoken Hillary Clinton supporter during the 2016 election and made it clear that she was heartbroken when Clinton lost. But O'Day has not been too vocal recently in her criticism of the current president — until now. Just four months after reports surfaced about her alleged affair with his son, O'Day told Donald Trump to grow up in a heavily critical tweet posted on Monday.
"Everyone is so caught up in defending themselves or their positions," O'Day tweeted. "All I see is weakness. The strongest don't keep ego tally's... they get sh*t done for the COMMON good without the need for constant validation or record. Our president & his mouthpieces need to grow the f*ck up!"
The last time that O'Day issued such a strong statement against Trump was just after the election, when she described the newly elected president as a "lying, abusive piece of trash that is personally and publicly racist, sexist & homophobic." This time, it was Trump's controversial press conference with Russian President Vladimir Putin that seemed to prompt O'Day to speak out.
O'Day — who once appeared on The Celebrity Apprentice — never publicly confirmed a relationship with Donald Trump Jr., with whom she allegedly had an affair from 2011 to 2012. The two of them reportedly met on the show, and allegedly had a relationship until Trump Jr.'s wife discovered the affair and confronted O'Day. They haven't commented publicly on the allegations.
In the months since news of the affair surfaced, O'Day — who once belonged to the girl group Danity Kane — has largely been silent on the entire Trump family, despite having already made it clear that she wasn't a Trump supporter. However, the Trump-Putin press conference seemed to have been the last straw for her, and she once again spoke out against the president.
On Monday, Trump and Putin held a bilateral summit in the Finnish capital of Helsinki. During a press conference following the summit, Trump suggested that Russia had not interfered in the 2016 U.S. presidential elections, despite American intelligence officials concluding otherwise. On Tuesday, Trump attempted to walk back these remarks by saying that he misspoke, but the damage had already been done.
It wasn't just Democrats that slammed Trump for his comments; members of his own party criticized him for appearing to defend Putin. Even Fox News hosts had harsh words for Trump, with anchor Neil Cavuto describing the president's performance as "disgusting" and "wrong."
O'Day was therefore not the only one to speak out against Trump following the controversial press conference, but her tweet nonetheless had some social media users welcoming her to the resistance. Her tweeted remarks also prompted speculation that one of the "mouthpieces" to whom she was referring was Trump Jr., who is often mocked for his relationship with the president.
As the San Jose Mercury News pointed out, Trump Jr. appears to be playing the "mouthpiece" role even now, as he tweets and retweets defenses of his father's performance in Helsinki. In the past 24 hours alone, he has retweeted a number of tweets praising the diplomacy practiced by Trump and Putin.
For her part, O'Day sought to highlight how she felt about the press conference by posting a screenshot of her critical tweet to her Instagram story. According to Jezebel, O'Day didn't just post it once, but three times, in order to make her point absolutely clear. Some Twitter users replied to her Monday tweet with jabs about her alleged affair with Trump Jr., but she did not appear to acknowledge any of them.