How Aubrey Plaza's Boyfriend Has Helped Bring Some Of Her Most Memorable Roles To Life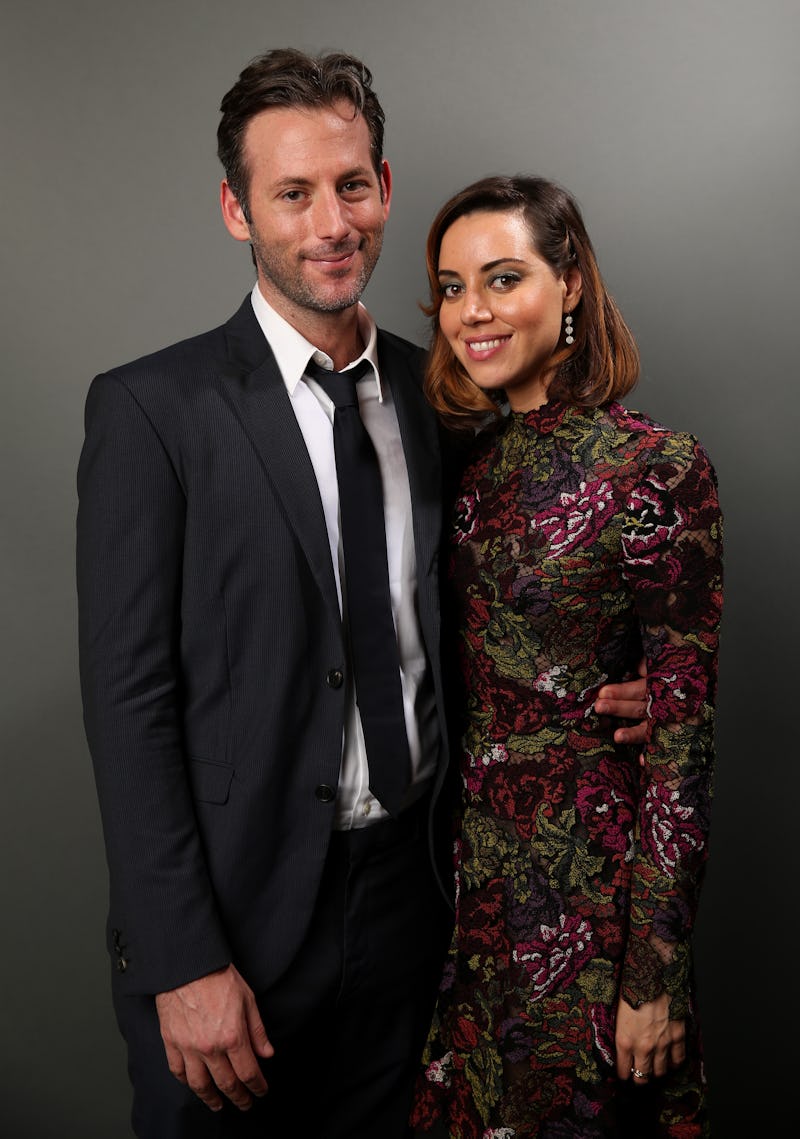 Mark Davis/Getty Images Entertainment/Getty Images
Over the last decade, Aubrey Plaza has gone from Parks And Recreation breakout to indie film darling thanks to performances in low-budget films like Safety Not Guaranteed, Ingrid Goes West, and The To Do List. Her indie cred has earned her a hosting gig at the 2019 Independent Spirit Awards, where Jeff Baena, Aubrey Plaza's boyfriend and an accomplished indie film writer and director in his own right, will likely be joining her. While Baena may not be as recognizable a face as Plaza, the two have been dating since 2011, according to the New York Post, and their relationship has turned into a collaborative partnership.
Mixing your personal and professional lives may sound like a recipe for disaster, but in an interview with IndieWire, Plaza explained that it works for them because they share an equal partnership. "I've been in every one of Jeff's films. I've been there from the beginning of every idea because we're together. We're working on it even when we're not working on it," she said.
The two keep fairly private, showcasing their relationship in the occasional birthday Instagram post and interviews related to their projects, but the fact that they work together so frequently indicates that their relationship is at its best when they're stretching their creative muscles. If you want to get a feel for what makes this two tick, their films may be the best place to start.
Life After Beth
Life After Beth, Baena's first film as a director, was released in 2014 but the script had been kicking around for over a decade prior. He told Under The Radar Magazine that the romantic zombie-comedy finally came together once Aubrey's agent brought the long-shelved script up to her as a possible leading role. "She asked me about it, because we'd never really talked about it. As soon as she said that, I realized immediately that we had to make this movie with her in it," he said. "If I had made Life After Beth in 2003, I don't know who could have pulled it off as well as Aubrey did."
Joshy
Among Baena's movies with Plaza, Joshy is the one she has the least involvement in. She plays the role of Jen in an ensemble cast that includes Silicon Valley's Thomas Middleditch, Gilmore Girls' Lauren Graham, and GLOW's Alison Brie. The film is also a far more depressing affair than Baena's other films, exploring the titular character's grief after his girlfriend's suicide.
The Little Hours
Baena's most recent film, The Little Hours, marks the next stage of his and Plaza's partnership, as Plaza served as a producer on the film in addition to starring in it. Plaza told Indiewire that part of the reason for this was because of the remote filming location. "Jeff and I had to be hosting this experience together. We had to take on those leadership roles, whether we wanted to or not. We had the entire cast and crew flying out to rural Tuscany. I couldn't just be like, 'I'm just an actor! Woo!'" she explained.
Baena and Plaza are slowly becoming one of the film industry's most prolific power couples, but the two are most interested in watching each other succeed, whether working together or not. "I don't have ideas about the way her career should go," Baena told Indiewire, "so I don't feel comfortable telling [her] what she should or shouldn't do. But if she asks me for my opinion, I'll chime in. I'll just never offer it without being asked first."
It sounds like they've both truly met their match, in work and in life.